This week, two shows at the Indiana State Museum celebrate president No. 16, and the Indianapolis Art Center offers a chance
to see crayons like you've never seen them before.
__________
Bringing history to life is, of course,
the mission of many a museum. How that is accomplished varies not only from museum
to museum, but also from exhibition to exhibition and, sometimes, from day to day
or hour to hour.
For instance, I took my first look through the then-yet-to-be-opened pair
of Abraham Lincoln exhibitions at the Indiana State Museum before the galleries were available to the
general public.
The two shows are "With Malice Toward None," which features
objects on tour from the Library of Congress, and "With Charity
For All," which is composed of objects from the Lincoln Financial Foundation Collection,
now housed at the Indiana State Museum.
On my visit, custom cases were still being installed. Videos weren't
all yet working. And accompanying me most of the way—and providing fascinating color commentary—was
the museum's Chief Curator of Cultural History, Dale Ogden. (See video
below.)


Your experience will, of course, vary.
For instance, with
the show officially up and running, you'll actually see the Emancipation Proclamation
(when I went, the display was not complete). And you might catch an appearance by
Lincoln and Douglass (Frederick, not Stephen) impersonators. You might
find yourself having to wait your turn to see Mary Todd Lincoln's jewelry
or the last portrait Abraham Lincoln sat for (it was finished posthumously).
Also likely to be surrounded by gawkers: the Bible on which both Lincoln and
Barack Obama took the oath of office.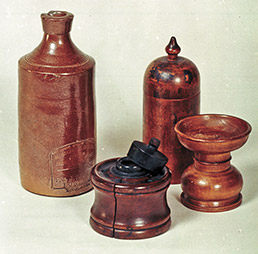 The desk set from Abraham Lincoln's
Springfield office is among the items on display at two Indiana State Museum shows. (Photo Courtesy Lincoln
Financial Foundation Collection/Indiana State Museum)
With fascinating objects in
both shows—and with neither following a strict chronology—their differences aren't
readily apparent or important. On the "Malice Toward None" side, you'll
find the objects Lincoln had on his person when he was assassinated (including Confederate
money). The "Charity" side includes playful pictures of his family, including son Tad, and
a collection of then-popular portrait cards, including author Victor Hugo. There's a nod to Lincoln apocrypha, a
cabinet made by his father, a John Wilkes Booth still-wanted poster, and a compelling juxtaposition of three portraits of
Lincoln and the actual chair on which he posed for them.
By its very nature, such a show
(or shows) can't help but feel incomplete. That's not a flaw,
but a reality. Despite a life mask, video of cinematic appearances (including, playfully, a scene from
"Bill and Ted's Excellent Adventure"), and all the other images of the five-dollar-bill
guy, you can't help but feel the absence of the man himself.
Whether seen with a crowd or on a solo tour,
the tangible objects remind us of Lincoln's fragile humanity—and how easily history could
have been tipped if not for this great—and very human—man.
__________
Chief among many reasons to stop in at the Indianapolis Art Center for its "Art
from the Heartland" show is to marvel at Christian Faur's "Crayon
Boy."
Clearly anchored in the pointillist world of George Seurat, Faur packs crayons, points out, into
a grid. And just as in his "Sunday Afternoon" predecessor, the combination of colors forces
your eyes to create dramatically composed images out of their colorful tips. In Faur's case,
it's a simple portrait of a boy, but, given the medium, it takes on an even greater poignancy.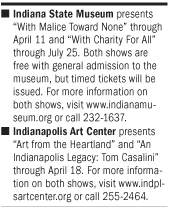 "Crayon Boy" is in some good company. I
was left cold by Khara Koffe's cinnamon-outlined floor plan titled "For
More Reasons Than One." And Amy Brier's "Koi Reliquary"
limestone ball isn't all that different or evolved from her previous work. But Michelle Stitzlein's
imposing "Ochre Hornet Moth" wall-hung sculpture and Chris Bucher's worth-a-thousand-words
boxing photo "Perseverance" certainly stuck with me. On a smaller scale, Annie Lee's screen-printed "Sofa
& Radiator" and "Bed & Chandelier" are tiny gems.
And there's plenty more, all
by artists from the Midwest, juried by Paul Klein of www.theartletter.com.
And don't leave
without a side trip to a concurrent show, "An Indianapolis Legacy: Photos
by Tom Casalini." There, one of our region's best-known photographers has
shot some of our best known artists, including James Wille Faust, K.P. Singh, Lois
Main Templeton, Greg Hull and Walter Knabe. The portraits are paired with work
by the artists.•
__________
This column appears weekly. Send information on upcoming arts
and entertainment events to lharry@ibj.com.
Please enable JavaScript to view this content.