It's a good thing the tornado that mangled the covered bridge at Moscow didn't arrive until June 2008. Had the twister struck a generation earlier, residents might have cleared the debris from the Flatrock River, slapped up a concrete span in its place, and congratulated one another on the progress.

Instead, thanks to growing appreciation of the state's history, the destruction was mourned as a loss, prompting a restoration unusual for its sweeping involvement of parties ranging from the governor to a trade union.

Now the timbers for a rebuilt bridge are stacked at the site, ready to be assembled into lengthy trusses. A massive crane will set the trusses in place this spring and workers will scurry far above the river adding the roof, sides and deck.
By summer, if all goes according to plan, the restoration might be so precise that passersby unfamiliar that most of the materials actually are new just might unwittingly remark about the exemplary preservation of such an old bridge.
"Sure, [covered bridges] are a reflection of our past. But it's far more than that," said Wayne Goodman, who as director of the eastern office of Historic Landmarks Foundation of Indiana is helping coordinate the reconstruction. "People are beginning to understand there's a connection between our built environment and community, and economic development.
"It's remarkable what a couple of decades can do."
Indiana is thought to have had 400 to 500 covered bridges at the turn of the past century, but rot, fires and overweight traffic have whittled the number to 88, the foundation says.
Surviving bridges are scattered across the state, with the heaviest concentration west of Indianapolis in Parke and nearby counties.
A century ago, several contractors specialized in going from county to county raising bridges. The one at Moscow, which is southeast of Shelbyville, was built by E.L. Kennedy in 1886.
Kennedy's timbers are thought to be tough, rot-resistant, old-growth white pine taken from Michigan.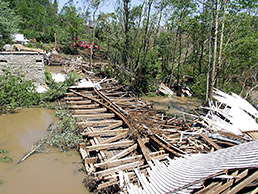 The Moscow bridge, built in 1886, collapsed into the Flatrock River during the tornado. The community is rallying to restore the landmark. (IBJ Photo/ Perry Reichanadter)
When Kennedy was finished, he put his name over the entrances, and the 340-foot structure held its own against the elements until nearly meeting its match in the 1980s when Rush County commissioners wanted to tear it down and replace it with a modern version.

However, by the time the tornado struck, the bridge was so widely admired that an outpouring of support resulted in a quick decision to rebuild.

Few reconstruction projects receive such wide-ranging attention as the Moscow bridge, Goodman said.
It was borne of disaster, which brought people together; the bridge, on the National Register of Historic Places since 1983, was a historic resource; Moscow needed to keep its annual covered bridge festival alive; the bridge was needed to cross the river; and the project was supported by Gov. Mitch Daniels.

"It's a fairly complex effort because of the number of people who want to help," Goodman said.

Daniels, a Republican, asked CSO Architects President Jim Schellinger, who ran in the 2008 Democratic primary to face Daniels in the general election, to lead the restoration.

Professionals and trades workers across several disciplines were brought to bear.

Co-chairmen Goodman and CSO principal John Rigsbee offered project management. Bloomington engineer Jim Barker, who specializes in wooden and iron bridges, designed the reconstructed bridge.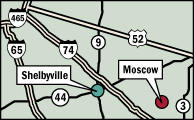 Members of the Indiana-Kentucky Regional Council of Carpenters are donating skilled labor to install the roof, siding and other work.

Tapped to lead construction was Dan Collom, a Parke County contractor who had built a covered bridge at the Indiana State Fairgrounds during the summer of the tornado and rebuilt a covered bridge in his home county that had been destroyed by a vandal's fire.

Only about a third of the original timbers of the Moscow bridge could be salvaged.

So, 33 semitrailer loads of logs taken mostly from Greene-Sullivan State Forest in southwestern Indiana were delivered to Collom's shop. By today's standards, the largest logs were of epic proportions—42 feet long and 42 inches in diameter at chest height.

"We cut some massive, massive timber," said Collom, who operates as Square & Level Construction, and donated a few logs from his personal forest in Parke County.

Compression timbers were fashioned from eastern white pine and tension members from yellow poplar, a species commonly used in bridge building due to its strength, light weight and insect resistance.

Collom cut the timbers on a portable band saw made by Wood-Mizer Products Inc. in Indianapolis; Wood-Mizer is cutting beveled siding from poplar logs for free.
Timbers for the restoration were cut and notched from pine and poplar trees taken from a state forest. (IBJ Photo/ Perry Reichanadter)
The timbers have been trucked to the site, stacked in piles and covered with tarps until they can be assembled.

The trusses will be built atop stacks of timbers, then set on dollies and towed to the bottom of the river, which, as the name of the river implies, is characterized by flat rocks, before being lifted into place by the crane.

Collom estimates the project would have cost $3 million had the logs and much of the labor not been donated; instead, the cost is projected to cost $540,000.

About $490,000 has been raised, and an additional $50,000 is needed to finish the job, said Larry Stout, president of Rush County Heritage Inc. and a member of the Moscow Covered Bridge Restoration Fund. The lion's share of the money was donated by the United Way from a Lilly Endowment grant to help with flood damage from the storm.

Rigsbee, the co-chairman and CSO architect, said it's an unusual project that attracts as much attention as the Moscow bridge. A governor's involvement made a huge difference, he said.

Rigsbee thinks other restorations could be undertaken by highly motivated people who wouldn't necessarily need to be politicians.

"It can be a private citizen who has the desire and the ability to get people involved," he said.

However, the project needs to be an important landmark or something else that elicits emotional support, Rigsbee said.•