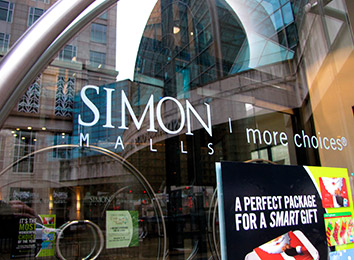 Simon Property Group Inc., on Wednesday urged rival mall operator General Growth Properties Inc. not to delay talks over
Simon's $10 billion takeover offer, stressing it's not open-ended.
Simon's warning was delivered in a letter sent to General Growth a day after the company essentially rebuffed Simon's
hostile takeover bid.
Indianapolis-based Simon is the nation's largest owner of shopping malls and acquiring No. 2 General Growth would give
the company an even more commanding hold on the retail real estate market.
Simon is trying to persuade Chicago-based General Growth that its $10 billion offer would represent a quick exit from Chapter
11 bankruptcy and the best value for its shareholders.
After courting General Growth for months, Simon made its offer public on Tuesday. News of the deal sent General Growth shares
surging nearly 28 percent.
General Growth met the offer with a public response of its own, saying it is looking into a possible sale of the company
but telling Simon its offer wasn't compelling enough to steer it from its plan to emerge from bankruptcy and explore other
potential offers.
Instead, it plans to begin paving the way next month for a potential sale and has invited Simon to remain part of that process.
But in its letter to General Growth CEO Adam Metz on Wednesday, Simon Chairman and Chief Executive David Simon complained
General Growth has dragged out the process long enough.
"Given the clear risks of pursuing an alternative plan, the current state of the retail industry and your company's
past history of risky financial choices, your lack of urgency should deeply concern creditors and shareholders," Simon
wrote.
He also urged Metz not to weigh other potential bids before fully considering Simon's offer.
"I want to reiterate that our offer is not open-ended, and we have a number of other opportunities under consideration,"
Simon wrote.
A General Growth spokesman did not have an immediate comment late Wednesday.
General Growth owns or manages 200 shopping malls in 44 states. It filed for bankruptcy last year after buckling under the
weight of billions in debt it racked up during a massive expansion fueled by cheap credit.
Simon owns or has interest in 382 properties worldwide, including regional malls and outlet centers.
Shares in General Growth rose 90 cents, or 7.5 percent, to $12.92 each on Wednesday. Simon shares rose $1.03, to $75.85.
Please enable JavaScript to view this content.