The historic Columbia Club is attempting to reverse its membership slide by teaming up with the Greater Indianapolis Chamber of Commerce.

The not-for-profit on Monument Circle announced its initiation fees will be waived for all chamber members. That's a substantial discount, since Columbia Club initiation fees have soared as high as $1,500 in the past.

The promotion applies to employees of any business that belongs to the chamber. The new offer provides that the Columbia Club's monthly dues will also be lowered 30 percent for new members' first year. The discounted dues range from $60 to $130, depending on the member's age. The club still charges a $100 application fee for all new members.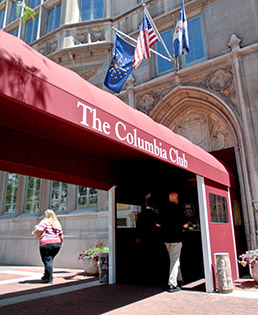 The venerable club on Monument Circle is waiving initiation fees and discounting dues for Chamber of Commerce members. (IBJ File Photo)
Originally organized in 1889 by Col. Eli Lilly to support Gen. Benjamin Harrison's presidential campaign, the Columbia Club has long cultivated an aristocratic atmosphere, where doormen guard access to Indianapolis' elite. But that reputation has shrunk with its membership.

The club offers three restaurants, two lounges, 96 overnight rooms, business meeting space and a fitness center. But it has only about 1,600 members. That's 24-percent lower than two years ago, and about half its peak in the late 1990s. In September, the Columbia Club hired a new general manager, James Rentschler. According to its most recent annual tax statement, the Columbia Club lost $108,756 in 2007 on $7.5 million in revenue.