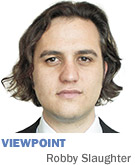 It's a moment everyone knows—the pleasure of a job well done. When you finish
clearing snow from the sidewalk, wrap up a major project, or close a deal with a handshake, the sense of satisfaction can
be overwhelming. We can't always say that we work in order to make ourselves happy, but among the greatest feelings
we can experience is to cross a task off our list.
The satisfaction derived from work is more than just momentary bliss. Satisfaction is an essential component of productivity.
Many studies have shown that people who are most effective at work enjoy much of what they do. Happiness might not sound like
a practical employee objective, but it's an outcome that has tremendous power.
If we know that satisfied employees tend to be more productive, what techniques could be used to help them better enjoy their
time at the office? Let's start with the least effective approach: bribery. Although it may seem counterintuitive,
giving employees perks and bonuses will not motivate them to be more productive. Instead, you will succeed only in creating
a culture of expectation. If we want our employees to be more satisfied at work because they are more productive, we have
to focus first on the activities that lead to that sense of accomplishment.
Scientists have studied what connects work and satisfaction. In the opening to the landmark book "Flow: The Psychology
of Optimal Experience," researcher Mihaly Csikszentmihalyi notes that "we have all experienced times when, instead
of being buffeted by anonymous forces, we do feel in control of our actions, masters of our own fate. On the rare occasions
that it happens, we feel a sense of exhilaration, a deep sense of enjoyment that is long cherished and that becomes a landmark
in memory for what life should be like."
Note how Csikszentmihalyi refers to the difference between unsatisfying and satisfying work. The former is like being knocked
around randomly, but the later is about authority, responsibility and self-awareness. This recognition provides an essential
clue in how to improve employee productivity. We must remove the arbitrary and anonymous elements of work and replace them
with meaningful tasks that demonstrate trust, ability and opportunity for growth.
It can be a little challenging to take this message and translate it into practical advice. But try this: Instead of giving
your employees work, try to give them both duties and the final decision at the same time. Let someone complete a
project without supervision. Encourage someone to research options and present their findings and recommendations. Give someone
else the authority to sign off on a marketing brochure or completed contract. Or best of all: Ask employees to redesign the
procedures for completing a task they already do.
It might feel like the greatest risk of handing over such tremendous responsibility to employees is that they might fail.
But in reality, whether they succeed or not will help them recognize your trust and their ability to contribute. More important,
if they are working to transform some aspect of their current responsibilities, no one will be more qualified or more committed
to the task. The best person to improve work flow is often the person doing the work.
Work is what happens in the time employees are not actively supervised. When that work results in skillful completion, it
builds employee satisfaction. When the workers have ownership over their own domain, they have a framework for connecting
their own efforts to their own sense of accomplishment. Empower your employees to improve their own work flow. Help them be
more satisfied and more productive by giving them your trust.•
__________
Slaughter is a principal with Slaughter Development (www.slaughterdevelopment.com), an Indianapolis business-process
and work-flow-consulting company.
Please enable JavaScript to view this content.