This week, I empty the notebook with thoughts on recent performances by Indiana Ballet Co., the ISO Pops, Beef & Boards, and Indianapolis Civic Theatre.
__________

First, I want to apologize for inadvertently misleading some readers. When I expressed high hopes for the Indiana Ballet Co.'s "From Shakespeare with Love" (Feb. 12-13) in my weekly A&E e-mail and on my Thursday WXIN-TV Channel 59 segment, it was in part because it promised a confluence of artists including, according to the IBC Web site, "live performances of period music and Shakespeare readings."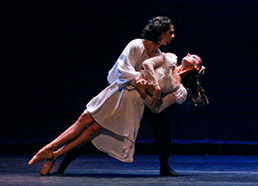 Shakespeare (Sergey Sergiev) dances with his muse (Tuesday Mayhew) in Indiana Ballet Co.'s recent production. (Photo Courtesy Indiana Ballet Co., Laura Breece Photography)
While the musicians of The Dragon Scale Consort did, in fact, play live through parts of the show, much of the music—and all the sonnets—were recorded. That meant advertised actor Tim Hardy, a London theater vet, was nowhere to be seen.

Was I disappointed? Of course. Having seen Hardy as Galileo last year at Butler University—and hearing his subtle and moving readings electronically during this show—I'm confident his presence would have elevated the evening.

Was it a waste without him? Absolutely not. The two-act program by the IBC may be more effective as a shorter one act, but it did make impressive use of the three tireless leads and four supporting cast members. Tuesday Mayhew, a reed of a dancer, towered over her male partners—especially when en pointe—as the Dark Lady of the sonnets. Sergey Sergiev, as Shakespeare, looked silly when flailing in a choreographer's version of a passionate writing frenzy, but was moving and graceful when away from his desk. Guest artist Alexey Kulpin, of Grand Rapids Ballet, was short of facial expression but long on leaping ability as the third point of the romantic triangle

If only Tim Hardy had been there.
__________

Something magical happens to the Indianapolis Symphony Orchestra when it shifts into big-band mode. And when it has a guest front man as charming and vocally strong as Tony DeSare, as it did in Valentine's Weekend concerts (Feb. 12-14), it goes beyond magic into bliss.

When he was one of a group of guest vocalists at the ISO's Irving Berlin tribute last season, the crowd believed every word of DeSare's "I Love a Piano." Here, he brought that same kick to a set that reprised that smile-inducer and made a convincing case that Cy Coleman's "Baby, Dream Your Dream" should have classic status. DeSare was equally comfortable turning a twice-his-age audience on to Prince's "Kiss" and offering a joyfully inventive take on "Autumn Leaves" that honored the original while taking it to new, exciting places. I fully expect to be telling my grandkids one day that I saw Tony DeSare back in the early years. And I hope he'll be back with the ISO many times before then.
__________

"Footloose" (running through March 21) was pretty much what anyone who hasn't been to Beef & Boards Dinner Theatre would fear a production there is like. Haphazardly staged, badly costumed (oh, those wigs) and populated by a group of alleged teens that look more like they belong at a PTA meeting, it was the closest I've come to walking out on a show since starting my tenure as reviewer for IBJ.

Not that the company has much to work with. The adaptation of the Kevin Bacon film is the most unimaginative of the you-liked-the-movie-soundtrack/you'll-surely-love-the-show adaptations that have hit the stage in recent years. Watching "Footloose," I found myself yearning for "The Wedding Singer." At least that show, as flawed as it is, has leading characters with heart, a playful sense of time and place, and some good tunes. "Footloose" is saddled with songs from the soundtrack retrofitted into the characters' mouths along with interest-free originals from the "Let's Hear It for the Boy" team of Tom Snow and Dean Pitchford.

Mercifully, the second act improved a notch, thanks in large part to Eddie Curry's commitment to the part of Rev. Moore, the man who took dancing away from his Texas town. As his daughter, Erin P. West tried to overcome lame dialogue with spunk and sometimes succeeded. And the pleasantly named Happy Mahaney provided some fun as can't-dance yokel Willard.

Still, I left thankful this wasn't my first Beef & Boards experience. If it had been, I'd be hesitant to return.
__________

Concert versions of musicals can serve a number of pleasurable purposes.

They can introduce audiences to problematic, unlikely-to-be-given-a-full-production shows with terrific scores, such as what New York-based Encores has done with "Do-Re-Mi," "Fanny" and many others.

They can place greater emphasis on the music itself by putting it in the hands of a larger or more accomplished orchestra than it otherwise would be able to accommodate, à la the Indianapolis Symphony Orchestra's spectacular "Guys and Dolls" concert last year.

Or they can bring together dream casts, as in the 1991 "Dreamgirls" concert that brought together Heather Headley, Lilias White and Audra McDonald.

Indianapolis Civic Theatre added a pair of concert musicals to its schedule this season, and while its "My Fair Lady" (Feb. 12-14) evening had its pleasures, it didn't really serve any of those purposes.

The casting was what one would expect from a Civic show, the orchestra was only slightly larger than it has been for past musicals, and "My Fair Lady" isn't exactly a show that needs rediscovering.

With its half-blocked action and script-carrying, tux-and-gown-clad cast, the action on stage often looked like an overdressed rehearsal. But Angela Manlove showed signs of a strong Eliza Doolittle in her future and Paul Hansen made for a playful Pickering. The orchestra under Brent E. Marty's musical direction did small-scale justice to the glorious tunes, but I left wondering if something richer may be in the future when Civic and the Carmel Symphony Orchestra both take up residence at Carmel's Center for the Performing Arts.•

__________

This column appears weekly. Send information on upcoming arts and entertainment events to lharry@ibj.com.