The Historic Landmarks Foundation of Indiana plans to acquire a striking Romanesque Revival former church known as Old Centrum along Central Avenue at 12th Street.
The foundation already is working to stabilize the building, which opened in 1892 as the Central Avenue United Methodist Church, and is considering moving its headquarters there.
The building most recently provided offices for a handful of not-for-profit groups, but it closed in March 2008 as the caretaker, Old Centrum Foundation, fell behind on maintenance. Historic Landmarks is taking over the building by virtue of a loan it had provided to the foundation, said Marsh Davis, the group's president.
The group is using the loan balance Old Centrum Foundation did not spend, more than $150,000, to begin repairs to the property, Davis said. The previous owner had estimated a full restoration could cost as much as $10 million.
Davis said the first priority is to save a building that's in bad shape after two years of sitting vacant. Discussions about whether to move the Historic Landmarks headquarters and its 22-person Indianapolis staff could come later.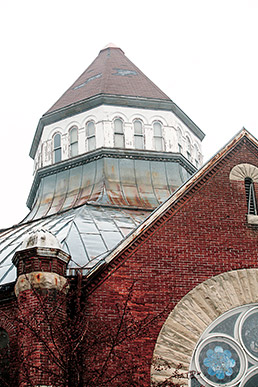 Old Centrum at 520 E. 12th St. has a new owner with plans to stabilize the structure. (IBJ Photo/ Perry Reichanadter)
The foundation for 20 years has had its offices along the Central Canal in the 1879 Charles J. Kuhn House and an attached modern addition. Historic Landmarks, which owns its current headquarters, likely would occupy only a small portion of Old Centrum if it opts to move.
"Right now, our goal is to stabilize the building and work toward finding a future for it," Davis said. "You've got to save the place first, then find out what to do with it. It's too important of a landmark to let it decline further."
Davis said it was too early to discuss specific details or funding sources for an ambitious renovation.
The 80,000-square-foot building, with a massive octagonal dome and bell tower visible from Interstate 65, was designed by architects Williams & Otter of Dayton, Ohio, said David Baker, administrator for the Indianapolis Historic Preservation Commission.
Construction began in 1891 and wrapped up in 1892. An addition was built in the 1920s.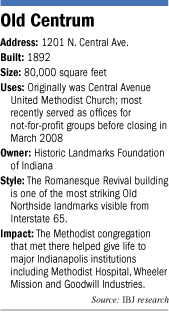 The church and its congregation played a key role in the history of Indianapolis, giving birth to both Methodist Hospital and Wheeler Mission. A few members left in the 1950s to form St. Luke's on West 86th Street, now one of the largest United Methodist churches in the nation.
The building factored prominently in the original 1979 preservation plan for the Old Northside neighborhood, which calls Old Centrum a "hallmark" of the Romanesque Revival style. It is listed on the National Register of Historic Places.
"It's one of those buildings that people point to when they try to explain the area," Baker said. "It's clearly a landmark and an important building."
Historic Landmarks has not yet filed plans with IHPC, but has consulted the commission on roofing, masonry and windows, Baker said.
"I get the impression ultimate uses are still in flux," he said.
Neighbors of the building are excited at the prospect of new users for Old Centrum, particularly Historic Landmarks.
"That would be just fantastic," said Paul DePrez, an Old Northside Neighborhood Association board member and land-use chairman. "To have the building restored would certainly be an enhancement to the neighborhood. It just needs attention immediately or it will get a lot worse."
DePrez, who lives a few blocks north of Old Centrum, was eager to hear an update on the project from Historic Landmarks scheduled for Feb. 27.
The group, which was founded in Indianapolis in 1960 to help save and reuse old buildings, is the nation's largest private statewide preservation group. It has nine regional offices in addition to the Indianapolis headquarters.•
Please enable JavaScript to view this content.