There are those who like to take note of dining trends—what spices are suddenly de rigueur, what countries' cuisines
are now being fused.
We at IBJ, however, like to note different sorts of trends. For instance, this month, we're going to focus
on Indianapolis-area culinary newcomers that sport animal names.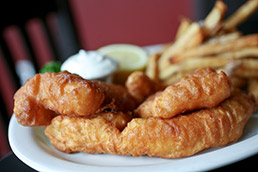 Fish and Chips are an expected staple at any British eatery. At Red Lion, the planks are hand-dipped cod. (IBJ Photo/ Perry
Reichanadter)
Yes, we know such categories are inconsequential, but they do allow for variety.
On our March bestiary dining tour, let's start with Red Lion Grog House (1043 Virginia Ave., 822-4764), which has settled
into Fountain Square in the Murphy Arts Building spot briefly occupied by the pizza joint Gusto.
The layout is similar to its predecessor's: a few tables at the Virginia Avenue window and a stretch of additional
seats paralleling the not-very-attractive open kitchen and leading to more seating in the back. The liquor license had yet
to be secured when we visited, nullifying the grog in its name. Nonetheless, we settled for seeing how the British fare fared.
Of course, sampling the Fish and Chips ($10.99) was a given. The Red Lion version features hand-dipped cod fried to just
the right crunch, with minimal grease and a side of hand-cut chips (you know them as fries). The menu boasts homemade tartar
sauce, which upgraded them further.
The Blanket Bangers ($9.99) were reminiscent of the American favorite Pigs in a Blanket—with a little more personality.
Plump, tasty English bangers (sausage links to the rest of us) were wrapped in puff pastry, baked until brown, and served
with a side of fries and garlic-Dijon aioli. We added a ramekin of spicy curry sauce (60 cents), giving the dish a welcome
punch.
In the Chicken Pot Pie ($9.99), a similar light puff pastry covered a mixture of shredded chicken breast, carrots, peas and
potatoes with veloute cream sauce and little eye appeal. Hearty but unmemorable, it helped stave off the cold and kept the
belly full until dinner, but it wouldn't be my first choice on a return visit. It came with French Onion Soup (a visitor
from across the Channel?) that was thin on both cheese and flavor. We also tried a plate of Fried Pickle Chips ($6.99), which
were surprisingly delicate—OK, delicate for pickle chips. A garlic-Dijon aioli helped cut the pucker.
No matter what the weather, Red Lion's location offers a great way to walk off a meal—it shares a front doorway
with the recently relocated Indianapolis Museum of Contemporary Art and a back door with the interior hallway of the rest
of the Murphy galleries. While you're expanding your culinary horizons, why not expand your esthetic ones as well?•
—Lou Harry
__________
First of our month-long series of reviews of animal-named eateries.
Please enable JavaScript to view this content.