This is an article I didn't want to write, for two reasons: First, I know several people who regularly read these articles and depend on me (to some degree) to keep them informed about what's happening online.

Second, sharing this guilty pleasure makes me feel a little … well, grimy. Especially in light of the first reason.

But it seems to me we've reached a point in our lives, with this economy, the unemployment rate, and tax day right around the corner, where we could use a good laugh. So I've decided it's time to tell you about Awkward Family Photos (www.awkwardfamilyphotos.com).

Now, it's true that there's a certain amount of poking fun at other people going on at Awkward Family Photos. But unlike other sites (for example, www.peopleofwalmart.com), many of the photos featured on AFP were actually provided by the people in the picture. Once you've seen a few of them, you'll recognize this behavior as some sort of therapy, something along the lines of, "You can't expect me to be normal. Look what my mother made me do."

Now, a quick word about People of Walmart.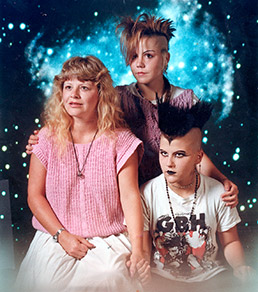 The Web site Awkward Family Photos specializes in cringe-worthy material from the general public. (Photo Courtesy AwkwardFamilyPhotos.com)
I can't keep you from wasting a good part of your day there, but you should be forewarned that to truly appreciate it requires some amount of pleasure at the expense of your fellow man. And woman. On the other hand, it should be noted that the people featured here dressed themselves and left their homes to go shopping. So, in some ways, I think they can be held accountable.

Awkward Family Photos, on the other hand, often features the unfortunate result of people with some amount of creativity trying to create something unique with their family mementos. There are photos of people stacked like lemmings, fanned out like flowers, or in groupings that are neither well-thought-out nor appropriate for the occasion. The use of the word 'inappropriate' related to a family picture may strike you as odd, but after spending no more than 45 seconds looking through the collection, you'll completely understand.

The site is really just a blog, with periodic postings of photos that are sent in, and sometimes with a headline or brief caption. Often, the photos stand alone and need neither, but every once in a while the sheer brilliance of the caption takes something simply awkward and makes it pure genius. Again, this is something that just needs to be experienced to be fully understood. But, as an example, see this gem of a photo titled "Eye Contact": http://tinyurl.com/yznzx57

The site features a list of Most Popular, a regular "add your own caption" contest, and a relatively new cringe-inducing feature called "Behind the Awkwardness," where someone who is featured in the photo will attempt to explain what was going on in the minds of the participants. For example, regarding a photo of two boys in hockey gear kneeling in front of their shirtless, pregnant mother, one of the boys explains, "This is a photo of my mom, my brother, myself, and my soon to be born younger brother. A family friend talked mom into having us all pose for this photo. It went on to win some sort of award in a Newport, R.I., photo show. It also hung in our house while I was growing up, which made for some awkward moments when friends came over."

Occasionally, the site branches out into other awkward family moments, the most infamous being the Thanksgiving Letter offering one poor family member's complete instructions on what to bring to 'help' with the annual feast. After reading it, you'll find yourself even more thankful for your own family, regardless of how dysfunctional it might be.

Still, the true heart of the site is the photos. So I encourage you, whether you need a good laugh or an uncomfortable chuckle, to swing by and take a look. Or take a peek at the collected works in the upcoming book "Awkward Family Photos" (Three Rivers Press) by site gurus Mike Bender and Doug Chernack. It comes out in May.•

__________

Cota is creative director of Rare Bird Inc., a full-service advertising agency specializing in the use of new technologies. His column appears monthly. He can be reached at jim@rarebirdinc.com.