Indiana Pacers officials believe with a late surge they can register their second straight season with an attendance increase.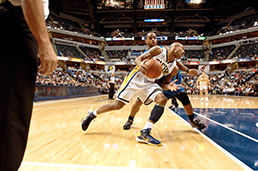 Pacers attendance is improving, but there are still numerous empty seats at most games. (IBJ File Photo)
If the Pacers can boost ticket sales by a few hundred per game, the team would be one of only 10 in the 30-team National Basketball Association to score an increase.

After 27 home games this season, the Pacers are averaging 13,903 per game at Conseco Fieldhouse, ranking them 26th in the league.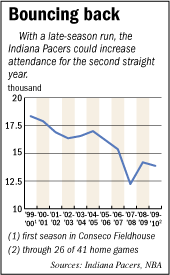 The team is only slightly trailing last season's 14,182 home average. With seven of the team's final 14 home games played on a weekend, there's real reason for optimism in the Pacers front office.

A small increase might not sound like much to celebrate, but if you consider where the team has come from, the last two years have amounted to giant steps forward, sports marketers said.

During the 2007-2008 season, the Pacers averaged an NBA-worst 12,221 per home game. Because of off-court trouble with its players, there was a disconnect between the team and the city it called home.

"Consider for a moment what this team has accomplished in the midst of the worst recession this country has seen in 70 years," said Larry DeGaris, director of academic sports marketing programs at the University of Indianapolis.

The Pacers last year reported financial losses near $15 million, and while the team is nowhere near profitable, team President Jim Morris said the franchise has made solid progress in the last year.

The Pacers sold 2,150 new, full-year season tickets this year, Morris said, three times what the franchise sold last year and among the tops in the NBA. He added that the team has sold near 6,000 season tickets this year.

Group ticket sales, Morris said, are up 12 percent this season, to 3,000 per game. The Pacers have partnered with myriad groups, he said, including area high schools, youth and church groups, and other community organizations to increase group sales.

The team is also strengthening its sponsorship sales, Morris said, adding Lucas Oil Co., Old National Bank, Kroger, Indiana Members Credit Union, U.S. Food Service and the U.S. Coast Guard this year.

In addition, the Pacers have invited other organizations, such as the Indianapolis Convention and Visitors Association, the Indiana State Chamber of Commerce and Techpoint Enterprises, to hold their annual meeting or other corporate gathering in Conseco Fieldhouse as a way to further corporate relations.

"We have worked hard to engage the entire community on a number of levels," Morris said.

Suite sales in this economy are still a challenge for the Pacers. Morris said "a few" of the fieldhouse's 71 suites are vacant. He added that a number of 10-year suite contracts expired after last season.

"They couldn't have picked a worse time with the economy to have the leases expire on all those suites," said Milt Thompson, president of Grand Slam Cos., an Indianapolis sports marketing firm. "Given their circumstances, I think they've done a credible job limiting their losses."

DeGaris, who has studied the Pacers in-depth the last four years as part of UIndy class projects, said enhancing the experience of going to a game is one way the Pacers have turned one-time visitors into repeat customers.

"They've made a lot of small changes—tweaking the presentation of their mascot and cheerleaders, more giveaways through T-shirt cannons, removing the dead air of the in-game presentation, and livening up the music," DeGaris said. "They keep things moving from the time you get in the turnstile until the time you leave."

Morris admits some deep ticket discounts have been offered, including $5 military personnel specials and $10 student nights, to spur ticket sales.

"They've done what they've had to do to start building the momentum," DeGaris said. "They've made some additions to their sales staff, and now I think they have some real good, young talent in sales and marketing."

Challenges certainly remain—for the entire NBA. During the all-star weekend in February, NBA Commissioner David Stern said he expects the league to lose $400 million this season. He said the league and NBA Players Association have to work out a new contract agreement that assures the long-term financial viability of the league.

Stern suggested that player salaries might need to come down. He even proposed a $13 million annual cap on individual player salaries.

Pacers officials plan to let Stern handle labor relations while they focus on cobbling together a winning roster and bolstering sales.

Morris gave Larry Bird, Pacers president of basketball operations, a vote of confidence. Bird's contract expires at the end of next season, and some have speculated that team owner Herb Simon is becoming impatient with Bird.

"Larry Bird has everyone's confidence here," Morris said. "He's working as hard as humanly possible. And we know he will do what it takes to get us a championship-caliber team."•