This week, two Lincolns and a Lloyd.
__________
A few weeks back, I wrote about the two collections of Abraham Lincoln memorabilia currently being displayed at the Indiana
State Museum—this after a year that included Indiana productions of two different Lincoln biographical plays, one at
the Indiana Repertory Theatre and one at Lincoln Amphitheatre.
Over the past week, two additional encounters with Abe reminded me that there is no shortage of material to be mined from
the life of the 16th president. And no shortage of awe we can still feel for those long-ago events—if we are put in
the hands of truly searching, talented artists.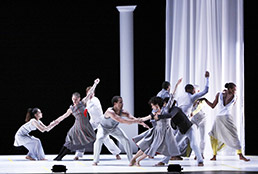 IU Auditorium
co-commissioned Bill T. Jones/Arnie Zane Dance Co.'s "Fondly Do We Hope…Fervently Do We Pray," exploring
Lincoln's legacy. (Photo/Paul B. Goode)
"Fondly Do We Hope … Fervently Do We Pray," presented Feb. 25 by the Bill T. Jones/Arnie Zane Dance Company,
was more than just a one-night-only, visiting artist appearance at IU. Co-commissioned by IU Auditorium, the piece demonstrated
a commitment to risk-taking work and offered enormous rewards—and more than a few challenges.
One of the leading choreographers in the country, Jones built much of his career and his company's reputation on incorporating
text, live music and striking visuals into contemporary dance. In "Fondly Do We Hope…," those elements
often dominate—positively and negatively—the work of his impeccable dancers. Giant shadow figures remind us of
both past and present as they loom on the round curtain that dominates the stage. Singer/musicians occasionally arise from
the pit to take the spotlight, offering sounds ranging from discordant opera to down-home folkie. Biographies are spoken for
the characters and a narrator of sorts tells us his job "is to see them if they can't see themselves."
Artists who engage in the performing arts often have to navigate the border area where clear communication becomes audience
pandering and where singular artistic expression becomes self-indulgence. Jones, with his dancers as his paint, does a lot
of exploratory work—doodling here, allowing more detail there. The result is not a consistent canvas, but he genuinely
seems to be wrestling with how Lincoln still affects us. In the process, he creates both place-holding redundancies (the repeated
"Love is strong as death" for instance) and heartbreaking beauty (particularly in the brief moments where he describes
the Lincolns' children).
Ultimately, that searching pays off, with Jones zooming past today into the future, when our actions, today, will be judged.
And questions of greatness will remain.
__________
While not a local production or presentation, I can't write another Lincoln-influenced review without mentioning the
outstanding audio recording of Norman Corwin's "The Rivalry" (available at www.latw.org). Featuring familiar
actors Paul Giamatti and David Strathairn as Stephen Douglas and Abe Lincoln, the play-on-disc does a remarkable job of bringing
to life both the issues and the humanity of the participants in those famed debates. Entertaining and educational, it's
a great choice to make two hours fly by on your next road trip.
And if you happen to have the ears of any partisan politicians from any party, please point out to them that even after the
two men's passionate debates, it was Stephen Douglas who held Abraham Lincoln's hat during his first inaugural
address. An amazingly unselfish act.
__________
Speaking of unselfish acts, the Indianapolis Chamber Orchestra once again allowed a silent movie genius to take the spotlight
in its Feb. 26 concert at the Indianapolis Museum of Art. And while Harold Lloyd's 1923 classic "Safety Last"
(the one with the iconic image of Lloyd dangling from a clock high above a city street) was a delight on the big screen—and
the live music transcendent—the highlight of the evening was the raucous Buster Keaton short "One Week."
It drew deserved non-stop laughs and gasps from the sold-out crowd and I'm sure left more than a few attendees wondering
why today's movies have so much trouble capturing such purely visual joy.
Another Indianapolis Chamber Orchestra silent movie event is already scheduled for next season. The title has yet to be announced,
but I'll say it again: Get your tickets early. •
__________
This column appears weekly. Send information on upcoming arts and entertainment events to lharry@ibj.com.
Please enable JavaScript to view this content.