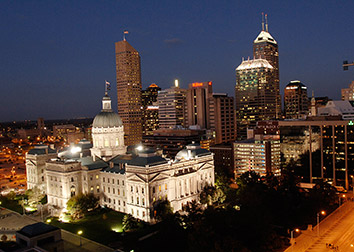 Indiana legislative leaders say they still hope to wrap up the legislative session before Sunday's deadline for adjourning.
Democratic House Speaker Patrick Bauer and Republican Senate leader David Long say their goal is to reach compromises on some key issues, pass them and end the session on Friday. They say they made a lot of progress in private negotiations Thursday, but there were still some snags to be ironed out.
They still have some differences over a bill that would delay an unemployment insurance tax increase and provide tax breaks and incentives designed to create jobs. Top lawmakers from the Republican-ruled Senate and Democrat-led House have been negotiating those issues for days.
Bauer, D-South Bend, and Senate Appropriations Chairman Luke Kenley, R-Noblesville, said Thursday morning that they were close to reaching a deal on those issues and hoped to have final bills voted on so the session could end that evening.
But the House and Senate adjourned in the afternoon, with plans to reconvene Friday. Under state law, they have until Sunday to end the session.
"We're still not that far apart," Long, R-Fort Wayne, said after privately meeting with Bauer on Thursday afternoon. "We just have to take a deep breath and recognize that Friday is our day right now. It's our goal."
The General Assembly passed a law in 2009 that would increase taxes employers pay into the state's unemployment insurance fund. It was aimed at shoring up the fund, which has borrowed $1.6 billion from the federal government to remain solvent.
But Republicans want to delay the tax increase, scheduled to take effect next month, because they believe it would force employers to lay off workers in a tough economy.
House Democrats were willing to go along with a delay, but they want a new system to crack down on employers who misclassify workers as independent contractors to avoid paying unemployment taxes. Republicans said that proposal would have a chilling effect on the business community.
Senate Republicans offered a compromise Monday that would have the state Labor Department create guidelines to classify workers for business tax purposes. They also included some tax breaks and incentives designed to create jobs that House Democrats wanted.
But Democrats rejected the compromise, saying it didn't go far enough to punish businesses that cheat the unemployment insurance system and fell short on job creation.
The parties had essentially struck compromises on legislation that would allow schools to shift money from accounts funded by property taxes to partly offset $300 million in cuts that Gov. Mitch Daniels imposed on general operating expenses.
But Senate Republicans were unwilling to act on that compromise until the unemployment insurance issue was settled.
Please enable JavaScript to view this content.