Never underestimate the power of the free sample.

By handing out fresh, hand-made bagels, breads and pastries, Bloomington-based Scholars Inn has grown beyond its bed-and-breakfast roots into a substantial wholesale bakery.

Products from Scholars Inn Bakehouse can now be found for sale in restaurants, hospitals, university cafeterias and hotels across the state. They're also starting to spread across the Midwest on grocery shelves at 150 Kroger stores and another 25 Marsh locations.

Scholars Inn President Greg Berke, 43, doesn't spend much time or energy on advertising to promote his growing business, which now has 120 employees.

He says he doesn't have to.

"When you have a quality product, you want people to taste it," Berke said. "If I can get it into people's mouths, I don't need marketing strategies. Because when they taste it, they come back for more."

In Bloomington, the Scholars Inn name is still affixed to a B&B and a gourmet café and wine bar. Locally, there's the Scholars Inn Restaurant and Lounge at 725 Massachusetts Ave.

But for the last three years, the brand's hidden growth engine has been its wholesale bakery, located inside a 10,000 square-foot former candle factory just north of Bloomington on State Road 37. Lined with walk-in refrigerators and freezers, Scholars Inn Bakehouse is now a 24 hour per day, seven day per week operation.

(Story continues below.)



Inside, the first shift spends daytime hours mixing ingredients and forming doughy loaves. During the evening, a second shift keeps products moving through the ovens. In the wee hours, between 2 a.m. and 4 a.m., trucks arrive to distribute the fresh goodies quickly along three delivery routes.

It's a daily logistical challenge, especially since Berke refuses to introduce automation or preservatives to the process. Scholars Inn can't turn on a machine and crank out 50,000 muffins, Berke said. Instead, it must carefully manage a more deliberate human pace.

"There is an artisan nature to everything we do. Our breads are formed by hand. Our granola is mixed in small batches, also by hand. I think that quality really rings true when you stack it up against other products that have been processed in a factory," he said.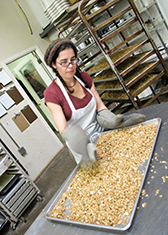 Eva Hovious, executive pastry chef at Scholars Inn Bakehouse, works on a hot batch of the wholesale bakery's granola. (IBJ Photo/Mason King)
"The other thing: All our breads are natural. The granola is natural," he added. "You don't need a chemistry book to read a label on one of our products. And quite frankly, that's been a big boost for us."

In 2010, Scholars Inn already has pounced on a unusual opportunity despite its logistical hurdles. A week before the AFC championship game, Berke got a call from the Indianapolis Colts. Turns out the team serves Scholars Inn granola for breakfast at its local training facility, and if the Colts beat the Jets to advance to the Super Bowl, it wanted a few cases available in Miami.

The Colts got their granola. And Scholars Inn got quite a bit of feel-good press, with local news stories in print and on television.

Berke won't share Scholars Inn's annual revenue, except to say it increased 9 percent last year. Credit much of that growth to a series of key deals he brokered, particularly with Kroger and Sysco Corp., which handle most of the baked goods' distribution.

The upshot is Scholars Inn enjoys the opportunity to concentrate on what it does best. Meanwhile, the deals leave logistics to partners who offer scale and a much wider base of potential customers than will ever enter either Scholar's Inn restaurant.

For most food producers, getting on grocery store shelves is a highly competitive proposition. For Berke, it was simply a matter of bringing along a bag of granola samples on the day Kroger's corporate team visited Bloomington for a store inspection. Berke said they liked the taste, and soon agreed to open a trial slot in Kroger's warehouse. The business relationship blossomed from there.

"At this point, we're trying to not only grow, but grow smart from a business perspective," Berke said.

Kroger executive John Elliott said the grocer has a 120-year history of mentoring local suppliers, whether they're dairy co-ops or small barbeque-sauce makers.

"Our goal is to be the local store in every community," said Elliott, Kroger's central division public affairs manager. "With that comes a whole list of behaviors and expectations. One of those is to work in partnership with local businesses."

As their relationship has grown in the last six months, he said, Scholars Inn has bolstered the great reputation that originally attracted Kroger.

"Their success stands out even more in this economic context," Elliott said. "We're in an economy where the stronger brands are really proving themselves, and the brands struggling before the recession have serious hardship now."

The question now is whether Scholars Inn can sustain both its growth and its high standards. Louise Kramer, spokeswoman for the New York-based National Association for the Specialty Food Trade Inc., said culinary entrepreneurs often struggle when their orders start to swell.

Managing growth is an equation tied directly to speed of delivery and a product's shelf life upon arrival. Expense is another variable that can be difficult to control.

"This company sounds like it's at a big turning point," Kramer said. "They have to make a decision about how big they want to get."

She said it's a smart business decision for Scholars Inn to concentrate its widest geographic distribution on granola, which has a much longer sales cycle than fresh bread, bagels or pastries that go stale within two days.

"It's good news they have interest from prominent grocery chains. It's very hard to get space on the shelf with any retailer. But the costs can be high in maintaining your product line at that kind of scale," Kramer said. "It becomes a management issue. The more you have, the more you have to manage. It could be a great opportunity, if they're very stringent about being good business people and not letting their costs of doing business exceed a certain level."

Kramer said the recession is actually a relatively good environment to attract new customers for baked treats.

"If they were making luxury cars, I'd say they're going to have a pretty big challenge right now," she said. "But they're making affordable products that make people feel good. Consumers will have a good feeling to at least try this."