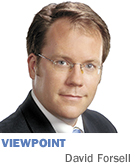 BETHESDA, Md. —So here we are: me, a cancer patient lying in a bed, and a nurse, bedside, practicing
her talents at a world-renowned research hospital.
It's not a natural relationship; it isn't born from natural interests or proximities. It is a relationship founded
on very basic needs. For me, it's simple. I have Von Hippel-Lindau, a genetic syndrome causing tumors in the brain,
spine, eyes, adrenal glands, pancreas and kidneys. And I want to live.
Here is the basic transaction: I agree to tests and surgeries, and will eventually try experimental drugs. The hospital delivers
these services and, in return, gains valuable information, experience, blood, tissues and lots of my time, with the hope that
my contributions will help lead to research outcomes saving millions of people from death by cancer.
But my motivations go far beyond the precise services I am delivered. I want more than a basic transaction.
I want to matter to the nurse standing next to me. I want to be more than a number, more than just a name on a list of hundreds
of patients on a research protocol. I want to be more than just another person needing my urine output measured or getting
my blood drawn from a surgical drain. I want a payoff for my participation in this transaction that includes comfort from
physical and psychological pain. I want my nurse to consider me, to care for me. I want a relationship.
Every eight hours, as the staff shifts, I get a lesson about nurses interested in basic service, and those who deliver more.
I find out pretty quickly which nurses want only the basic transaction. I ask them how they describe a good shift, and they
talk about not having to be bothered much, not having to be up and down, essentially investing as little as possible for a
satisfactory result. These nurses express little concern, little curiosity about me, the person they are treating. My urine
is measured, my blood is drawn, and they walk away.
I find out pretty quickly as well which nurses are interested in a relationship with me. Abigail, from Ghana, who still cooks
the traditional food of rice and peanut butter 20 years after coming to the states; Jessie, with the three crazy dogs; Comfort,
with the steady voice and caring touch; Jamie, the self-described "old nurse," whose wisdom I need to listen to
as I bargain with her about meds and activity.
They are the nurses who have sought work at The National Institutes of Health so they have more time with their patients.
They are the nurses who look me in the eyes, listen and discuss my treatment with me. They ask about my comfort, and will
go the extra mile in the middle of the night to meet my needs when I'm not doing well. They are the nurses who, too,
may get only satisfactory results, but, because they are in a relationship with me, are meeting my needs far beyond the basic
transaction. They enhance my views of them, of the institutes, and of my sincere interest in continuing in a relationship
that benefits me, them and, ideally, others.
How can authentic, caring relationships transform our work transactions, inter-and intra-departmental teamwork, and results?
How can an authentic, caring relationship between patient and hospital, or between donor and not-for-profit, or between one
business and another, transform the opportunities for depth, generosity and reciprocity in that relationship?
Look to Abigail and to Jessie; look to Comfort and to Jamie. They cared about my results. But more important, they cared
about me.•
__________
Forsell is president of Keep Indianapolis Beautiful Inc. For more information on Von Hippel-Lindau, visit www.vhl.org.
Please enable JavaScript to view this content.