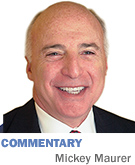 Like Little Miss Muffet, you were probably frightened of spiders as
a child. Most of us have gotten over it. Well, it's time to be afraid once more.
Dr. Douglas P. Zipes, retired director of the Krannert Institute of Cardiology at Indiana University School of Medicine,
has devoted his last couple of years to scaring us half to death with his new novel, "The Black Widows." Zipes
is no stranger to academics or to writing. He has degrees from a number of institutions, including Dartmouth College, Harvard
Medical School and Duke University. His curriculum vitae runs to more than 100 pages of positions, honors and publications.
Although retired, he continues to edit Heart Rhythm, the Heart Rhythm Society's official journal.
"The Black Widows" is Zipes' second novel. His first, the thriller "Whispering Heart," was
reviewed in this column in 2002. In "The Black Widows," Zipes again draws liberally on his vast knowledge of medicine,
particularly cardiology. He weaves his medical murder mystery around a base of solid science, and he keeps the pages turning
while managing to stay just inside the realm of plausibility. It's a good yarn.
There is a slasher on the loose with a peculiar M.O. Why? You'll enjoy sorting out the clues with Zach, a flawed but
genial NYPD detective with international connections, who must solve the mystery and save the western world. Beware the clever
misdirects. Speaking of which, the book is not really about spiders that crawl around in dark corners and sting hapless humans
who stumble upon their course. "The Black Widows" is a terrorist conspiracy led by two elderly women who have
sufficient cause to exact a little revenge, but they have higher aspirations. They wish to cast their deadly web over much
of humanity—and what a clever and diabolical scheme!
The characters are fully drawn. You will enjoy the description of an autopsy performed by the pompous and barely competent
medical examiner, Dr. John Hunter—it's to die for.
Hunter stuffed all the organs except the heart and brain into a plastic bag and placed the bag in the abdominal cavity. "Always
reminds me of my ex-wife's first turkey dinner. She cooked it with the organ bag still in the bird."
There are no "usual suspects." For example, Zipes has come up with the vamp Frankie, a comely Princeton graduate
with a troubled past and uncertain future. She is a suspect who performs her own investigation with an officer assigned to
the case:
"She stood on her toes, her five-foot, seven inches reaching his chin, put her arms around his neck, and planted a
gentle kiss on his lips. Then she took his hands, let them slide down her chest, and said, 'Help me open the bed. You
shouldn't drive home after all that wine. We don't want New York's finest to get a DUI, now do we?'"
Zipes is well-traveled and aptly sets the novel on the international stage but a careful reader will note that the author
is a Hoosier:
"A gnome of a man entered. Eighty at least, all wrinkled and bent over, he looked as if he'd been left to bake
in the sun too long. Shorty wore a gray sweatshirt that said Indianapolis Colts World Champions 2007 with a big white horseshoe
and was about three sizes too big for him."
Everyone professes ambition to write a book. There is probably at least one book in each of us, but anyone who has taken
pen in hand will tell you that it is more difficult and time-consuming than you think. I salute Zipes for a solid effort.
Summer is approaching. You can bring this one to the beach. "The Black Widows" is available through iUniverse
(www.iuniverse.com, (800) 288-4677).•
__________
Maurer is a shareholder in IBJ Corp., which owns Indianapolis Business Journal.  His column appears every other
week. To comment on this column, send e-mail to mmaurer@ibj.com.
Please enable JavaScript to view this content.