The region's blossoming technology sector is about to get another shot of financial fertilizer.

The newly formed Allos Ventures has raised $20 million from investors and plans to focus on early-stage tech companies.

Initial investments are expected to average $1.5 million to $2 million, said Don Aquilano, a managing director of the Indianapolis-based Allos I fund.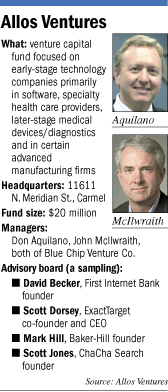 Some of the region's top technology entrepreneurs are among the investors and will serve on an advisory board providing expertise to recipients.

On the board is serial entrepreneur/inventor Scott Jones, whose more recent firms include ChaCha Search; David Becker, founder of First Internet Bank; Scott Dorsey, co-founder of e-mail marketing firm ExactTarget; Mark Hill, co-founder of financial software firm Baker Hill; and Jack Wyant, founder of Cincinnati-based Blue Chip Venture Co.

Other investors include Michael S. "Mickey" Maurer, co-owner of IBJ Corp., and Albert Chen, founder and CEO of Carmel-based Telamon Corp., a $468 million company providing equipment and services to telecommunications companies in the United States and China.

"For the last two years, it's been very, very difficult" for some promising young tech firms to obtain funding, Chen said.

Aquilano, who leads the software and services practice for Blue Chip in Indianapolis, said there has been a "pronounced gap" in venture funding lately for early-stage companies.

Indeed, early-stage investments in 2009 fell 13 percent, to $4.6 billion, according to the National Venture Capital Association. It cited the poor economy and a weak exit market for venture investors—with few initial public stock offerings.

"Last year, the exit market was so terrible a lot of those [investors] couldn't get out," said Emily Mendell, NVCA spokeswoman.

Allos adds to the local funding pool for early-stage tech companies, which is anchored by funds such as HALO Capital Group, an angel investment firm that includes many of the advisory board members of Allos, including Becker and Hill.

Investors in angel funds tend to be more active in helping guide recipient firms, whereas investors in a venture capital firm often take a more passive role.

HALO, which arose out of the TechPoint technology initiative, has invested $15 million in local companies in recent years.

"[Allos] is a much-needed fund in the tech sector. It will only complement what HALO is doing. In fact, perhaps we'll work together in some deals," said Jim Jay, president and CEO of TechPoint.

Indeed, they already have, said Hill, with HALO and Allos each already investing in Indianapolis-based WebLink International, which makes enterprise software for chambers of commerce and other membership-based groups.

"I view this as good for the entrepreneurs in our community to have multiple potential sources of funding," said Hill, who also is co-principal of Collina Ventures, which has several local technology firms under its umbrella, including cloud computing firm BlueLock.

The Allos investment in WebLink, of $3.5 million, technically was made by Blue Chip, which is putting part of its portfolio under the new Allos I fund. Also flowing into Allos was a previous investment made in Indianapolis-based Scale Computing, which makes data storage devices based on the memory architecture of supercomputers.

Blue Chip created Allos after switching gears on plans to raise upwards of $100 million from institutional investors for the Blue Chip V fund. Those plans were reconsidered after big prospective investors pulled back in recent years.

"We morphed our Blue Chip V effort into a focused, Indiana-headquartered effort to address the growing early-stage tech funding gap. As part of that effort, we switched from an institutional investor focus to a 'successful entrepreneur' focus," Aquilano said.

Allos will probably make two additional investments in 2010, he said, and likely won't invest in more than eight companies at one time.

The sweet spot for Allos will be tech companies that have grown beyond their pilot stage but are still 12 to 18 months from profitability.

Allos will look at not just tech companies in the software/IT realm, but also specialty health care providers and later-stage medical devices/diagnostics and advanced manufacturing firms.

Allos will not invest in biotechnology or pharmaceutical companies, however.

Co-managing Allos I is John McIlwraith, who heads Blue Chip's health care industry practice.

The investments will be regional, as in companies within a four-hour drive of Indianapolis or Cincinnati.

The Allos fund is the latest shot in the funding arm for local technology firms, despite a recession and receding participation by the venture world.

Earlier this month, Scale Computing landed $9 million in funding from Benchmark Capital, a Silicon Valley venture firm that was among early investors in eBay. And over the last year, ExactTarget lassoed $140 million in venture funding from big West Coast funds, in what's likely a record for this region.

That central Indiana is showing up on the radar of big venture funds is recognition of the region's growing promise, particularly in marketing support IT firms.•