Fair Finance Co. co-owner Jim Cochran, who's under criminal investigation in the collapse of that company, now is facing misdemeanor domestic battery and battery charges following an incident at his Geist Reservoir home on Saturday morning.

Cochran, 54, spent much of the weekend in the Hamilton County Jail. A magistrate judge entered an initial plea of not guilty and set a $2,500 bond during a brief court hearing this afternoon. Cochran's attorney, Bruce Boje, expressed confidence his client will be released on bond this afternoon.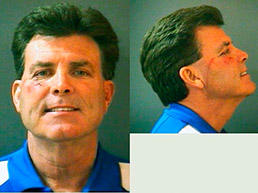 Cochran
Cochran's wife, Susan, told Fishers police that her husband broke into a locked bedroom and began arguing with her. She said he grabbed her by the upper arms and threw her, causing her to strike her head against a wall. Her son, who tried to intervene, was punched in the eye by Cochran, according to a probable cause affidavit signed by Officer Ryan Jones of the Fishers Police Department.

In mug shots released by the Hamilton County Sheriff's Department, Cochran appears to have a cut under his right eye. However, according to the affadavit, Cochran denied an altercation occurred. He said he had been walking around his home when he tripped on his socks and fell against the front door.

Boje declined to comment in detail, saying he was just getting up to speed on the case. Cochran appeared at the hearing via a video hookup from the Hamilton County Jail. Susan, who attended the hearing in person, showed no visible signs of injury.

This is not the first time Cochran has faced a domestic battery charge. He was charged with that crime and resisting law enforcement after a 2007 incident. Prosecutors dropped the case the following year after Cochran entered a diversion program.

Cochran and fellow Indianapolis businessman Tim Durham teamed up to acquire Akron, Ohio-based Fair Finance Co. in 2002.

IBJ reported last fall that the pair used it almost like a personal bank to fund a range of business interests. The newspaper reported that the heavy insider borrowing raised questions about whether Fair had the financial wherewithal to repay Ohio investors who purchased more than $200 million in investment certificates from Fair.

Fair has been closed since FBI agents raided its offices and seized documents in November. The U.S. Attorney's Office in Indianapolis said in a November court filing that it is investigating whether the firm operated as a Ponzi scheme, using money raised by selling new investment certificates to pay off prior investors.