Just walking into Wolfie's Den made me want to take up hunting. Well, OK, maybe it just made me want to eat some meat.

Located in a former Schlotzsky's sandwich shop, the Fishers eatery (7695 Crosspoint Commons, 913-1212) is a kitschy version of a rustic lodge with a bit of sports bar thrown in—think faux log walls and plenty of big-screen TVs. (All the better to see the big game, my dear.)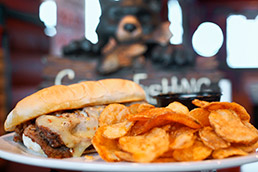 Wolfie's tender Prime Rib sandwich almost melts in the mouth. The house-made chips were delicious, too. (IBJ Photo/ Perry Reichanadter)
Apparently, the giant gas fireplace separating the bar from the dining room isn't enough of a barrier to satisfy the liquor board, so kids aren't allowed to eat inside Wolfie's—though they are permitted on the covered patio outside. And oddly enough, smoking is allowed outside, but not inside.

Given the atmosphere, I wasn't really expecting the food to be much more than standard bar fare. I'm happy to report I was wrong.

Taking a recommendation from our attentive server, I tried the Prime Rib sandwich ($8.99) and homemade potato chips. Served with au jus, the sandwich featured flavorful prime rib sliced thin, sautéed with sweet onion and topped with pepper jack cheese—surrounded by a grilled bun that delivered just the right combination of chewiness and crunchiness. The seasoned chips were equally impressive, despite their simplicity, and got even better when dipped in the barbecue sauce that came with my husband's selection.

He opted for the Wolfie's Smoked Pulled Pork ($7.69, plus $1 to substitute French fries for the chips). Another solid choice, the sandwich was piled high with hickory smoked meat that clearly had received as much TLC as the prime rib—tasty and tender. The fries were fine, but paled in comparison to the chips. The house-made sauce, served on the side, was an excellent addition, with just enough heat to keep the sweet in check.

Before we were halfway done eating, we already were planning a return visit, maybe to try one of the $6 weekday lunch specials or possibly to check out the daily dinner features. Perhaps we'll even venture north to the original location—Wolfie's Waterfront Grill on Morse Reservoir. It doesn't quite beat eating at Grandma's house, but this Wolf is worth spending time with.•

—Andrea Muirragui Davis

__________

Last in our month-long series of reviews of animal-named eateries.