This week, the "Indiana Experience," plus theatrical experiences in Louisville.
__________
There is something magical about the power of old photographs. There's a mystery and a melancholy to them—a sense that they contain an endless number of clues but that those clues will never add up to a complete answer. They remind us of where we've been and what we've lost, what we can know and what we can't hang on to.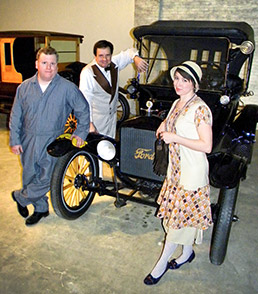 The Indiana History Center's new "Indiana Experience" brings photographs to life. (Photos Courtesy Indiana Historical Society)
I've been well aware, for a long time, that the collection of photographs at the Indiana History Center is a substantial and impressive one. Yet I've never gone into that collection and explored it. In its impressive but intimidating academic building on the canal, it seemed to be a collection reserved for scholars and history buffs, not the casual explorer.
Now, though, I can reach out and touch it. While the Indiana History Center's new "Indiana Experience" is getting a lot of attention for its interactive, actor-populated "You Are There" areas (see my video visit there below), it's the touch-screen kiosks that fill the "Destination Indiana" area that I expect to spend the most time with. (OK, that and listening to live singers and the player piano in the newly swankified The Cole Porter Room.)
The kiosk process is simple: Just pick an area you want to explore, narrow your choices, then zoom in, zoom out, and move around period photographs, shown on screens with twice the resolution of high-def TV sets. Find where your Hoosier grandparents lived. Figure out what the view from your office building used to be. Explore the faces in a rally on Monument Circle. Go places you haven't previously thought about (every Indiana county is represented).
To take full advantage of this part of the "Indiana Experience," it helps to be able to take your time. And since the attraction just opened to the public March 20, it's tough to tell yet if new admission charges will keep the crowd thin or if increased interest will mean long wait times followed by people breathing down your neck waiting for their turn. (Just in case, I'd avoid going during traditional school group times if you want some quality time with history.)
__________
There are many pleasures to the Humana Festival of New American Plays at the Actors Theater of Louisville (through March 28). Not only does it offer a rare opportunity to see first-class productions of first-time-ever-on-stage plays, it's also a chance to play casting director and imagine who would play the parts should subsequent productions get staged here in Indy.
Which is entirely possible. Such Humana shows as the Pulitzer-Prize winner "Dinner With Friends" went on to a production at the Indiana Repertory Theatre. The Phoenix Theatre drank from the ACT tap for such shows as "Crimes of the Heart," "Kelly and Du" and "Touch."
Of the three I saw this year, the most likely to be staged here is Scott Organ's "Phoenix" (confusing if it played at the Phoenix Theatre). The set up: a man, a woman, and an attempted break-up after a one-night stand. But things get complicated when it's revealed that the encounter led to a pregnancy, which the woman plans to terminate.
Oh, I forgot to mention that the play is very, very funny.
Karen Irwin ("The Most Damaging Wound" at the Phoenix) and Matthew Rolland ("Another Classic of Western Civilization" from IndyFringe) are different types than the actors who anchor the Louisville show, but they would make an interesting couple if this edgy romance comes here.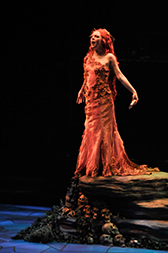 A stunning—and easily distracted—siren lures a troubled songwriter in Deborah Zoe Laufer's very funny "Sirens." (Photo Courtesy Actors Theater of Louisville)
Dodging the traps of didactic "issue plays," Lisa Dillman's "Ground" is set along the Texas/Mexico border where a married, Mexican-born border patrol agent readjusts his life to accommodate his ex-girlfriend, who is returning to take over her late father's land—a ranch with a history of housing illegals. Cast with precision, "Ground" doesn't have as strong a payoff as it deserves, but it finds truth in the details. Could it be done here? If Indy has a strong pool of Hispanic actors, they haven't been brought to the forefront in recent years. Here's hoping that changes, especially as interesting, worthy plays such as this continue to develop.
 
The third play, "Sirens," will be much easier to cast here (Diana Kondrat, of IndyFringe's "Assholes and Aureoles" and Chuck Goad of the IRT's "A Christmas Carol" would be great starts). Here, the vacation cruise a pair of empty-nesters is on is cut short when the hubby—a songwriter who never had a second hit—hears a siren's song, recognizes it as the hit he is desperately trying to write—and leaps overboard.
Playwright Deborah Zoe Laufer (who penned "End Days," seen at the Phoenix Theatre not long ago) packs in a few too many punch lines, but also crafts joyful surprises and a lot of heart. And who can resist a siren with an addiction to computer games?•
__________
This column appears weekly. Send information on upcoming arts and entertainment events to lharry@ibj.com.
Please enable JavaScript to view this content.