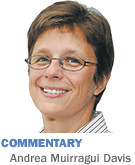 Almost eight months ago, I used this space to share the new perspective on life I discovered as a side effect of my battle with cancer. A lot has happened since then, and I'm still marveling at the difference—even as I struggle to hold onto it.
For those of you just tuning in, I was diagnosed with Stage III breast cancer in July and was struck by how my priorities changed in the instant it took for me to read the sympathy on the doctor's face when she delivered the news.
A flurry of activity followed: a bevy of tests to make sure the cancer hadn't spread, surgery to remove the tumor and lymph nodes, physical therapy to prevent lymphedema, 16 cycles of chemotherapy, 33 blasts of radiation.
Through it all—the pain and nausea and burns and fatigue—it was clear my life had changed. I wasn't a carefree 30-something who worked too much and played too hard and put too many important things off to worry about later.
I was a cancer patient, and there might not be a later.
That was easy to remember as I got used to the plastic port implanted in my chest, placed there to spare my arms from the caustic chemicals the doctors hoped would kill the cancer without killing me.
It was easy to remember when my hair fell out (yes, everywhere) and complete strangers asked me about my treatment and prognosis—while sneaking a peek to see if they could figure out the lumpectomy-or-mastectomy question themselves.
It was easy to remember during the daily trips to radiation and the even more frequent trips to the rest room to spray green tea on my increasingly sore skin.
It was hard to forget when a full day of work or 30 minutes of exercise sent me straight to bed to recover.
But scars fade. Hair grows back. Life goes on.
I'll be taking medication for five years in hopes of keeping the cancer at bay, but the all-consuming part of my fight is over. I just hope my new outlook doesn't go the way of anti-nausea pills and bad-ass bandanas.
Someone asked me the other day how my life has changed since my diagnosis. The inquiry gave me pause.
I wish I could say I went through a more obvious, tangible transformation—that I woke up one morning a new-and-improved version of myself. Notsomuch. I still work too hard, get angry too easily, and spend too much time on the couch.
Mine has been a more subtle change—one I don't want to lose once the port comes out, the radiation burns fade and I stop showing my boobs to strangers.
New York Times columnist Dan Barry, who survived cancer of the esophagus twice, likened the phenomenon to a reverse version of chemo brain—the mental fogginess that often accompanies chemotherapy infusions. During his chemotherapy regimen, Barry wrote in September, he was able to focus his mind on the everyday wonder we too often overlook amid the hustle and bustle. But when his treatments ended, so did the clarity.
I don't want that to happen to me.
I've heard other cancer survivors say that eventually they got to a point where they didn't think about the disease every day, and some even claim to be eager to forget what they've been through. Not me.
No, I want to take my fight into my real life, to use the energy I've been spending gearing up for and recovering from treatments to being a more loving wife, a more attentive daughter (and sister and aunt), and a better friend—to myself as well as the legions of supporters who have helped me get this far.
Someday, I want to wake up to a new-and-improved me. But I know that takes time and effort. And just a little bit of luck. I hope I've got enough of all three.•
__________
Davis is assistant managing editor/online. To comment on this column, e-mail [email protected].
Please enable JavaScript to view this content.