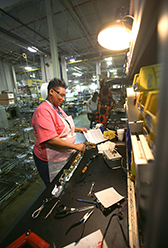 Deniese Nave works in the precision assembly area of the Stanley Black & Decker plant. (IBJ Photo/ Perry Reichanadter)
Executives at Stanley Black & Decker couldn't speak of their Indianapolis-based security division in more glowing terms.

"Once again, security was the gem of the quarter," Chief Financial Officer Donald Allan said during a January conference call on fourth-quarter earnings.

The company, based in New Britain, Conn., reported 2009 profit of $224 million. Security, one of three divisions, accounted for more than half those earnings.

The iconic toolmaker entered the security business in 2003 with the $310 million acquisition of Indianapolis-based Best Lock. Best now is one of several brands under the locally based division, which has $1.5 billion in annual sales.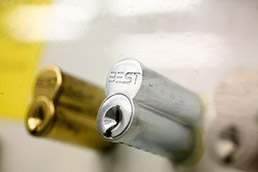 Best's interchangeable core lock (IBJ Photo/ Perry Reichanadter)
"That acquisition made us a $500 million company," said Justin Boswell, who serves as president of the mechanical access group, one of two equal segments of the Stanley Security division. "We've tripled from there."

Stanley kept pursuing acquisitions until it had built a comprehensive business, selling everything from doors and locks to alarms and video monitoring.

Boswell, 42, led the Best acquisition and continues to operate from the company's former headquarters at 75th Street and Binford Boulevard. Stanley has 767 employees in the Indianapolis area, a larger presence than Best, which had 550 local employees.

The former Best plant at the same location is one of the largest in the security division. That's due in part to Stanley's consolidation of other plants in Michigan.

A second office in Noblesville houses Stanley's Convergent Security Solutions group, led by President Brett Bontrager. While Boswell's group makes hardware, automatic doors and locks, CSS installs and services cameras and monitoring systems.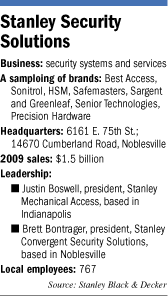 Stanley this month completed the $3.5 billion purchase of Maryland-based power-toolmaker Black & Decker. Black & Decker's relatively small hardware division, which includes the Kwikset, Baldwin and Price Pfister brands, will be integrated into the mechanical access group. Boswell said it's too soon to tell whether that will mean moving jobs or operations to Indianapolis.

With its products targeted at commercial buildings, Stanley security may continue to suffer along with the commercial construction and real estate market. Boswell said the company expects that market to bottom out in 2010 and stage a recovery sometime in the second half.

The Black & Decker deal makes Stanley a powerhouse in the tool industry, but the company owes much of its current financial position to the profitable security business.

In the January earnings call, Allan noted that revenue declined in the security division 7 percent, or 4 percent when adding in acquired businesses. At the same time, the division increased profit 4 percent.

"The markets in our industry are down double-digits," Boswell said. "We've fared much, much better than that."

Toehold

Stanley's only toehold in the security business before acquiring Best was making automatic doors.

From there, Boswell said, the company aimed to create one-stop shopping for hardware, alarm and monitoring systems. That meant Stanley had to keep pursuing technologies, brands and sales territory.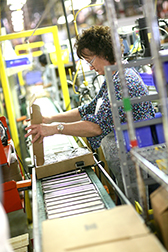 Debbie Martin boxes shipments at the company's Binford Boulevard plant. (IBJ Photo/ Perry Reichanadter)
Stanley came to the security game six to seven years behind its competitors, but it's now the fifth-largest security-system integrator, according to the latest annual ranking by industry magazine SDM.

The industry leader is ADT, followed by Siemens Building Technologies Inc., SimplexGrinnell and Diebold Inc.

Boswell said Stanley interviewed hundreds of potential customers in focus groups before getting into the business.

"It allowed us to step back and see what the market lacked," he said. "We're the only one that can really provide that complete package."

A key acquisition came in 2007, when Stanley paid $545 million for HSM Electronic Protection, a former Honeywell division that formed the basis for the current CSS group.

"They have bought their name in the industry, to a point," said David Benshoof, a former Best Lock executive who's now an executive at Vigilcorp, a local security-systems dealer.

Stanley touts its comprehensive approach as an advantage, but Benshoof said that's not always the case. His company, for example, has picked up several former Best clients that also use Hirsch Electronics, a brand Stanley no longer services.

In addition, he said, software, camera and other hardware manufacturers tend to make their products compatible with one another, so there's no need to buy everything from one company.

Stanley, which employs its own sales force, competes with myriad independent dealers. All offer a similar service of designing and installing security systems, then providing ongoing service.

"We think there's something around 10,000 security companies in the U.S.," said Sam Pfeifle, executive editor of the industry trade magazine Security Systems News. Most firms have sales of $1 million to $2 million per year and fewer than a dozen employees.

What Stanley appears to be doing better than its large competitors, Pfeifle said, is growing the more lucrative side of the business, which is recurring monthly revenue from service contracts.

"That gives you a lot of support to ride through the tough times," he said.

While the recession undoubtedly put some of Stanley's security customers out of business, Pfeifle said, "It's definitely a lot easier to collect checks than it is to go out and sell new systems."

Stanley has put a huge emphasis on the monitoring service, Pfeifle said. From a central service center, Stanley personnel can check to see whether employees are wearing their uniforms, for example, or whether everyone has swiped their electronic badges by a certain time.

"Each little thing they'll monitor is an incremental amount of money," he said.

Stanley's niche is in retail and other commercial buildings that don't require over-the-top security.

The company is very conservative in its use of new technology, Pfeifle said. "They are not the James Bond of the security industry."•