The annual spring Parade of Homes, which gives dozens of Indianapolis-area home builders the chance to showcase new models to potential buyers, hasn't undergone any major format changes this year. But one adjustment that may seem minor on the surface is critical to many participating builders.
The dates of the event have been moved up by about two weeks, to April 10-11 and April 17-18, to help builders lure homebuyers who may be emboldened by federal incentives to make a purchase in an otherwise slow residential real estate market.

Federal law extends an $8,000 tax credit for first-time buyers that was to have expired in late November. It now covers homes purchased or under contract through April 30. It also creates a new $6,500 tax break for existing homeowners who have lived in their current residence for at least five years.

A home under contract by April 30 needs to be closed on by June 30 to take advantage of the credits, providing extra motivation for builders to construct homes on a speculative basis.

"You have builders putting homes in the ground in anticipation that Jim and Jane will go out and find a house," said Steve Lains, CEO of the Builders Association of Greater Indianapolis. "Two years ago, there would have been nobody taking a chance on a spec home."

BAGI has sponsored the annual Parade of Homes for more than 40 years and added a fall version five years ago. Roughly 45 production and custom builders this spring will put about 70 homes on display in the nine-county area, ranging in price from $125,000 to more than $1 million.

Lains and his members are cautiously optimistic the new-housing market will begin to rebound this year, and early indicators suggest a turnaround could be in sight.

Permit numbers encouraging

Nearly 650 building permits, including 262 in Hamilton County alone, were filed in the nine-county area during the first two months of the year, a 76-percent increase from the same time in 2009.

That's good news for builders after last year, when the number of permits in the region—3,625—fell 21 percent from 2008.

If more permits are filed locally this year than in 2010, it would mark the first year-to-year jump since 2005, which saw a 1-percent increase from 2004. Prior to that, one would need to reach back to 2001 to see an increase, when the number jumped 13 percent.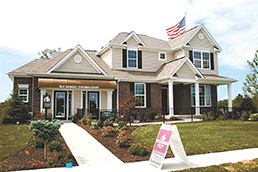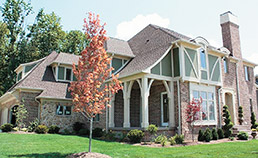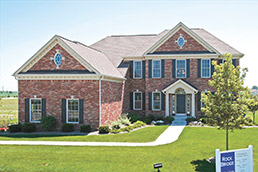 Among the builders featuring houses in the Parade of Homes are M/I Homes Inc. (top), Brookshire Custom Homes (center) and The Estridge Cos. (IBJ Photo/ Perry Reichanadter)
Yet, 15,054 permits were filed in 2001, a whopping quantity when considering it's more than four times the number filed in 2009.

Dan Wolf, co-owner of Noblesville-based Bedrock Builders Inc., is hopeful the housing market is awakening from its slumber.

"We've probably learned not to have high hopes anymore," said Wolf, a Parade of Homes participant. "But, realistically, we would hope the traffic to our models would double or triple to our homes showcased in the Parade."

For custom home builders, the tax credits are nearly a non-issue, particularly because their homes take longer to build. It's also unlikely a first-time buyer can afford a high-end home that might start at $500,000. And any buyer who can afford one probably won't be swayed by a $6,500 or $8,000 tax break, Wolf said.

Bedrock will feature one of its homes in the Parade of Homes, at its Park Place at Sagamore community near 166th Street in Noblesville. Most of the company's homes range in price from $350,000 to $600,000. Ten-year-old Bedrock has participated in the Parade of Homes the past eight years.

"It's not been the norm that somebody will come by (during the event) and buy a completed home," Wolf said. "But it gets you brand recognition, and it gets your name in front of people."

Poised to take advantage

The local division of Atlanta-based Beazer Homes USA, the Indianapolis area's largest home builder based on permits filed, will feature homes in the Parade from several of its communities.

They included Williamsburg Villages near West 56th Street on the Marion-Hendricks County line, and Walker Farms in Whitestown in Boone County.

Unlike custom home builders, Beazer can construct a house in about three months, with an average price of about $175,000.

The window is nearly closed for completion by June 30, the tax-credit deadline. So Beazer will have more than 200 homes ready by the time of the Parade. One from each of its 20 communities will be featured, said Bruce Craig, Beazer's Indiana division president.

Beazer selected what it considers the best lots and floor plans to include in the spec homes in hopes of enticing potential homebuyers.

"It's not something that we typically do," Craig said. "We obviously look very carefully to see if it makes sense."

Craig also is hopeful the housing market is on the brink of a turnaround.

"Who knows what's going to happen once the tax credit expires," he said. "But from my perspective, the difference in our business in the [first] two months of this year, compared to last year, is like night and day."

More traffic expected

Carmel-based Estridge Custom Galleries, the metropolitan area's largest custom-home builder based on revenue, hasn't bothered to participate in the event the past few years, partly because of the brutal housing market, said Mary Catharine Grau, Estridge's director of marketing.

Energized by encouraging indicators, and by an improved BAGI marketing campaign, the home builder will feature five homes this year. BAGI's Parade of Homes Web site this year includes a virtual tour of participating homes.

"We see a lot of excitement this spring," Grau said, "with people who are ready to move forward."

The Estridge homes are in five of its developments: Edenwilde at Southport and Franklin roads; Anderson Hall in Fishers; Centennial at 146th Street in Westfield; Heritage Hill on State Road 267 between Avon and Brownsburg; and Rock Bridge in Zionsville.

Estridge typically has an inventory of about 30 spec homes ready for purchase. But the available inventory this year is much lower, said Grau, who thinks the homebuyer's tax credit likely is a contributing factor.

Renewed confidence among home builders has Lains at BAGI excited about this spring Parade of Homes. He expects the event could attract up to 10,000 people who will either tour homes virtually or in person. Last year's event drew about 4,000 to homes and another 2,500 to BAGI's Web site.

"We're optimistic that the consumer again is interested in what's going on out there," Lains said.

The event is free to the public. Additional information can be obtained by visiting www.paradeofhomesindy.com.•