This week, peeling away assumptions at a burlesque show, a late-night songfest, and another chance to greet Ms. Levi.
____________
There are fundamental differences between what went on at Bottoms Up Burlesque's "What Would the Neighbors Think?"
and what goes on at your average strip club. At least, I'm assuming there are. Because, well, er …
Let's start again.
The entertainment value of watching clothes being removed is …
No? OK, how about: By the time the pasties were revealed …
Hmmm. How about if we just state the facts first?
On March 27, a local group working under the title Bottoms Up Burlesque staged a show called "What Would the Neighbors
Think?" at CTI Theatre on Keystone Avenue. With just about every act (except for the cross-dressing magician and the
improvisational comedy duo), the quantity of clothes worn by the performers diminished as the number went on, stopping just
short of the law.
There was hooting and there was hollering from the near-capacity crowd, with the women in the audience making as much noise
as the men. No dollar bills were tucked nor private dances given.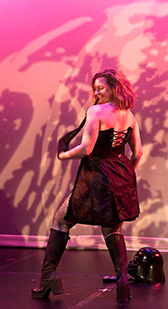 Old-school
burlesque—with contemporary twists— highlighted "What Would the Neighbors Think?" (Photo Courtesy
Michael S. Drury)
On stage, for the most part, weren't women who might attract a Playboy photographer. That's not to say they weren't
lovely, but with nary a sign of enhancement on any of them (unless you consider tattoos enhancement), they ranged in shape
and size, with the common denominator being confidence and playfulness.
Well aware of the silliness of what they were doing, these women were artful in their embrace of the "tease"
so often lost in striptease. Mistress Calluna, for instance, shed her inflated coverings one balloon at a time by bursting
them in sync with the song "Lollipop." Event organizer Katie Angel took Star Wars geekery to a hilarious extreme
by offering a disrobing Darth Vader. And Dance Kaleidoscope's Jill Godwin led a blissfully goofy group number to "Penguins
Lament." While many were local, the headliner was Chicago-based Michelle L'amour, whose act may have been more
polished, but was no more entertaining than most of the others.
The stage was dominated by the ladies, but six-packed Jett Adore also performed, most memorably as an erotic Zorro, cutting
away his own clothes with his trusty sword. Having such an idealized guy in the show rather than someone out of "The
Full Monty" may have sent a mixed message about body acceptance, but he was applauded just as enthusiastically as the
rest.
"What Would the Neighbors Think?" could have used more variety in the second act—just about every performer
came back for another number. But the overall show, enhanced by quality lighting and sound and the good will generated by
jovial hosts Jeff Angel and Susan Galey, was a guilt-free treat. (I'd say it was a trip down mammary lane if the crowd
wasn't too young to remember Vaudeville.)
If Bottoms Up can maintain the quality control exemplified in this production, don't be surprised if old-school burlesque
becomes the next big form of alternative entertainment here. Think roller derby without the risk of bruising.
____________
There were only two disappointments in "That's Brent-ertainment," the late-night open mic hosted by the
Cabaret at the Columbia Club on March 27. One is that the event had to end at midnight (it actually stretched to about 12:20
thanks to a lengthy "Tiny Dancer" sing-along led by host Brent Marty). By that time, the momentum was just building
and many of the talented folks in the room had yet to take the stage.
The other disappointment was learning that the next installment isn't scheduled until August. That's way too
long to wait.
As it stood, though, we heard a rousing "If I Were a Rich Man," a rich "Someone Else's Story"
(from the musical "Chess"), some seriously solid Sondheim from Marty and special guest Su Ours, a lovely "Misty,"
and more.
(Full disclosure: I was invited to offer some Broadway trivia from the stage and, so, in a small sense, was a part of the
show.)
____________
With its thick-as-gauze characters, heart-on-sleeve tunes, and emphasis on big-hatted costumes, "Hello, Dolly!"
is the picture of the un-hip musical. It's about love, pure and very, very simple, a sweet confection that somehow disarms
just about anyone willing to give it half a chance.
But confections should be savored, not gulped down. And Beef & Boards' production (running through May 2) often
seems to confuse frenzy with energy.
That's not to say Herman's infectious songs and some solid performances don't make this a fun evening.
The women are fine with nearly all roles better sung than acted. In the force-of-nature lead, Chicago actress Iris Lieberman
delivers a strong "Before the Parade Passes By" but, as of my visit, hadn't yet found a convincing through-line
for Dolly Levi.
The men fare better, with David Schmittou effectively shaking off his last B&B performance as the villain in "The
Foreigner" to become a charmingly enthusiastic Cornelius Hackl; Alex Yacovelli creating a youthful, endearing Barnaby
Tucker; and Mark Goetzinger wearing curmudgeonly Horace Vandergelder like a favorite suit.•
__________
This column appears weekly. Send information on upcoming arts and entertainment events to lharry@ibj.com.
Please enable JavaScript to view this content.