There's no water in view (Geist Reservoir is around here somewhere), but Scotty's Lakehouse (10158 Brooks School Road, Fishers, 577-2900) is at least true to its subtitle: A Burger Joint.

The menu is dominated by burgers in 15 configurations, all priced at $8 and available doubled for an additional $3. Our table took on one with a mound of mozzarella almost as big as the sizable burger, dressed with organic chimichurri pesto and balsamic marinated tomatoes. And another with a fried egg, applewood smoked bacon, smoked gouda and chipotle ketchup. Would any make the final four in an Indy burger bracket? Probably not, but all were substantial, flavorful and served hot and to our specs.

In addition to the now-ubiquitous bison, Lakehouse offers elk. Someday, you may be tempted to try the elk burger, but why bother on your first or even second trip? The only sandwich disappointment came from a vegetarian among us, who called the Faux-lafel "the kind of burger non-vegetarians think vegetarians would like." Translation: chalky and heavy on the black beans. (I thought it tasted fine, but I'm a meat-eater. It wasn't made for me.)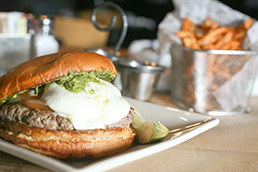 Burgers come in many varieties—including one topped by a mound of mozzarella and a helping of chimichurri pesto—at Scotty's new Geist location. Sided fries are a must. (IBJ Photo/ Perry Reichanadter)
But it was the sides, not the burgers, that we were talking about on the ride home … and the next day. We tried Mac 3—one of the three macaroni and cheese offerings available for $5—which bathed rotini in a delicious blend of ricotta, Indiana cheddar and mozzarella. Take that, Kraft.

Fresh-cut fries are cleverly served in a mini-fry basket, each with a flight of dipping sauces. The House Fries ($3) were good; the Loaded Fries ($5), with smoked gouda, Indiana cheddar and bacon crumbles, were better; and the Vanilla Sweet Potato Fries ($3), served with ketchup, caramel and marshmallow fluff, were outstanding and so sweetly addictive that they could qualify as dessert.

As for the actual desserts, the Fried Apple Pie ($5) consisted of an overcooked tart making up a too-tight compartment for fresh apples, butter and cinnamon served with Oberweis vanilla ice cream. Eh. Better was a S'mores Cupcake ($2), although if you are going to label something s'mores, you should let graham cracker and marshmallow play a bigger role.

We also tried some appetizers but, like the desserts, they were largely unnecessary. Lakehouse Buffalo Wings appetizer ($10 for 10) consisted of all meaty, satisfying drumettes. The avocado-, egg- and spinach-heavy Cali Salad ($5.50, $10) was accented nicely by blue cheese crumbles and a housemade chimichurri ranch dressing. And the Tomato Basil Soup ($3, $5) inverted the usual soup end game by leaving chunks of tomato rather than excess liquid at the bottom of the cup. Bring it on when the chill returns in the fall.

It seems no meal is complete at a Scotty's eatery without some mishap or confusion. Here, a salad request of no bacon still arrived covered in pork (the server quickly replaced it) and a free appetizer coupon e-mailed when I signed up as a V.I.P. at www.scottyslakehouse.com turned out to be redeemable only at the Scotty's Brewhouses rather than the new Lakehouse. The hostess/manager—part of a team of central-casting-stunning servers—was smiling but adamant about not making our sizable table an exception. Seriously?

Still, none of these issues came close to ruining the memory of those Vanilla Sweet Potato Fries. Or stopped me from wanting them again. Now.•

–Lou Harry

__________

First in our month-long series of "House" restaurant reviews.