New York-based Moody's Investors Service has downgraded its credit rating for Indiana Live horse track and casino,
a warning signal that the Shelbyville facility may soon follow its Anderson counterpart Hoosier Park into bankruptcy.
On March 23, Moody's lowered Indiana Live to Caa3 with a negative outlook, a junk bond rating just a few notches above
its lowest classification. Moody's warned of a high probability the operation will default on its loans.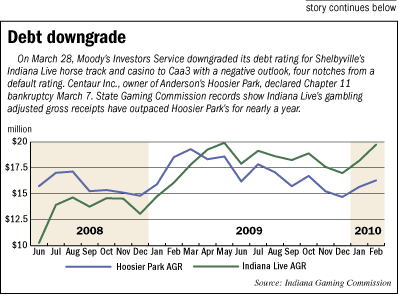 The rating "reflects our view that [Indiana Live's] capital structure is not sustainable in
its current form and that some form of restructuring appears likely," Moody's Vice President Peggy Holloway wrote
in a credit opinion, citing a high debt-to-earnings ratio. "Moody's does not expect that the company's internal
cash flow and cash balances will be sufficient enough to cover its interest expense in 2010."
Indianapolis-based Centaur Inc., which owns Hoosier Park, filed a petition for Chapter 11 bankruptcy reorganization March
6. Indiana Live is owned by South Bend-based Oliver Racing LLC and managed by the Baltimore-based Cordish Cos. Both so-called
racinos have struggled in recent years to repay heavy debt loads.
Before the recession began, they each paid $250 million in license fees to the state for the right to add 2,000 slot machines
apiece to their struggling horse tracks, then spent millions more to upgrade their facilities.
IBJ reported in August 2007, for example, that Oliver had hired Jeffries and Co. to raise $545 million to pay the
license fee, improve the facility and buy out a minority partner. More recent Indiana Live debt load figures have not been
disclosed.
Credit agency Standard and Poor's shares Moody's concerns. In a December report, S&P rated Indiana Live CCC
with a negative outlook. S&P noted that its annual expenses include $54 million in interest, $14 million in lease obligations,
and $5 million to $10 million in expected maintenance costs.
In Moody's credit opinion, Holloway points out the Indiana gambling market saturation, which will limit Indiana Live's
ability to grow its way out of debt anytime soon.
"[Indiana Live's] small-scale and single-asset concentration exposes the company to further deterioration in
already weak gaming demand trends," she wrote. "While [it] was granted one of only two slot licenses awarded to
racetracks in the state, there is already a significant amount of competition from five existing casino facilities within
a 125-mile radius and Hoosier Park."
Indiana Live, which has advertised heavily in a print, radio, television and billboard campaign, has performed better than
Hoosier Park, particularly since it moved its slots from a temporary tent to its lavish permanent casino in March 2009 (see
graphic). In February, for example, Indiana Gaming Commission records show Indiana Live's slot machines accepted $237.1
million in total bets. The casino paid out 92 percent in winnings, leaving $19.7 million as its take. By comparison, Hoosier
Park saw $203.6 million in February bets, with a $16.3 million take.
Indiana Live General Manager Richard Kline did not respond to IBJ's calls for comment on this story. Oliver
Chairman Ross Mangano declined to comment, referring the newspaper to public testimony he made in August before the General
Assembly's Interim Gaming Study Committee.
Mangano testified then that Indiana Live lost $50 million in the fiscal year ended June 30, 2009. He petitioned legislators
for tax relief and permission to add live table games to his racino's slots parlor. The Legislature did not award either
concession in 2010.
Indiana Gaming Insight Publisher Ed Feigenbaum said whether Indiana Live follows Centaur and Hoosier Park into bankruptcy
is largely a question of how deep Oliver Racing is willing to dig into its own pockets. Oliver is owned by the Oliver family,
which originally made its money in the farm-implement manufacturing business but has since diversified.
"Conceivably, the Oliver Trust can fund any type of shortage in the May [interest] payment," Feigenbaum said.
"The big question is whether the Oliver Trust will be willing to fund any shortfall. They may be at the point where
they think it's appropriate, like Centaur did, to realign its [capital] structure, or seek concessions on the management
deal with Cordish Cos."
State Gaming Commissioner Ernie Yelton is monitoring the situation, but he said he isn't concerned yet. Bond ratings
across the gambling industry, particularly in Indiana, are all low, he said. And the commission is also keeping tabs on the
bankruptcy of Gary's two Majestic Star riverboats, and Evansville's Casino Aztar, which emerged from bankruptcy
in March.
"It's an institutional hazard right now in gaming. We don't get overly anxious when this occurs. It's
regretfully almost expected, anymore," Yelton said. "We have no information to lead us to believe they're
imminently in any financial distress."
Whatever happens at Indiana Live's ownership level, Feigenbaum said casino patrons aren't likely to notice. Centaur's
bankruptcy hasn't affected Hoosier Park's operations, he said, and the same is true for Majestic Star and Aztar.
Yelton agreed. If Oliver can't restructure Indiana Live's debt and wants to get out of the gambling business,
Yelton expects there will be plenty of potential buyers.
"We're not losing sleep at night over this at this point in time at all. I think there are still a goodly number
of gaming companies out there that would be interested in expansion," Yelton said. "As you've seen in Aztar,
and may even see with Majestic Star and perhaps Centaur, the lower bond holders may actually want to own the property themselves
and partner with a management firm to run the day-to-day operations on site.
"Someone, some entity out there, will most definitely want to own these properties as they come out of bankruptcy."•
Please enable JavaScript to view this content.