The Women's Fund of Central Indiana recently completed an endowment drive that raised $7 million, making the endowment one of the largest of its kind in terms of assets.

Now at $11.6 million, the Women's Fund focuses its giving in three areas: access to quality child care, eliminating domestic violence, and building sufficient incomes for women. It plans to make grants totaling about $500,000 this year.Director Jennifer Pope Baker hopes to see the endowment eventually reach the $20 million mark, which would mean $1 million in annual giving. At that level, she said, "The difference we make in our community will be profound."

The Women's Fund, a special-interest fund of the Central Indiana Community Foundation, began in 1994 as a way to bring more attention, as well as resources, to issues affecting women and girls. At the time, Baker said, the founders believed existing sources of philanthropy didn't pay enough attention to issues such as domestic violence.

Through research and advocacy, as well as grant-making, Baker said, "We can articulate why these issues are important for everybody."

The fund has become more than a source of grants for organizations such as Day Nursery and Dress for Success. Its donor-education programs are helping create a new generation of leaders.

Not-for-profit adviser Bryan Orander said the Women's Fund represents another step in the evolution away from women as behind-the-scenes fund-raisers.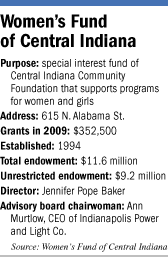 "In the old days, the men would get together and be on the board of directors and run the organization," he said. Women were relegated to raising money through auxiliaries. "It was a pretty strong division of the smart men and socialite women.

One signature education program of the Women's Fund is OPTIONS, which introduces women ages 25 to 40 to agencies it supports while teaching them about strategic philanthropy.

"When people hear that word, they think it means you're Bill Gates," said Julie Manning Magid, an associate professor of business law at Indiana University who took the OPTIONS class in 2003. She's now vice chairwoman of the fund's advisory board.

"Each of us are philanthropists," she said. "We make important decisions with dollars that are important to organizations.

OPTIONS (which stands for Outreach, Projects, Trips, Information, Opportunities, Networking, Service) began in 2001 and now draws far more applicants than the 20 available seats. Participants in the year-long class must make a donation of $250, and the money is pooled for donations designated by the class. Many "alumni" continue to support the Women's Fund long after their class has ended.

Women's causes aren't the only ones benefiting, Magid said. One OPTIONS classmate of hers went on to become very involved in her out-of-state alma mater.

"So this isn't just about giving to Women's Fund endowment," she said. "It really is a class to figure out who you are, what kind of giver you are."

The program is also creating new leaders. The advisory board makes a point of involving OPTIONS alumni in its committee work, said Ann Murtlow, CEO of Indianapolis Power and Light and chairwoman of the Women's Fund advisory board which, by the way, includes men.

"There are so many boards who want to have high-level executives serve, or people who are very accomplished or well-known," she said. "I am a big proponent of getting all people who are passionate involved."

Murtlow added that IPL has nominated several "up-and-coming" female employees to the OPTIONS program because it's a good leadership-development tool.

No other CICF affiliate has built such a strong community among its donors, Orander said. He predicts that members of that network will become very influential in the community at large. "The Women's Fund of the 2010s could be what the Columbia Club of the '60s and '70s was," he said.

Another sign of the fund's coming of age is its ability to draw wealthy donors. It created a Leadership Society in 2006 for people giving $250,000 or more. The group now counts eight members.

The emphasis on catching people early in their philanthropic careers is paying off. Two years ago, the Women's Fund Society was launched for people younger than 50 who give $25,000 to $50,000.

"We work hard with younger people … so they grow with Women's Fund," Baker said.

The endowment drive lasted six years and ultimately fell short of its $10 million goal. Given the economy in the past two years, Baker said that was to be expected.

As of Dec. 31, the fund had unrestricted assets of $9.2 million and will distribute 5 percent, or $460,000, in grants this year. (Including the donor-advised funds and agency endowments that Women's Fund manages, its total assets are $11.6 million.)

This year, the Women's Fund also will release an update of its report on issues facing women and girls in the region. One statistic driving grant-making for the past several years is the number of licensed child-care spaces in Marion and surrounding counties: an average of 26 per 100 children through age 4, although 64 percent of children have both parents working outside the home.

In 2006, the fund gave Neighborhood Self-Employment Initiative $150,000 to train low-income women to start their own businesses in child care and care for elderly and disabled people.

Baker said she hears anecdotal evidence that the amount of licensed child care has increased, but she's not sure whether Women's Fund has moved the needle.

"I think we're going to be really interested in that report and what the impact is," she said.

The local women's fund is part of the global Women's Funding Network, based in San Francisco. The group has 155 members, which may be part of community foundations, family foundations or fund-raising groups that have no permanent endowment. The first one, Ms. Foundation, was created 30 years ago by Gloria Steinem.

The central Indiana fund is one of the largest in the network in terms of assets, said Deborah Richardson, chief program officer at the Women's Funding Network. An exact ranking was not available because not all members of the network have endowments.

The primary missions of network members may be in areas such as human rights or health care, but all see improving the lives of women and girls as a key strategy in their overall agenda for social change, Richardson said.

It's true that women benefit from all sorts of philanthropy, Richardson said, but the network believes focusing on them is a more effective way to improve family life and, in turn, communities. "You get a greater return on investment."•