Health-food fads come and go, but Verdure Sciences of Noblesville is banking on the staying power of pomegranate.
The botanical-extract distributor was recently awarded a patent on its pomegranate-based product called Pomella. Verdure
has invested more than $1 million in marketing and research, and hopes to see its product in more foods and drinks, perhaps
even mouthwash.
"Pomegranate was one of our major first breakthroughs," CEO Ajay Patel said.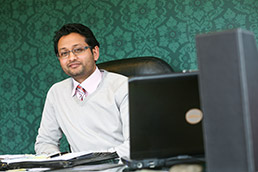 Ajay Patel
is founder of Verdure, which has been doing pomegranate research since 2000. (IBJ Photo/ Perry Reichanadter)
Verdure Sciences sells a variety of botanical extracts to the dietary supplements industry. Patel declined to disclose total
revenue, but an estimate by Nutrition Business Journal puts the company's sales at $23 million for 2008.
Verdure is a small player in its segment of the U.S. dietary supplements industry, which was worth $25.2 billion in 2008,
according to the Colorado-based NBJ.
The company's strategy is to create branded ingredients by obtaining patents and backing research that uses those ingredients.
The strategy is common among ingredient suppliers these days, but it's one that could pay off in a big way, said Carlotta
Mast, NBJ editor.
For example, she noted that Columbia, Md.-based Martek Biosciences has become the dominant provider of plant-based omega-3,
an essential fatty acid. The company's Life's DHA brand is found in a host of consumer products, from eggs to
infant formula, she said.
"If [Verdure] could get one of these extracts into a mainstream food or beverage product that was able to gain a consumer
following, it could really boost the size of their business," Mast said.
Verdure's Pomella patent, awarded last February, covers the chemical composition of the extract, which was developed
by researchers at the University of California-Los Angeles. Verdure claims Pomella is more readily absorbed by the body than
other pomegranate products, and therefore delivers a more powerful dose of the antioxidants that make pomegranate a so-called
"super fruit."
The company is already selling Pomella for use in several products, including juice made by California-based Langers and
a chewable supplement sold by New Chapter, based in Brattleboro, Vt.
Verdure has been funding research on its pomegranate extract, as well as others, since 2000. Indeed, Patel hopes to one day
land a licensing deal with a major food and beverage manufacturer.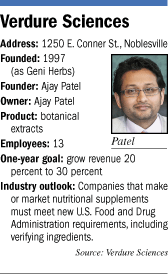 For now, Verdure is one of dozens of ingredient suppliers. The industry's lobbying group, the American Herbal Products
Association, counts 42 members, including Verdure, in its botanical supplier category alone.
"We're in an industry where the barriers to entry are very low," Technical Director Blake Ebersole explained.
"We have to do what we can to set ourselves apart."
The increasingly health-conscious consumer market is driving the supplements industry.
According to NBJ, total raw material and ingredient sales to the U.S. nutrition industry grew 11 percent in 2008
to $8.6 billion. That was the highest sales growth that ingredient suppliers had recorded since 1997, but NBJ noted
it was partly attributed to higher costs.
Suppliers that the industry magazine surveyed last year said companies in the health-food niche were delaying product
launches.
Like Verdure, other suppliers are setting their sights on the major food-and-beverage makers, which are looking for developments
in so-called "functional" foods. These are conventional foods that may claim to offer additional health benefits,
such as probiotic yogurt to aid digestion.
Patel, 36, started the firm in 1997 as a solo operation called Geni Herbs. He'd recently received a degree in chemical
engineering from Purdue University and noticed that traditional Indian medicine was growing in popularity in the United States.
Patel's father was involved in manufacturing herbal extracts back in India. So Patel decided to stay in Indiana and
set up a distributorship. Verdure now has 13 employees and sales offices in Germany and Japan.
Although most of Verdure's customers and research partners are on the East and West coasts, Patel said Indiana is a
good place for his business. The local life sciences industry provides a pool of workers with the necessary expertise. Verdure
also relies on local vendors for product testing, which is a key part of the business, especially under new U.S. Food and
Drug Administration regulations.
Verdure's exclusive manufacturing partner is Pharmanza Herbals, owned by Patel's family. The company has a 120-employee
factory in the Indian state of Gujarat.
That relationship has been crucial to Verdure's positioning as a high-quality ingredient supplier. Under new FDA rules,
companies that market dietary supplements to consumers must be able to verify the contents of their products, the shelf life
and the safety.
Consumer-product makers are turning to suppliers like Verdure for the required testing and documentation. With many of his
competitors unable to provide those assurances, Patel said he expects to increase revenue 20 percent to 30 percent this year.
Patel said Verdure began spending more on documentation and testing several years ago. Quality-control expenses tripled in
the past year alone, he said. "We have invested a ton of money to do this on the raw-material level."
Ebersole, a chemist, spends a lot of time on the scientific conference circuit.
"Researchers are always looking for a breakthrough material to study," he said.
That's how Verdure got involved with UCLA's clinical trial of curcumin for Alzheimer's disease patients.
Curcumin is the yellow pigment in the Indian spice turmeric, and it's known as an anti-inflammatory, which is an area
of interest for Alzheimer's research.
The UCLA team is using Verdure's specific curcumin formulation, called LongVida, and the company is seeking a patent
on the product.
Obviously, Verdure hopes curcumin turns out to be the next star of the health-food industry, but Patel said he won't
allow his ingredients to be used as marketing gimmicks. Consumer-goods makers must use Verdure's ingredients in amounts
recommended by the research, he said.
Those standards are what will allow Verdure to outlive the fads, Ebersole said. "The idea is, if the product works,
then the consumer keeps buying it."•
Please enable JavaScript to view this content.