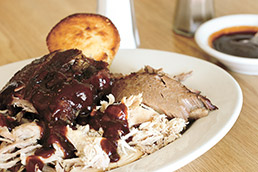 The South's Sampler Platter offered up four different smoked meats. Consider ordering sauce on the side. (IBJ Photo/ Perry Reichanadter)
This month's quest for "House" restaurants sent us to Beech Grove, where G.T. South's Rib House (4919 S. Emerson Ave., 791-6637) has been serving up southern barbecue for almost eight years. The Beech Grove place is actually their second outlet; the original opened in 1992 and is still smoking away on 71st Street near Binford Boulevard.

Everything about the restaurant is unassuming—from the location (strip mall) to the seating (think banquet hall) to the décor (pig-centric, natch). But what G.T. South's lacks in ego it makes up for in execution. Service was speedy, the prices reasonable and the food memorable.

The menu is standard barbecue: ribs, pulled pork, beef brisket, smoked chicken and the expected assortment of beans-and-greens side dishes. We were surprised to see Brunswick Stew ($2.50 cup, $4.95 bowl) among the offerings, until we learned that owners G. Travis and Gladys South hail from Georgia. The stew, a Georgia tradition, features pork, beef and chicken that has been simmered for hours with tomatoes, corn and enough spices to keep things interesting. Yum.

Our focus, though, was on the meat. Lots of meat.

Although we could have—and probably should have—shared a platter, my friend and I each ordered our own entree for lunch and had plenty of leftovers for dinner.

She picked the Pulled Pork Platter ($9.50), a veritable mound of melt-in-your-mouth meat served with a choice of two sides. My friend's lone quibble: Her pork was topped with a mild barbecue sauce, so she had trouble finding sauce-free bites to savor the hickory flavor.

I know it was there, though, because pulled pork also was a component of my South's Sampler Platter ($16.50), which also included beef brisket, pulled chicken and ribs—with my spicy sauce on the side. G.T. South's says it smokes its meat for up to 12 hours and it shows, both in the tenderness and the pervasive sweet hickory taste.

The menu warns that the smoking process often leaves fully cooked pork and chicken with a pink tint, but I inhaled the chicken too quickly to notice if that was the case. The three ribs didn't stand a chance, either; the rib meat was both hearty and delicate, requiring a little effort to get off the bone but not too much to get it down the hatch.

The brisket, likewise, was a testament to the slow-and-low cooking, even when I asked it to stand up to the stress of the microwave later. Now that's good meat.•

—Andrea Muirragui Davis

__________

Second in our month-long series of "House" restaurant reviews.