Clarian Health is planning to build a bed tower at Methodist Hospital in a massive project that shows renewed commitment to the downtown campus.

The tower would have 175 to 250 beds and allow Methodist to make all its rooms private. Right now, half of Methodist's 760 beds are in pairs in semi-private rooms.

Clarian projects it could spend $375 million to $500 million on the project, which would not be complete until mid-2015.

The work, all centered on the intersection of Capitol Avenue and 18th Street, will include demolition of an aging bed tower with 100 psychiatric beds as well as a partially used parking garage. Clarian is likely to build a parking facility with room for offices on the east side of Capitol.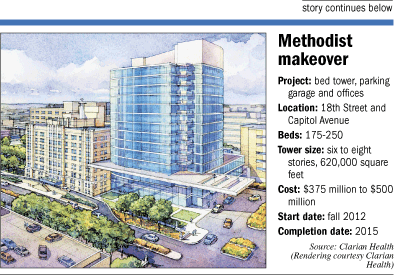 "The downtown location is the best place for us to serve the 6 million people of Indiana," said Sam Odle, Clarian's chief opperating officer. He added, "We're modernizing all of our facilities and expanding those facilities to meet the patient demand."

Since the 1997 creation of Clarian as a joint venture of Methodist and the Indiana University School of Medicine, Methodist has seen only one modest expansion. In 2002, Clarian centralized cardiovascular procedures there with a $36 million addition.

Meanwhile, Clarian has poured hundreds of millions of dollars into its two other downtown hospitals—Indiana University Hospital and Riley Hospital for Children—and also built outlying hospitals in Avon, Carmel, Lafayette and now Fishers.

"There's always been a question as to whether one organization is going to predominate," said hospital accountant Ed Abel, referring to IU and Methodist.

But Methodist seems to be getting more love now. The bed tower is the second project Clarian has announced at Methodist this year.

Clarian plans to start construction this year on a $75 million neurosciences outpatient hub across from Methodist along West 16th Street. In addition, the hospital spent $27 million to renovate its operating rooms to accommodate more neuro surgeries.

Odle

Odle noted that Methodist had the most modern facilities when it merged with the IU hospitals. The hospital nearly doubled in size when it constructed its main entrance along Senate Boulevard in the 1980s. It added a new trauma unit in 1995.

But privately, Clarian officials acknowledge they have ignored the Methodist hub for too long.

Private rooms

If Clarian is committed to Methodist, it has to make all its rooms private, said Deeni Taylor, a regional executive vice president at BremnerDuke Healthcare Real Estate, an Indianapolis-based developer.

Just about every hospital built in the past 25 years has had all private rooms, and most older hospitals have tried to convert their rooms to have just one bed each.

"Obviously, that's a patient preference," Taylor said. "But you've also got all the HIPAA [privacy rules] and infection control. Really, just good patient care leads to private rooms."

Abel, who is director of health care services at Indianapolis-based Blue & Co., said Methodist has been losing at least some patients because it does not have all private rooms

It also can be more costly to operate semi-private rooms, Abel said, because hospitals often try to juggle patients so they aren't mixing those of different sex or religion or even race—anything that might lead later to patient complaints or disputes.

"You take that across 500 beds, and, oh my goodness. It's costing them money," Abel said.

Clarian is trying to convert all three of its downtown hospitals to all private rooms. Those three hospitals receive more than 850,000 patient visits each year.

Clarian does not break out financial results for Methodist Hospital, but combines its results with the IU and Riley hospitals. As a group, those hospitals brought in $2 billion in revenue in 2008, the most recent year available. They posted an operating gain of $96 million.

Pricey project

The bed tower project at Methodist has been planned since the 1980s but was delayed in part because of its high cost. The project will require expensive removal of asbestos from Building C, which contains the 100 psychiatric beds.

In addition, Odle said, many of the main utility connections for Methodist come in through or near Building C. Those will need to be re-routed.

On the east side of Capitol Avenue, Clarian likely will tear down a nursing home to make way for the parking garage with office space. It also wants to beautify 18th Street to act as an attractive gateway to the tower and the hospital. But the main entrance will remain on Senate Boulevard. The details and cost estimates of the plans are still being worked out and will go before the Clarian board later this year.

Clarian is currently raising money quietly from its employees and "internal friends," Odle said. Clarian expects the rest will come from cash and tax-exempt bonds, he said.

Olde said Clarian officials have yet to decide what kinds of patients will be treated in the new tower. They are studying patient volume trends and the impact of the recently passed health reform law to determine what demand will be in 2015.

Clarian was the most active builder among Indianapolis-based hospitals in the past decade. But it halted its major construction projects in late 2008 after the meltdown on Wall Street hammered its investments by $633 million.

As a result, Clarian stopped construction on its new hospital in Fishers and on a bed tower at Riley. It resumed the former project in October and the latter one this spring.

St. Francis Hospital & Health Centers stopped and then restarted work on a 221-bed tower at its campus on the southern edge of Indianapolis. St. Francis will consolidate operations there after it closes its Beech Grove hospital in 2012.

By contrast, Community Health Network plowed ahead with a $130 million expansion of its Community South Hospital, on County Line Road.

And Wishard Health Services, the publicly supported safety-net hospital for Indianapolis, started construction this year on a $754 million new hospital just west of the IUPUI campus. When that hospital opens in 2013, it will replace Wishard's existing hospital.•