The door and the popcorn.
One or both of these things might have come to mind when you noted that we'd be revisiting The Ice House (2352 West St., 788-7075) in this week's column. One of the advantages of our month-long restaurant themes is that it gives us an excuse to visit old favorites, and this landmark between Raymond Street and Troy Avenue certainly qualifies. Hungry lunchers have a long history of pulling open the big metal door of this roadhouse for crunchy, free popcorn and bar basics.
We settled in among the bar signs and stuck close to the standards, starting with a cup of hearty but unexceptional chili ($4.25) and a small dinner salad ($2.50). With the relatively healthy stuff out of the way, we hit the sandwich triad.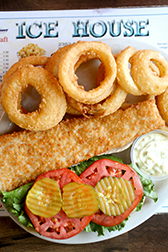 The Ice House Fish Filet extends well beyond the bun. (IBJ Photo/ Perry Reichanadter)
The Fish Filet ($6.50) could easily have been mistaken for a Little League bat. Extending in two directions well past the perimeter of the bun, it offered sustained crunch over flavorful fish. A side of onion rings (a $2.95 upgrade over potato chips) satisfied.  
The Giant Breaded Tenderloin ($6.50) was equally expansive, requiring multiple trims—both with knife and teeth—before it would come close to fitting on the soft-but-simple bun. The menu says the tenderloin is hand cubed and breaded on site, and the TLC showed. The chips served on the side, on the other hand, clearly came straight from a bag. We'd have preferred a refill of the buttery popcorn.
The Half Pound Ice House Hamburger ($5.95) topped with American Cheese was a winner. The patty didn't look freshly formed, but no matter. The burger, bun and cheese melded into a tasty sandwich that lived up to expectations. The accompanying fries were flavorful and done to perfection.
While cobbler was on the menu as a dessert special, we opted to get back to the office on time. Sometimes, sacrifices must be made to make sure you get your weekly paper.
Warning: We were surprised to see a Family Dining sign outside the place and ashtrays on the tables. To clarify, the Ice House is a full-smoking restaurant—just one that hasn't gotten around to changing its signage. This isn't a place where you expect change to happen quickly.•
__________
Third in our month-long series of "House" restaurant reviews.
Please enable JavaScript to view this content.