This week, the Broadway sensation "Billy Elliot" dances into Chicago for an extended run. And, closer to home, the Phoenix indulges in some conspiracy theorizing.
__________
There's a very good reason "Billy Elliot: The Musical" isn't spoken of in the same way as other film-to-theater adaptations like "Footloose," "9 to 5" or "The Wedding Singer": The Tony-winning show, having its Midwest premiere at Chicago's Oriental Theatre, feels like it was sparked by artists, not by business folks. When "Billy Elliot" soars—and it does every time the title character finds that he can communicate better through dancing than words—the force comes from within the character, not from the production office. And that force is a wonder to behold.
In case you missed the film the play is based on, the story concerns a young boy whose town is caught up in the British coal miners' strike of 1984. In the midst of the tumult, Billy falls in with a seen-better-days dance teacher and finds he has the talent—and the drive—to transcend his surroundings.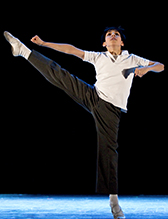 The lead role in "Billy Elliot" is so demanding that leads rotate in the part. On opening night, it was Cesar Corrales, above. (Photos Courtesy Joan Marcus)
"Billy" may be uniquely suited for a stage musical. But there are challenges, some of which are met and some not. Conventional wisdom is that a big musical needs more than one person dancing. But dancing miners undermine Billy's specialness and would be wildly out of place in a show so anchored in reality. For the most part, the show creatively works around that seeming contradiction by using the ensemble in abstract ways, never having them dance as part of a realistic scene. They accent, for instance, the memory song of Billy's grandma (an outstanding, understated Cynthia Darlow) or present the strike-breaking opposition in Billy's bravura "Angry Dance." None of this seems jarring or trivializing in a show that opens with documentary footage of the actual strike.
Where "Billy" sometimes falters is when it doesn't trust the truth of its characters. A sweet scene with Billy's cross-dressing pal doesn't need to resort to a giant fantasy dance with oversized dresses on parade. A second-act opener, set during a holiday pageant, undermines the reality of the strikers' struggle: Shouldn't the miners have spent money on, oh, food instead of a massive Margaret Thatcher puppet? Not long after that, a stunning "Swan Lake" duo dance for Billy and his older self turns Peter Pan-ish when the boy is connected to a too-obvious wire and spun high above the stage. Lesson: Theatrical magic doesn't always require special effects.
The music—by Elton John with lyrics by the film's screenwriter, Lee Hall—serves the piece well but doesn't have that "gotta listen again" quality that turns a score into a classic independent of the show itself. The exception is "Electricity," a beautiful song that seems to come directly from Billy's heart and brain.
Speaking of Billy, on opening night, the role was played by Cesar Corrales, a 13-year-old who studied at Canada's National Ballet School. Corrales isn't just an accomplished, athletic, graceful dancer. He's also someone we want to watch for 2-1/2 hours, which is just as important. For the show to work, we have to see both the ordinary and the extraordinary in him. When he dances, our souls have to dance with him. Corrales does that without ever seeming like he's showing off. (Your Billy may vary: Three other young men rotate the role in the Chicago production.)
By the time we see "Billy Elliot" in Indy, Corrales and his compatriots may well be graduating high school. In the meantime, the Chicago production—like the blockbusters "Wicked" and "Jersey Boys" before it—has settled in for an open-ended run (although, for the time being, tickets are only on sale through Oct. 24). For information on the show, visit www.broadwayinchicago.com.
__________
As with many conspiracy theories, I had trouble believing Steven Dietz's "Yankee Tavern" (through May 1 at The Phoenix Theatre).
At first, I thought this might be due to Stephen Hunt's soft, affected portrayal of Ray, a suspicious-of-everything squatter in the building that houses the title tavern. I've been around conspiracy buffs, both stable and unstable, and what's consistent is their firm belief in the connections they are finding and their steadfast refusal to accept coincidence. It's a fascinating and terrifying mind-set, one that can switch from funny to irrefutable in a heartbeat. With Hunt, though, it seems merely a quirk.
There's more going on in "Yankee Tavern," though, than just paranoid talk. The barkeep (solidly played by Shane Chuvalas) may have had an affair with a government-connected professor. The mysterious stranger at the bar may have information on the 9/11 attacks. And, in Dietz's most disposable twist, there may even be ghosts upstairs.
There's palpable suspense (aided by Matt Kelly's sound design) in a confrontation between the barkeep's fiancée and the aforementioned stranger. And the writing constantly pushes forward, keeping the proceedings from becoming dull. But I don't think it unreasonable to expect a play that uses the destruction of the World Trade Center as its playground to build to something stronger than minor gunplay, unbelievable spy maneuvers and an ambiguous ending. I didn't experience the thrills I should get from a thriller or the thoughts I should have after a thought-provoking drama.
Instead, I left with the sense that "Yankee Tavern" was a few drafts away from being a solid play. Or that aliens and the CIA had tampered with it on the way to the stage.
For more information, visit www.phoenixtheatre.org.•
__________
This column appears weekly. Send information on upcoming A&E events to lharry@ibj.com. Twitter: @IBJarts.
Please enable JavaScript to view this content.