Little did Cindy Schembre know that when she launched her retail development firm about three years ago, the worst recession
in decades would be waiting.
The former Duke Realty Corp. executive started Via Retail Development LLC in January 2007 and began closing on the purchase
of 11 acres at Pendleton Pike and East 56th Street.
The $15 million project, known as Lawrence Commons, is a 95,000-square-foot neighborhood center that was slated to break
ground in June 2008.
But it wasn't until January this year—more than 18 months later—that LA Fitness began constructing a 45,000-square-foot
club that anchors the retail center. Making matters worse, no tenants have been signed for nine other planned spaces, including
some in the only building so far completed.
"I went out on my own because it was such a good time to do it," she said. "A year later, just as we were
getting ready to start everything, National City [Bank] started having their problems, and it just got worse from there."
The former National City, purchased by Pittsburgh-based PNC Financial Services Group Inc. in late 2008, pulled financing
when its subprime mortgage problems escalated. That led her to sell the LA Fitness lease to an outside buyer to finance construction
of its building.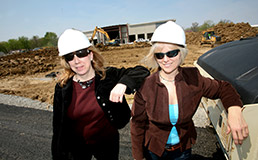 Cindy Schembre, right, owner of Via Retail Development LLC, is building a strip mall with Rebecca Dixon, president of Via
Design and Construction LLC. The companies are not related. (IBJ Photo/ Perry Reichanadter)
Schembre's plight is but one example underscoring the problems plaguing the retail sector. The sluggish economy and
credit crunch largely are to blame for the dearth of new stores.
Scott Gray, a principal at Indianapolis-based Sitehawk Retail Real Estate who is the leasing agent for Lawrence Commons,
lamented the tough conditions.
"I've been in the business for 22 or 23 years, and this is the worst lending environment I've ever seen,"
he said. "Good developers can't get money right now."
Large players not immune
That might not be all bad, judging from the glut of existing space available and national retail vacancy rates that
have climbed to double-digit levels. Locally, however, large commercial real estate developers such as Indianapolis-based
Kite Realty Group Trust and Simon Property Group Inc. are faring a bit better.
Publicly traded Kite reported its overall vacancy rate for its 51 retail properties rose to 8.9 percent in the fourth quarter
from 8.2 percent the prior quarter.
One of its largest and most successful developments in the city, Traders Point shopping center on West 86th Street at Interstate
465, boasts an impressive occupancy rate of 98.2 percent.
Yet, two smaller outlet buildings constructed on the site near West 86th Street, and totaling 46,600 square feet, still are
hampered by nine vacant storefronts. That's a 54.5-percent occupancy rate nearly five years after Kite finished the
development, according to company financial documents.
A Kite spokesman said the company expected it would take longer to fully lease the smaller buildings, particularly because
they're not connected to the Dick's Sporting Goods store or the other large retailers that anchor the development.
"But we feel like, all in all, the real estate's good," he said.
Simon, meanwhile, is faring a tad better. Its total vacancy rate in 2009 rose slightly to 8.9 percent from 8.6 percent the
previous year.
The company's 950,000-square-foot Hamilton Town Center, which opened in May 2008 off Interstate 69 in Hamilton County,
is below Simon's average and is 11.5-percent vacant. That's an improvement, though, from the center's opening
vacancy rate of 21 percent.
Gaping vacancies
Rates at U.S. strip malls are at an 18-year high, and regional mall vacancies are the highest in at least 10 years,
according to Providence, R.I.-based research firm Reis Inc.
Nationally, the first-quarter vacancy rate at U.S. strip malls rose 0.2 percent percentage points from the previous quarter,
to 10.8 percent, the highest since 1991, Reis said.
Mall vacancy rates rose 0.3 percentage point from last quarter, to 8.9 percent, the highest level since Reis began tracking
regional malls in 2000.
Reis attributed the gloomy first-quarter report released in early April to economic turbulence, which could strap retail
properties for another year.
"The expected slow pace of job growth and inconsistent consumer spending patterns will weigh on tenants for at least
another 12-18 months," research director Victor Calanog said in the report.
Retail vacancy rates aren't tracked locally. However, the local rate likely mirrors national numbers, brokers said.
A trip to the traditionally strong Castleton area provides some evidence, said Sitehawk's Gray. Several small strip
centers surrounding Castleton Mall are riddled with vacancies, though Gray is confident the area will rebound.
"There's some older, tired space on the market right now," he said. "Castleton is still a strong
market, but if you drive around it, there's a lot of space."
Way cheap rental rates
The market is so bad that brokers have written off 2010 and turned their attention to next year.
Three factors influence retail activity: job growth, income growth and gains in consumer confidence, said Bill French, a
senior vice president at the local office of the St. Louis-based Cassidy Turley commercial real estate brokerage. He doesn't
foresee immediate improvement among any of the three.
"The die has been cast for 2010," French said. "What we're working on is 2011."
A glaring consequence is cheap rental rates. Lease rates in the first quarter fell for the seventh consecutive quarter and
are expected to decline 2.4 percent in 2010, yet not as severe as the 4-percent drop last year.
The dips have tossed asking rents back to levels last seen at the end of 2005. Asking rents for strip malls in the first
quarter fell to $16.62 a square foot, while they declined to $38.79 for regional malls, according to Reis.
Brokers are seeing landlords offer deals once unheard of.
"I got a proposal for a year free," Gray said. "I don't remember seeing a year free on anything I've
done."
Nationally, net absorption of retail space is expected to remain in negative territory this year, at minus 3 million square
feet, which still is an improvement over 2009—but only because construction of retail developments has "slowed
to a trickle," Reis said in its report.
To be sure, Lawrence Commons is one of just a few significant retail projects under construction in the Indianapolis area.
Brokers could name only Indianapolis-based Keystone Construction Corp.'s Arts District Lofts & Shoppes on Main Street
in Carmel as others.
But Schembre is determined to get it finished within the next 18 months before moving on to other interests. Perhaps her
next project will be less daunting.
"I'm not saying we're out of the woods yet," she said, "but I can almost see 2009 in the rearview
mirror."•
Please enable JavaScript to view this content.