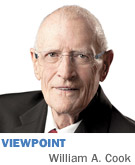 As I stood on the stage in the wonderful old Central Avenue Methodist
Church (Old Centrum) in Indianapolis' Old Northside historic district last week, announcing the support my family is
giving to assist in restoring and converting it to the Indiana Landmarks Center, I was fully prepared for the inevitable question:
Why?
My wife, Gayle, and son Carl and I have been asked this question more than a few times about our historic renovation projects.
And while our objectives may vary from place to place, the big-picture reason is the same each time: Restoring historic structures
helps communities.
I got involved in restoration projects more than 30 years ago when a serious cardiac illness sidelined me from my medical-device
business. When it looked as though I might never be able to work in an office again, Gayle and I thought renovating historic
buildings would be a good idea. It would allow us to contribute to society and make money.
Fortunately, in time my health improved and I was able to return to my executive role. But we stuck with preservation, even
as we grew our medical-device business.
Why? Because we love historic buildings' character, history and beauty, but also because we've seen the impact
preservation projects can have on people's lives. We've witnessed it in Bloomington, where revitalizing historic
buildings around the courthouse square helped transform a faded downtown into a popular commercial and retail center. We've
seen it in French Lick and West Baden, once-struggling communities now thriving as travel destinations.
In these and other places, there's a snowball effect that follows a restoration project: One restored building leads
to others, and, pretty soon, you have a thriving area where there was once lack of investment and neglect.
In other words, saving landmarks that reconnect us to heritage also spurs economic development and community revitalization.
That's why such luminaries of Indiana business as Eli Lilly, Herman Krannert and James Hoover founded Indiana Landmarks
(formerly Historic Landmarks Foundation of Indiana) 50 years ago. Not simply because they liked vintage places, but because
they saw the economic and community value in historic buildings.
Admittedly, when you're looking at a tired old building, the opportunities it presents are not always obvious. For
example, when the West Baden Springs Hotel was collapsing, experts suggested Indiana Landmarks "call it a ruin and let
people crawl on it." Fortunately for the people of Orange County and all Hoosiers, Indiana Landmarks didn't listen
to that advice.
Indianapolis has a long history of applying similar vision to the revitalization of residential and commercial historic districts,
starting with Lockerbie Square back in the 1970s. Now, look around the city—at the Wholesale District, Massachusetts
Avenue, Fountain Square and other areas where the restoration of historic structures led to revitalized commercial districts—and
the value of historic preservation seems clear.
Look at Chatham Arch, Fletcher Place, Woodruff Place and the many other highly regarded Indianapolis neighborhoods that found
new vitality after receiving a historic designation and, once again, the impact of preservation is undeniable.
Which leads me back to the question I hear so often: Why? Simply put, we believe in the community-wide impact of historic
preservation. It's not just about old buildings, and it's not simply about preserving the past. It's about
building for the future and benefiting entire communities.•
__________
Cook is founder and CEO of Cook Group Inc. in Bloomington.
Please enable JavaScript to view this content.