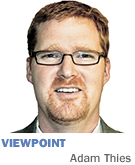 Let me start by saying I am a sucker for a good story. During the NCAA men's basketball
championship last month, when that ball, or as the CBS color commentator Clark Kellogg called it, the "pumpkin,"
arched into the air from the hands of central Indiana's now second-most-famous "babyface," I thought, "This
is it!"
I could already see the kids gathering round for years to come to hear about the day Butler took down the mighty Duke Blue
Devils. I mean, come on, with four minutes still to play in the game, CBS was already playing the theme music from the movie
"Hoosiers," prepping us for the anticipated end-game sequence.
So, other than in my dreams, everyone knows that the ball did not go in the hoop. I believe that, because 70,000-plus mesmerized
fans inhaled all at the same time, the air was far too light in our fine stadium and that little ball just picked up too much
steam. Glass, rim, out. My poor physics aside, the story just did not happen.
Or did it?
In the days and weeks that followed, I searched the Internet incessantly for what was being said about the game, but I was
more interested in what was being said about my state and our place in this grand country. I am a sucker for Indiana. You
see, in the lead-up to this unlikely sporting event, I felt something happen in Indianapolis and in Indiana as a whole. I
felt that there was a spotlight on our corner of the world. While it showcased our treasured past, the stage highlighted what
I think is a new attitude, a shared new "way," if you will, to borrow from the "Butler Way" moniker.
Yes, there was plenty of the "aw, shucks" nature of our friendly Hoosier hospitality that is trumpeted by our
political leaders and visitors' centers. And, yes, the movie "Hoosiers" got some major airtime. But underneath
it all, there was a story about commitment, hard work, making something special and doing things "the right way."
There was also an undercurrent about the bright outlook for the future. For college basketball fans, it was about a future
with tournaments as exciting as this one. For Indianapolis and Indiana, it was about showing the world an attitude or even
a brand that will give us a tangible competitive advantage if we can grab it. Put simply, Indiana is a place where the future
is brighter and better than the past. It is where innovation lives and we are willing to have fun and work hard to make it
happen.
I spend a lot of my time trying to figure out how to make cities and towns better places to live. A mega-topic in my field
of urban planning is how to "brand" your community. Most folks associate branding with a logo, a graphic or a
tag line. But really a brand is a promise. It is a promise that must be made to longtime locals and new visitors. It must
have follow-through and delivery.
It's nice outside this time of year. Step out and see that Indianapolis and Indiana are delivering on this suggested
brand. The Cultural Trail, the Carmel Performing Arts Center, the 100 Acres Art & Nature Park at the Indianapolis Museum
of Art (which I predict will be an international success), the Indianapolis Colts—and, of course, the Butler Bulldogs—are
all delivering.
I am young. I've got 30, maybe 40 years to make a difference. What's the story going to be? Will it be mission
failed, the American dream broken, the past was better than the future?
Not in Indiana. I believe that our finest hour is yet to come.•
__________
Thies is president of EDEN Collaborative, a land-use planning and development consulting firm in Indianapolis.
Please enable JavaScript to view this content.