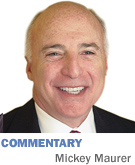 My longtime assistant, Marla Smith, had a sign on her desk that read, "The best man for the job is often a woman." I have grown to appreciate and believe in that advice.

At Indianapolis Business Journal and The National Bank of Indianapolis, we are overrun by women in all of our major divisions, much to my good fortune. Their influence on management decisions is persuasive and pervasive. On one occasion at IBJ several years ago, a male telemarketing employee, upon hearing a minimally suggestive voice-mail message, left a vulgar reply. At the following management meeting, I suggested we limit our discipline to a stern warning to our employee that his continued employment was conditioned upon more appropriate behavior. The women around the table did not buy it. He was fired that afternoon.

Less than a generation ago, the business world was fascinated with the concept of the glass ceiling. The "glass ceiling" is a phrase coined by The Wall Street Journal to describe the barriers women face in the workplace. The word "ceiling" suggests women are blocked from advancing their careers and the word "glass" is used because the ceiling is not always discernable. An article in Fortune magazine in 1991 tabulated the 6,400 highest-paid officers and directors of United States businesses and concluded that only 0.5 percent were women. It concluded that women did not have the same opportunities as males. The article cited independent surveys that found women overwhelmingly believed they could not hope to reach a senior management level in a traditional corporation.

The lamentable state of affairs in the early '90s spawned an initiative to gender-balance the books at the board level with an expected trickle-down effect. By 1994, according to Catalyst, a research firm focused on women in business, more than half the Fortune 500 companies they surveyed had at least one woman on their board of directors. In 2009, that number had risen to approximately 90 percent; however, women held only 15 percent of the available board seats.

According to a recent article in The Washington Post, Norway mandates that corporate boards be 40-percent female. Reflecting the fact that enlightened corporate decision-makers have come to realize gender diversity is good business, women have made strides to the executive office as well, although they still have to work harder to get there.

There has also been a migration of many of the best and brightest women to entrepreneurial ventures where the barriers are fewer and the chance for reward is higher. There is no glass ceiling (to the extent it exists at all today) in the entrepreneurial world. If a company is efficiently delivering quality goods and services, no one inquires whether that company is owned by a woman. Last year, The New York Times cited the Center for Women's Business Research that estimated that 8 million businesses, or 28 percent of all businesses, were owned by women and that those businesses created or maintained 16 percent of all jobs. This phenomenon was no more evident than in Indianapolis April 21 at a meeting of the local chapter of the National Association of Women Business Owners at the Conrad Indianapolis attended by approximately 300 women.

I write this article while eating Chicken Salad Patachou at one of my favorite lunch hangouts. This eatery was established in 1989 at 49th and Pennsylvania streets by Martha Hoover. Martha was trained as a lawyer and served as deputy prosecutor under Steve Goldsmith focusing on sex crimes. She just opened her seventh restaurant. Achieving success in the food service industry is one of the toughest endeavors in the business world. Failures abound. Patachou is thriving thanks to owner Martha Hoover, the best "man" for the job—a woman.•

__________

Maurer is a shareholder in IBJ Corp., which owns Indianapolis Business Journal. His column appears every other week. To comment on this column, send e-mail to mmaurer@ibj.com.