Home-grown restaurant chain Sahm's plans to open a tavern and restaurant in downtown's historic Gibson Building—southeast
of Capitol Avenue and Michigan Street.
Sahm's Tavern will take about 3,600 square feet in the southeast corner of the first floor of the building, which has
OneAmerica and ExactTarget as its anchor office tenants.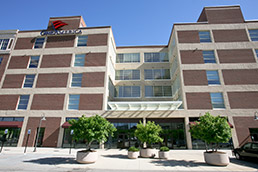 Sahm's is opening a new tavern on the first floor of the Gibson Building. (IBJ Photo/ Perry Reichanadter)

The plans call for a 60-seat tavern and 50-seat café with outdoor seating on both sides, said Ed Sahm, CEO of Sahm's
Cos. Building out the space will cost about $500,000.
Sahm's earlier this year opened a restaurant and catering facility about a block away, in OneAmerica Tower. Sahm's
at The Tower is much larger, at more than 300 seats, and replaces an old location on the second floor of M&I Plaza.
Please enable JavaScript to view this content.