Mike Cunningham was 8 years old when he landed his first restaurant job, as a dishwasher at a Skyline Chili in his hometown
of Cincinnati.
Cunningham had found his calling: Now 47, he has run dining spots ranging from a bar and grill to yogurt stands and is growing
a popular chain of upscale restaurants—primarily under the Stone Creek Dining Co. name—in Indiana and Ohio.
Avon-based Cunningham Restaurant Group has more than 450 employees and is on track to ring up $22 million in sales for 2010,
up from $18 million in 2009. The company's 10th restaurant—a spot called Mesh to replace the former Scholar's
Inn on Massachusetts Avenue downtown—is scheduled to open in August.
"I started cooking in high school," said Cunningham, who is married with three daughters. "One thing leads
to another, and you end up making a livelihood out of it."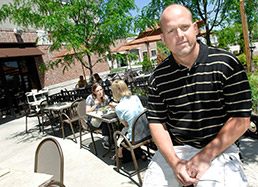 Mike Cunningham, at his Zionsville eatery, says he serves "food that's interesting but familiar." (IBJ Photo/
Perry Reichanadter)
Most of the company's restaurants operate as Stone Creek, including four locations in central Indiana and two in the
Cincinnati suburbs. The group also owns Boulder Creek Dining Co. in Brownsburg, Charbonos in Avon, and Café 251 in
downtown's Capital Center.
The restaurants most directly compete with Bravo, Bonefish Grill and P.F. Chang's, Cunningham said. The restaurants
don't follow the latest trends, but instead focus on serving "food that's interesting but familiar."
The newest restaurant in the Cunningham Restaurant Group lineup—a Stone Creek in West Chester, Ohio—replaced
a restaurant called Mesh. Cunningham bought the equipment, the 8,800-square-foot lease and the name—since he liked it
for his new space on Mass Ave.
The price was right, Cunningham said, and it gave him a chance to capitalize on the recession to grow his business. He agreed
to lease the former Scholar's Inn space for the same reason.
For the new Mesh, Cunningham hired Executive Chef Layton Roberts of 14 West to develop a menu that will be "95 percent
different" from the chain's other restaurants. Yet the offerings will be more affordable than Scholar's
Inn, with sandwiches for about $8 and entrees ranging from $13 to $20. A renovation will reveal brick walls that had been
covered, along with hardwood floors.
Cunningham doesn't expect to open any more restaurants in the Indianapolis area, but he sees more opportunities in
Cincinnati, where he is partnering with local favorite Christian Moerlein Brewing Co. on a giant restaurant along the riverfront.
He also is scouting potential sites in Louisville.
"We just want to do what makes sense and grow carefully," said Cunningham, who has two partners, businessmen
John Roesch and Larry Hoeg, who together own 25 percent of the company.
He finances most of his restaurant deals with Bloomington-based Monroe Bank or Frankfort-based The Farmers Bank.
Cunningham moved to Indiana in 1984 after his employer at the time, the Ground Round chain, sent him to run a local restaurant.
He started with Ground Round as he earned an associate's degree in restaurant and hotel management from Cincinnati State
Technical and Community College.
While at Ground Round, he met Ed Sahm. In the mid-1980s, he joined with Sahm to launch the first Sahm's restaurant
at 116th Street and Allisonville Road.
Sahm also partnered with Cunningham on a five-location yogurt chain called The Big Chill—which ran its course as the
yogurt craze faded. Sahm also invested with Cunningham in a restaurant called Mr. Robert's in Avon, Café 251
and Boulder Creek. Sahm sold back his interest in each of the restaurants over the years.
"He's a good operator; he crunches numbers well, runs tight controls," said Sahm, who runs 10 restaurants
of his own. "All the while, he's got a good-looking place and a good product. And he works hard."
Cunningham also has a good eye for talent, having recruited managers who are well-known as pros in the industry, said Bennet
Ackerman, who runs Melting Pot restaurants in Castleton and Greenwood.
One challenge of opening more locations in Ohio will be keeping in touch with every store every day, an advantage with the
Indianapolis-area restaurants, Ackerman said.
"For a non-franchise concept, he's put together an operations playbook that keeps everything in check,"
Ackerman said.
Developers impressed with Cunningham's results are coming after him to offer new opportunities, said Larry Cranfill,
chairman of Brownsburg-based Cranfill Development Corp., which owns the Boulder Creek space.
"He watches his numbers very carefully. His food is consistently good. And he's always looking for new recipes
so that you always have something new you haven't tried," Cranfill said. "He's one of the most successful
tenants I've ever had. He's not done yet."•
Please enable JavaScript to view this content.