Testimony filed in Indianapolis Water Co.'s rate case shows the city in 2007 agreed to take on millions of dollars in costs from the private firm it hired to operate the utility, including $48 million in retiree medical plan obligations.

The costs, shifted to the city through an amendment of Veolia Water's management contract, are included in a $111 million rate case now in the hands of the Indiana Utility Regulatory Commission.

The city's Department of Waterworks wants to raise rates 35 percent. Most of the extra revenue would be used to pay for capital projects, including federally mandated environmental improvements.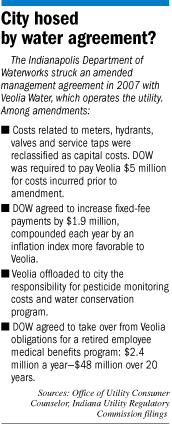 But some of the money would be used to cover costs shifted by Veolia as detailed in documents filed by the Indiana Office of Utility Consumer Counselor. State utility analysts are scratching their heads at the extent of the city's concessions to Veolia.

"The [amendment] to the management agreement is very one-sided. It shifts various costs to the department, clarifies ambiguities only in favor of Veolia, and significantly increases the department's costs without any significant benefit to the department," testified Richard Corey, an analyst for the Office of Utility Consumer Counselor.

The largest burden Veolia appeared to unload was a $48 million liability over 20 years for the cost of retiree medical benefits, according to regulatory filings.

That translates to $2.4 million a year—an amount the city is seeking from ratepayers as part of the rate hike request.

"The main question after reviewing the [contract] amendment's terms is why the department would agree to be bound by those terms," Corey added.

'Structure' in question

The DOW's contract amendment with Veolia isn't just relevant to the pending rate case.

It also comes as the City-County Council begins deliberations on whether to approve Mayor Greg Ballard's proposal to sell Indianapolis Water and the city's wastewater operations to local gas utility Citizens Energy.

Ballard anticipates the proposed $1.9 billion deal would generate $450 million the city could put toward urgent infrastructure needs.

His team says the water and sewer utilities could see $40 million in annual savings due to back-office reductions and other synergies under Citizens' umbrella of gas, steam and chilled water utilities.

Backers of the sale say eliminating city ownership would also remove the utilities as a province of political patronage and put them under more professional management.

In the last 10 years, the water and wastewater utilities have had relative instability, with 10 different executive directors, said Michael Huber, the mayor's director of enterprise development.

"This is not the right structure to operate a utility efficiently," Huber said.

But critics have questioned whether the sale to Citizens is a good return for the city and taxpayers and fret about diminished city government oversight.

They contend the city shouldn't be so quick to sell a vital asset acquired less than a decade ago from Merrillville-based NiSource. That 2002 deal and the 2007 concessions were done under Ballard's predecessor, Bart Peterson.

Under terms of the original 2002 agreement, the contract with Veolia could be renegotiated if any number of "threshold" events occurred. In this case, the triggers appear to have included the department's sale of assets to Carmel, which resulted in the loss of 8,800 Indianapolis Water customers and, suddenly, a less favorable profit dynamic for Veolia.

Veolia sheds costs

The DOW agreed to several contract changes favorable to Veolia. One was a change in the index used to protect Veolia from inflation and other rising costs. Also, certain costs related to meters, hydrants, valves and service taps were now defined as capital costs—requiring the department to reimburse Veolia, said the OUCC.

Some of the reimbursements included $5 million for costs incurred between 2002 and 2006, prior to the amendment.

The DOW also agreed to pay higher fixed-fee costs to reflect higher operation and maintenance expenses Veolia claimed. The increase in the fixed fee totals $1.9 million a year, and is compounded by the new inflation index the two agreed on.

The city also ceded to Veolia's request to have the city take on costs for pesticide water monitoring and for services such as a water conservation program.

The biggest handoff from Veolia to the city appears to involve the retiree medical benefit obligations.

In the initial, 2002 agreement with Veolia, the city agreed to be responsible for payments into the plan for employees vested as of Dec. 31, 2004.

Veolia was to be responsible for employees vested after Jan. 1, 2005.

The 2007 amendment ended Veolia's liability in April 2022. The city would take on an additional $48 million in long-term plan obligations, according to the OUCC.

The OUCC told the commission it did not consider it prudent for the DOW to have agreed to the 2007 contract amendment.

"I am not aware of any part of the management agreement that would require the department to agree to such a one-sided amendment," said analyst Corey.

Corey cited the "department's lack of resolve to maintain the benefit of the bargain it achieved through negotiation in 2002.

"The department's decision to accept the terms of the … amendment to the management agreement should be considered imprudent."

More than meets the eye

But a former member of the waterworks board, Mike Hudson, responded that the OUCC's concerns "appear uninformed and short-sighted."

Hudson, who left the board in 2008 and was former CEO of Rolls-Royce's Indianapolis aircraft engine operation, said Veolia told the board it was losing money under the original contract terms.

Despite the sale of some assets to Carmel, Veolia had been dealing with a customer base that had increased by more than 20,000. With the larger customer base came increased capital-project and other costs, Hudson said.

He opined that Veolia "was too aggressive" in entering into the original management agreement, which resulted in "financial stress."

Veolia threatened litigation if the city did not renegotiate, while the city threatened to sue Veolia if the French company abandoned its contractual obligations, Hudson said.

The reality was the department could have been left scrambling to find a replacement operator on more favorable terms, Hudson said. "The failure to immediately put in place a strong operator for the water system would have been potentially catastrophic."

The city could have spent "a huge sum of money" on litigation at a time it faced pressing capital projects. "The department risked exposing the utility to significant financial injury if it litigated to keep the benefit of its original bargain."

A mediator was brought in to help the two sides forge the amendment.

Hudson also defended the city's taking on retiree medical benefit obligations. "Rather than underfunding the benefits for the eligible employees, those employees now have certainty that their benefits are assured."

Don't tap customers

But the OUCC recommends against allowing the city to recover many of the additional costs stemming from the amended contract.

That includes the additional $2.4 million—or a 70-percent increase—in what the city wants to recover for the post-retirement medical obligations. The DOW wants to tap customers for $5.9 million annually, up from $3.5 million.

The OUCC said the DOW overstates its funding need for the medical benefits plan by "at least $2 million a year."

OUCC senior analyst Edward Kaufman said the department's proposed increase is based on the assumption the trust needs to be fully funded in 20 years.

"Fully funding the department's trust is neither necessary nor prudent," he told the commission.

As of Jan. 1, the retirement trust had a balance of $9.2 million, with future benefit obligations estimated at $59.7 million. That's a current funding level of only 15.4 percent.

The OUCC proposes that the DOW be allowed to contribute only $3 million a year to the retiree medical fund. It also recommends that the DOW immediately contribute $3.35 million into the trust to make up for payments "it should have made in 2007 and 2008."

Might the additional retiree obligations cause Citizens to amend its purchase price?

Citizens has not proposed changes in the terms of the deal, said Citizens spokesman Dan Considine.

"We are aware of funding issues regarding the post-retirement benefit obligations and concerns related thereto in the general rate case."

Citizens is still conducting due diligence and thus couldn't comment further, he added.

DOW drubbing

It's not the first drubbing the DOW has taken as part of the rate case.

Last year, the department hired a consultant to review its operations and filed the results as part of its rate case.

Colorado-based utility consulting firm CH2M Hill took the department to task for lax oversight of Veolia. CH2M said the department had insufficient staff to manage vast capital projects, gave Veolia "reasonable opportunity to dissuade the department" from publicly bidding certain projects, and lacked long-term planning, among other criticisms.

The consultant said the DOW's management structure was not fully developed following the city's acquisition of Indianapolis Water.

"It never developed an internal institutional structure sufficient to maintain direct accountability for the management, financial and technical capacity that is essential for long-term ownership and operation of a utility," said the consultant.

Hudson said that CH2M Hill, however, did not take issue with the DOW's taking on additional retiree benefit costs, saying it found that to be "in the public interest."•