In an age of instant communication and rapid transportation, it's easy to forget what a sucker's bet Phileas Fogg accepted when, in 1873, he put up cash to back his claim that he could circumnavigate the globe in 80 days.

Of course, Fogg's story is fictional—concocted by Jules Verne sometime between going "Twenty Thousand Leagues Under the Sea" and visiting "The Mysterious Island." But, at the time it was written, it wasn't science fiction. The connection of railways across India and the opening of the North American transcontinental railroad took his proposed itinerary from impossible to merely improbable. And that difference made all the difference.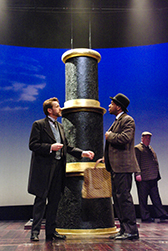 Phileas Fogg (Jeff Cummings) confers with sidekick Passepartout (Le Shawn Blanks) in 'Around the World in 80 Days.' (IBJ Photo/ Indiana Repertory Theatre/Julie Curry)
While the title remains familiar, I don't know how many readers are still devouring Jules Verne's novel (despite a recent Jackie Chan remake of the Oscar-winning David Niven film). But the latest theatrical version of the tale, currently on stage at the Indiana Repertory Theatre, proves that the familiar story, in the right hands, can still be captivating, romantic, funny, and even exciting, despite the presence of Travelocity, Orbitz, et. al.

The magic starts with an adaptation, by Mark Brown, that embraces the spirit of Verne and stealthily avoids subtext, contemporary references, or—in what may make some viewers a little uncomfortable—political correcting. Yes, there's still a human-sacrificing cult in India, still Native Americans to be fired upon, and still British colonialism to be celebrating.

But the sense of adventure is still palpable. And Brown's elegant storytelling proves that two-dimensional characters can still grow on us. Jeff Cummings is suitably single-minded as Fogg, transitioning subtly into a man in full. Minita Gandhi is lovely as the rescued woman who softens his heart. Zack Buell Gautheir, reminiscent of Ben Stiller, earns big laughs in a plethora of supporting roles. And John Lister is particularly winning as the not-quite-Javert detective trying to pin a robbery on Fogg.

Rounding out the best ensemble cast I've seen this season, the charmingly kinetic (if often overplayed) Le Shawn Banks as Passepartout, Fogg's stand-by-your-man French servant, makes a convincing case that the initially unbalanced relationship could evolve into a deep friendship (although casting an African-American actor in the part can't help but lead to some discomfort during his more obsequious moments).

With nary a large-scale map in sight, the IRT designers make effective use of minimal sets and leave little doubt as to where we are at any given time. A smokestack or sail puts us at sea. Seats and a doorway transport us via rail. And an elephant, well, let's just say the elephant-riding chase does occur, believably, on stage.

Director William Brown and company clearly appreciate the playwright's—and Verne's—sensibility, never winking at the audience from a 21st-century perspective. All involved trust the material, and that trust yields rewards. Ground is covered, but none is broken. And that's perfectly OK when the trip is this much fun.

____________

The chronological connection between Conner Prairie and "Around the World in 80 Days" didn't dawn on me at first. But the school field trip I was chaperoning to the living history museum the afternoon before seeing the IRT's production proved wonderfully serendipitous.

This visit didn't revolve around a major event, so it was the small moments that again reminded me this place is a treasure whenever you go. It's in the constant sense of purpose imbedded in the re-enacting residents of Liberty Corner and Prairietown and the way they keep working even while answering visitor questions with rambling conversation. It's in the unscripted movements of farm animals and the way kids get caught up in pioneer games. And it's in the way the beauty of the landscape lets you forget that Allisonville Road is just across the field.

Conner Prairie's Liberty Corner replicates 1888, 15 years after Fogg and Passepartout hit the road. And the living history museum creates a tangible sense not just of the details of the lives of the settlers, but also of their sense of place. The effort to put down roots applies to both their agricultural and their social sensibilities and the idea that any of these people would even think about traveling on a bet to Tennessee or Wisconsin, let alone Japan or India, is beyond imagining.

After leaving the IRT, I tried to imagine a copy of Verne's wondrous tale falling into the calloused hands of the prairie residents. And once again I was reminded of the importance and power of imagination.•

__________

This column appears weekly. Send information on upcoming A&E events to lharry@ibj.com. Follow Lou Harry's A&E blog at www.ibj.com/arts. Twitter: IBJarts.