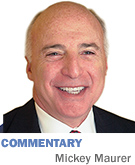 Ladies and gentlemen, fire your torches!
Pick up a hammer and hear the anvil ring. Metal artist Bonnie Wynn Ramirez will introduce you to the joys of twisting glowing-hot
steel into a piece of art at Mickey's Camp this summer. Ramirez was the first woman to earn an art metals degree in
welding technology at Austin Community College. You will learn basic metalsmithing techniques and leave with your own piece
of forged steel.
In addition to metalsmithing, Mickey's Camp has added activities including acupuncture, green gardening, belly dancing,
bocce ball, boot camp, water ai chi and glass blowing. Many old favorites are returning. They include billiards taught by
five-time player of the year Loree-Jon Jones, boxing fitness taught by U.S. Olympic coach Hank Johnson, painting taught by
internationally acclaimed artist Nancy Noël—who promises a special surprise, and photography taught by world-renowned
photographer Pamela Mougin.
Poker Hall of Famers Jan Fisher and Linda Johnson will sharpen your skills at the table. You can play table tennis and learn
from Ping Poulsen, Indiana women's singles champion. You can also participate in an exciting police training exercise
and learn to fly radio-controlled airplanes.
Best-selling author Dr. Aaron Carroll, associate professor of pediatrics at Indiana University School of Medicine, will discuss
his book "Medical Myths"; Indiana astronaut David Wolf will bring photographs to illustrate his exciting and dangerous
career in space; and Bill Witte with the IU Center for Economic Model Research will discuss the economic situation, including
prospects for the near future. You can learn how to watch a football game from Pro Bowler Tarik Glenn or engage in a sports
dialogue with IBJ sports columnist Bill Benner.
Television celebrity chef Nikki Cascone will lead campers in a hands-on gourmet cooking class and master chef John Oliver,
graduate of the prestigious Johnson and Wales University, will share his techniques, tools and gadgets as he leads you through
the preparation of a three-course meal.
Also returning this year is Max McCalman, one of the cheese world's living legends. Christian Butzke, Indiana Wine
Grape Council's enology professor at Purdue University and chairman of the Indiana International Wine Competition, will
present a tasting of the world's finest sparkling wines. The shooting range will be open offering instruction in rifle,
pistol and shotgun, but this is not recommended for the time immediately after wine tasting.
Camp presents a chance to learn new skills or polish old ones, including backgammon, canoeing, badminton, darts, bass fishing,
fly fishing, golf, self-defense, magic, jewelry making, knitting, arts and crafts, and CPR. You can shoot hoops with Darnell
Hillman, star of the ABA and NBA; learn about and hold birds of prey; or pamper yourself with a massage and manicure, or swim
in the pool.
Have you ever shaken the hand of a Nobel laureate? Mickey's Camp will afford you that opportunity. Our keynote speaker
this year at the women's camp is Indiana University professor Elinor Ostrom, the only woman to receive a Nobel Prize
in economics.
Our keynote speaker for men's camp is Indiana congressman Mike Pence. He was recently elected unanimously by House
Republicans to serve as House Republican Conference Chairman, making him one of the most powerful members of Congress.
Food will be provided by the best restaurants in town: Cafe Patachou, Outback Steakhouse, Bakehouse/Scholars Inn, Palomino
Restaurant, Thomas Caterers of Distinction, Great Cooks & Co., Capital Grille, Shapiro's, Sullivan's Steakhouse
and Harry & Izzy's.
Campers will have an opportunity to choose from among 50 activities. Camp brochures are available at Mickeyscamp.com or you
can e-mail me at the address listed below, but act fast—camp has sold out each year on a first-come, first-served basis.
Please join us at scenic Bradford Woods, south of Interstate 465 on State Road 67 near Mooresville. Women's camp takes
place Aug. 16-18 and men's camp will celebrate its 10th anniversary session Aug. 18-20. Help us donate more than $250,000
to central Indiana charities again this summer.•
__________
Maurer is a shareholder in IBJ Corp., which owns Indianapolis Business Journal. His column appears every other week.
To comment on this column, send e-mail to mmaurer@ibj.com.
Please enable JavaScript to view this content.