When I read last week Nordstrom finally set up shop in Manhattan after more than 100 years in business, I smiled. It's long been a mystery to me why the Seattle-based company hadn't taken advantage of New Yorkers' sartorial obsessions.

But then I read that the Big Apple spot is actually a Nordstrom Rack, the store's discount division. My heart wept a little.

The news is a reminder that the American dry goods business has mutated into a much more discounted, less frivolous version of its formal self. Sure, I like a bargain as much as the next girl, but I also wish I hadn't missed the days when Nordstrom's Manhattan outpost would've been a gleaming tower of polished consumerism, complete with elevator operators and too many shoe salesmen.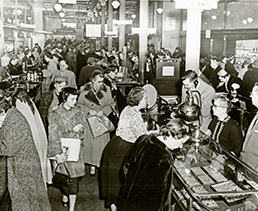 Shoppers flood the jewelry department on the first floor of the L.S. Ayres & Co. flagship, where Carson's Polo Ralph Lauren department stands today. (Photo Courtesy Indiana Historical Society, M0616)
Suffice it to say department stores in general aren't what they once were, which is why I'm glad to know there's someone in town working to keep that history alive.

Ken Turchi is assistant dean for communications and marketing at the IU Maurer School of Law—Bloomington, and he's writing a book about L.S. Ayres & Co., Indianapolis' own retail giant, founded in 1872. (Don't run to the Borders just yet, though: It won't be out until 2012.)

We met because Turchi e-mailed to correct my facts. In a previous column, I'd mentioned the Fitzgerald Room in the former Ayres flagship. Turns out the room where men's designer suits were kept, now the balcony at Oceanaire, was actually called Fritzwilliams. Embarrassment turned to serendipitous joy, though, when he told me about the book project. I felt like I'd found a kindred spirit in this fellow department store nerd.

I wanted him to paint me a picture of the old Ayres, now home to Carson Pirie Scott. I wanted him to tell me what finery once stood where the 75-percent-off signs now reign and how a brand with rumpled displays and scarce service came to occupy such a grand locale.

Turchi's not a retail expert by trade, although he worked in the Ayres men's department during college. But his hobby/ fascination with department stores has become part of his lifestyle. When the copyright expired on Stix, Baer and Fuller's logo (a defunct St. Louis style), he made it the logo for his marketing consulting business.

His sprawling mid-century modern ranch in Meridian Hills is decorated with old photographs of local retailers. Images of the William H. Block building's deco interior line the dining room, and photos of Ayres models lead down the hall. Hat boxes from stores such as Hudson's andSibley's are stacked to the ceiling in his garage.

Seated on Eames-era chairs beside his Mad Men-esque cylindrical fireplace, the first-time book writer gazed into the distance as he told me about how store models used to mill about the original Ayres tea room so ladies could see what the clothes looked like on a person instead of a mannequin.

"You know I've spoken to some of those models; they were so proud to represent Ayres," he told me. He went on to say how founder Lyman S. Ayres had pioneered the discount store model, in order to drive growth of the main store. Ayr-Way, the discount division that opened in 1961 on 38th Street, would later be scooped up by the company that's now Target.

"Ayres knew the lines between luxury department stores and discount ones would eventually blur," he explained, "so really he was ahead of the curve."

Looking back, I can see Ayres' wisdom in Nordstrom's decision to debut in Manhattan with its discount arm. And that makes me wonder how else Ayres influenced national trends, or how other business models led to the company's demise in 2006.

Thanks to Turchi, we'll all find out. I'll be first in line for my copy.•

__________

If you'd like to share your own style ideas or know anyone who's making waves in the fashion community, contact Gabrielle at gposhadlo@ibj.com. This column appears monthly.