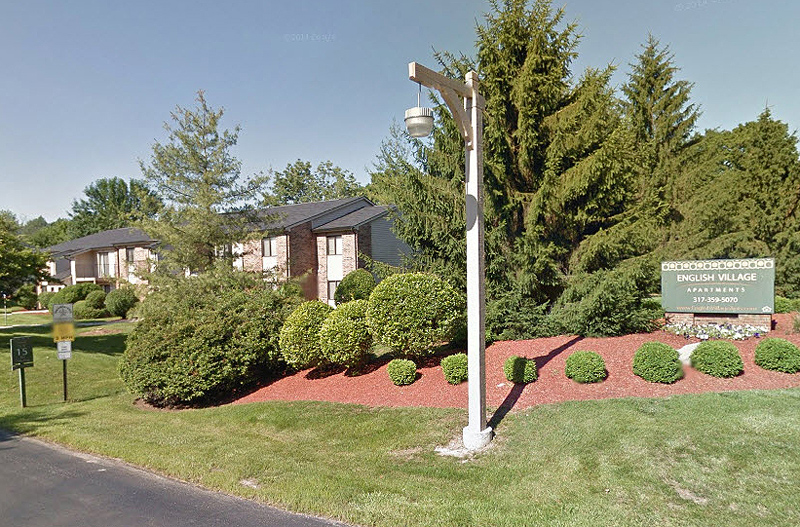 Two far-east side apartment complexes separately changed hands last month from local owners to out-of-state firms for a combined $25.5 million.
The complexes—Brookview, 1151 Aqua Vista Drive, and English Village, 545 English Village Drive—are expected to receive upgrades from their new owners, which both have other properties on the east side.
The improvements are likely to bring rent growth in an area that historically has been among the least expensive places to live in the Indianapolis metropolitan area.
Brookview
Located on the east side of Mitthoeffer Road, north of 10th Street, Brookview was sold by Indianapolis-based Gene B. Glick Co. on Nov. 12 to Kent Avenue Group. The Whitefish Bay, Wisconsin-based firm bought the property for $14.2 million, according to local and state property records.
Glick developed the 220-unit property in 1975 across two parcels and has been the property's only owner. Kent Avenue Group, which has acquired three other east-side complexes in the last four years through separate limited liability companies, beat out 12 other offers to purchase Brookview.
Hannah Ott, co-managing director for Chicago-based Cushman & Wakefield's Indianapolis multifamily office, which brokered both deals, said the company plans to invest in the property over the coming years, but the rehab budget was not shared with her.
An agent listed on the company's business registration with the state did not return a call requesting comment about the purchase of the Brookview complex.
Rents for Brookview's standard two-bedroom units range from $700 to $965, with three-bedroom townhome units reaching up to $1,575. The property is about 98% occupied, according to Cushman & Wakefield.
Kent's other properties in the area are:
— Abbey Meadows, 269 N. Shortridge Drive, 121 units, bought in March 2016 for $3.2 million;
— Arborstone Apartments, 9108 E. 38th St., 104 units, bought in August 2017 for $1.75 million;
— Atrium Village, 2636 Mitthoeffer Road, 116 units, bought in May 2018 for $5.4 million.
English Village
The 208-unit complex sits just south of English Avenue, between South Shadeland Avenue and I-465. The previous owner, Indianapolis-based Birge & Held, sold it to Pineview Equity Group, a Lakewood, New Jersey-based company, for $12.285 million on Nov. 20.
The 13-building property originally was part of a 600-unit portfolio being marketed by Cushman & Wakefield, but was later split off from that offering. The other two properties in that portfolio sold earlier this year.
The company has retained Birge & Held as the property manager for English Village, meaning the longtime owner will continue to have a role in maintaining the property. Pineview also assumed the existing Fannie Mae loan, which was secured by Birge & Held to finance its purchase of the complex in the mid-2000s.
The rate for a standard two-bedroom unit at the complex runs from $739 to $845 per month.
Pineview in June purchase the 122-unit Stonybrook Commons, 3036 Redskin Drive, for $7.7 million.
Aryeh Munk, a partner with Pineview, said the company's purchase of English Village brings opportunities to add amenities and grow rents at the circa-1987 complex.
Nearly 70 of the units at English Village were upgraded by Birge & Held, leading to rent growth up to $100 per unit per month.
"Whether it's doing light renovations to the apartments or adding amenities, (our goal is) slowly bringing rents up to where they should be and where the market is," Munk said.
The equity firm plans to take a "wait-and-see" approach to how much it will invest in the property, he said.
The average rent for a two-bedroom unit on the east side is about $710, compared to $797 for the entire metro area—although Cushman & Wakefield's Ott said owners on that side of town are starting to put more money into their properties.
"The east side of Indianapolis has been one of our highest rent growth submarkets because it has a high concentration of class C complexes," Ott said, adding rental rates among those properties grew more than 5% last year.
English Village is considered a class B property, while Ott said Brookview is a low B and high C class complex.
The east side has a 94% occupancy rate, according to data from Cushman & Wakefield.
Please enable JavaScript to view this content.