When it comes to food and drink, hand-cut, hand-carved, hand-squeezed and the like don't always increase dining pleasure. Sure, we admire the effort and feel ennobled by our refined culinary choice, but too often the results are inconsequential to the actual taste.

I'm happy to report that's not the case with the French fries at Fat Dan's Chicago-style Deli (815 Broad Ripple Ave. 259-7777). Fat Dan's fries are, in short, delicious and are enough of a draw on their own to merit a visit (though we realize it's unlikely you'll stop with just fries). They are generously offered at only $2.75, or $3.50 as part of a fries/drink combo.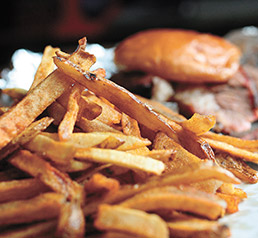 Fries are the prize at this open-late Broad Ripple deli. (IBJ Photo/ Perry Reichanadter)
Hand-cut fries aren't ideal for takeout (which we learned on a subsequent visit). They are best served freshly seasoned and directly from the heat. Here, plating doesn't even get in the way: The fries are dumped on butcher paper in the middle of the table, providing an open invitation to your dining companions to share in your bounty.

There's another risk with hand-cutting. The uniform size of lesser fries breeds uniform cooking; hand-cut fries will inevitably—if done right—feature a few overdone representatives. (Not seeing a sampling of these in your pile indicates that most are probably undercooked.) Sacrifices must be made, we happily concluded, and ate the dark ones, anyway.

The fries aren't the only thing that makes this Chicago-style deli worth visiting. The compact spot has one of the richest dining-area aromas in the city, thanks to the in-kitchen smoker that produces pulled pork, baby-back ribs, wings and brisket. We tried the last ($8.25) and experienced a sloppy sandwich with a mix of flavorful rare-to-medium-well meat. This being a Chicago-style deli, there's also an emphasis on dogs, with Vienna all-beef offerings ($4.75) topped with the traditional chopped onion, bright relish, tomato and peppers on a poppy seed bun. The Italian Sausage sandwich ($6.75) satisfies and the Fat Burger ($6.25) is substantial and the extra care to steam it on the grill is appreciated. And you can wash any of the above down with a cold beer.

Service on our two visits occupied Chicago extremes. During one, the counter server was glum and treated us like we were a burden. The other time, a staffer was talkative and friendly and, I truly believed, ready and willing to pull up a chair to join us.

Note to Broad Ripple bar hoppers: Fat Dan's is open until 3 a.m. on the weekends. Being fried doesn't mean you can't have stellar fries.

Note to White Sox fans: Fat Dan's clearly comes down on the side of the Cubbies. Enter at your own risk.•

—Lou Harry

__________

Fourth in our month-long series of visits to new Broad Ripple area dining spots.