Mortgage terms don't come any better than the standard offering from Habitat for Humanity of Greater Indianapolis.

With sweat equity for a down payment and zero interest, monthly payments range from $300 to $500. Still, some families don't make it. So far this year, Indy Habitat has filed six foreclosure suits, more than in any of the past five years. The organization also repossessed four houses as a result of the prior year's foreclosures.

In a typical year, CEO Dean Illingworth said, Indy Habitat takes back one or two houses, so the recent uptick is troubling.

"Any number that's over one sounds big to me," he said.

IBJ visited several Habitat houses in foreclosure, but found none of the owners home. One owner, Kim Murphy, told a Marion Superior Court judge in March that she had recently found a full-time job.

"I am a single person, with my oldest daughter and my 7-month-old grandson living in the house," Murphy said in a handwritten note to the court. "At this time, we have nowhere else to go."

There's a chance Indy Habitat will drop the proceedings against Murphy, who owes more than $46,000 on a $50,000 mortgage taken out in 2005.

Illingworth said the organization has backtracked in the past, if the homeowner caught up on payments. In fact, two of the foreclosures Habitat pursued recently were second- and third-round cases.

The average Indy Habitat mortgage is $70,000. The chapter has 274 loans outstanding, so the current foreclosure rate is about 2 percent. That's on par with the 2 percent to 3 percent reported by Habitat for Humanity International affiliates nationwide.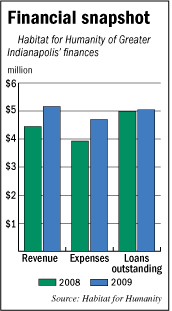 The performance is also far better than banks'. The Mortgage Bankers Association says 4.63 percent of its home loans were in foreclosure nationwide at the end of the first quarter. That was an increase of more than three-quarters of a percentage point and a record high.

Indy Habitat, which began in 1987, is one of the largest chapters of Atlanta-based Habitat for Humanity International in terms of construction activity. Last year, the local chapter built 22 homes and rehabbed three, making it 28th out of 1,041 affiliates reporting.

Success rates

Illingworth, an architect who served on the Habitat board of directors for 13 years before becoming CEO four years ago, blames the economy for the number of Habitat homes in foreclosure now.

"Our families are experiencing everything you, I, everybody in this world are experiencing—getting laid off from work, not being able to make mortgage payments."

Other affordable-housing groups say the economy has not affected their foreclosure rates.

Indianapolis Neighborhood Housing Partnership, which specializes in homeowner education, had 184 loans in its portfolio at the fiscal year ended March 30. Six were in foreclosure, resulting in a rate of 3 percent.

"That's on par with what we would normally see," spokeswoman Amy Wiser said.

Like banks, affordable-housing agencies also track delinquency rates. INHP compares its numbers to the rate for subprime loans in the region. Wiser said the portfolio generally stays under that benchmark, except around Christmas and back-to-school time.

At the end of April, 10.8 percent of INHP loans were delinquent, compared with 30.2 percent of all subprime loans in the Mortgage Bankers Association's east north-central region.

Illingworth wasn't sure of the delinquency rate for Indy Habitat, but added that most homeowners do not abuse the organization's good will. One family skipped a payment once and now makes a $200 donation every year, he said.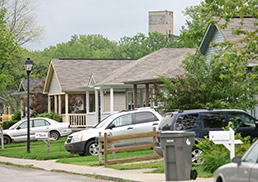 Indy Habitat built the houses on Carpenter Court on the southeast side. (IBJ Photo/ Perry Reichanadter)
Indy Habitat sees no reason to tighten its qualification standards, Illingworth said. The local chapter requires homeowners to have no liens, judgments or bankruptcies in the past two years and a "consistent payment history."

Indy Habitat refers applicants who don't qualify to INHP for help cleaning up their credit.

A similar-size chapter, Habitat for Humanity of Greater Columbus, changed its lending practices in 2004 and drastically reduced the delinquency rate.

The Ohio chapter's delinquency rate used to be 12 percent to 15 percent, CEO E.J. Thomas said. "Since 2005, it's a fraction of a percent."

Columbus is foreclosing on some homes, but Thomas said the loans pre-date the new underwriting standards. As a new CEO in 2004, Thomas reviewed the loans and found one that was amortized over 130 years, just to make the payment work.

Loan terms are now limited to 30 years, and monthly payments can represent no more than 27.5 percent of gross income.

Even low-income homeowners need to build a financial cushion, Thomas said. "It's been a tough time for everybody out there. People thought they could spend every single dime they make and still make it."

Foreclosures and delinquency could affect a Habitat chapter's bottom line because mortgage revenue helps defray the cost of future homebuilding. For Indy Habitat, program service revenue accounted for 37 percent of $5.16 million in revenue in 2009.

The recent uptick in foreclosures hasn't affected finances in a significant way, Illingworth said, but it does add costs.

"We need to go out and raise additional funds, and take care of these homes," Illingworth said.

Of course, it's also heartbreaking to see people who've gone through eight to 10 months of training lose the house. Indy Habitat's policy is to start foreclosure proceedings after 120 days of delinquency, but Illingworth said that follows a lot of outreach.

"We've done things in the past to help them go out and find jobs," he said. "We worked pretty diligently with the families."

Sweat equity

Habitat's slogan is to provide a "hand up, not a hand-out." The program targets people earning 30 percent to 50 percent of the area median income. For a household of four in Indianapolis, that's $19,250 to $31,900 a year.

A Habitat buyer, or "partner family," has to complete 450 hours of "work-equity," which includes classes and spending 80 hours helping to build another family's home.

The buyer also must come up with $500 for closing costs.

Indy Habitat took back 3205 Carpenter Court earlier this year and plans to sell it to another family in its program. Lesa Perry, who lives across the street, said the foreclosure was long overdue.

"They needed to," she said. "The house is clean now. You should've seen what we had to look at for years."

Carpenter Court is in a development of 50-plus houses that Habitat began building in the mid-1990s on the south side off Raymond Street. The modest houses are built in Habitat's typical style with wide front porches.

Perry, 47, considers herself one of the success stories. Moving in 12 years ago, she was the single mother of three young girls. Since then, she's married and expanded the house to accommodate her salon business.

Most of her neighbors shouldered the responsibility as well, she said, but two others have lost their houses in the past five years.

Habitat's education program can't overcome problems like drug use, Perry said.

"The mind-set of some people doesn't change," she said. "Everybody that wants a home doesn't need a home."•