Check back for updates throughout the night.
11:10 p.m. Democrats take big lead on City-County Council
With 100% reporting, Democrats appear to have won 20 of the 25 City-County Council seats. Democrats had a 14-11 majority leading into Election Day, so that would be a significant gain for the party.
10:07 p.m. Republican wins Martinsville mayoral race
In Martinsville, Republican Kenneth Costin claimed 91% of the vote in his first run at mayor, defeating Democrat Thomas Wallace.
10:02 p.m. Republican wins Greenfield mayoral race
In the Greenfield mayoral race, Republican Chuck Fewell easily sailed over Democrat Zachary LaFavers with more than 80% of the vote. Fewell was running for his third term.
9:53 p.m. Democrats leading in Indy council races
Democrats were leading in 18 of the Indianapolis City-County Council's 25 districts on Tuesday night.
The party had a 14-11 majority leading into Election Day.
With 76% of votes counted, Republicans had leads in six districts, with one race too close to call.
9:52 p.m. Zionsville school proposals pass
Two school referendums in Zionsville passed easily Tuesday, gathering more than 75% approval from voters.
The operational referendum is expected to raise $64 million over eight years and a construction referendum will raise $89 million to build an additional elementary school, among other projects.
9:12 p.m. Democrat wins Zionsville mayor's race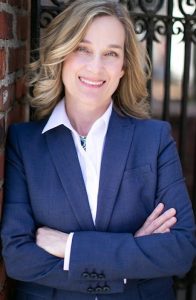 Democrat Emily Styron appears to have unseated Zionsville Mayor Tim Haak, a Republican, by a mere 88 votes.
Styron had 50.6% to Haak's 49.4%, according to unofficial election results.
Styron, who has lived in Zionsville for 19 years, served in the administration of former Indianapolis Mayor Steve Goldsmith and was chief financial officer of the Indianapolis Department of Public Safety (1999-2000). She has worked in IT finance, procurement and administration at Ivy Tech Community College for the past seven years.
9:09 p.m. Democrats win races in HamCo
In Republican-heavy Hamilton County, three Democrats won election to city council seats on Tuesday night.
In Carmel, Miles Nelson topped Republican Debra Minott in the West District.
In Fishers, Jocelyn Ware won an at-large seat and Samantha DeLong topped Republican Eric Moeller in the North Central District.
8:49 p.m. Hogsett calls for Republicans, Democrats to work together
Mayor Joe Hogsett has wrapped up his victory speech at the Athenaeum, telling his supporters, "We're not done building yet."
His speech referenced mean and hateful campaigns, but he says Republicans and Democrats can work together.
"Today, I think we showed that if you're willing to love and dream, if you're willing to do the work that makes bipartisanship real and seek out what unites us … you can make true and lasting collective progress together," he said.
8:44 p.m. Center Grove referendum fails
Voters in Johnson County have rejected a proposed tax increase that would have generated $3.1 million per year for Center Grove Community Schools for eight years.
With all the votes counted, 64% of voters said no to the initiative.
The district had planned to use the money for security. It was seeking to hire more school police officers, add live monitoring to their security cameras, and increase mental health support for students.
If approved, taxes in Center Grove would have increased by about 12 cents per $100 of assessed value, or about $75 per year for a house worth $145,000.
8:40 p.m. Terre Haute casino wins approval 
More than 63% of voters in Vigo County said yes to a casino in Terre Haute.
The Legislature voted this spring to create a new casino license for Vigo County, as long as voters approved it.
Two casino companies have expressed interest in the Terre Haute project. They have until Dec. 1 to submit proposals to the Indiana Gaming Commission, which would select an operator for the license.
8:37 p.m. Merritt says he's proud of his campaign
Merritt addressed a room of supporters and called the campaign a "10 month sprint."
"You gotta get more votes than the other guy, and we didn't have it," Merritt said. "I really feel as though we raised the bar. I think we made Mayor Hogsett a better mayor."
8:35 p.m. Hogsett declares victory
"I am humbled, I am honored and I could not possibly be more excited to serve as the mayor of Indianapolis for another four years," he says as the crowd shouts, "Four more years."
8:35 p.m. Carmel Clay referendum is winning
In Hamilton County, Carmel Clay Schools appears to be on its way to winning a property tax referendum to fund school safety and security.
The district was the first to propose such a measure after state lawmakers approved legislation allowing them during the 2019 session.
The referendum, if approved, would allow the school district to impose a tax on homeowners of 5 cents per $100 of assessed value for eight years. The funding would allow Carmel Clay Schools to put a student resource officer in every school. The measure was receiving almost 70% of the vote Tuesday night with 24% of precincts reporting.
8:33 p.m. Results are close in Beech Grove
In Beech Grove's mayoral election, incumbent Democrat Dennis Buckley and Republican challenger Rick Skirvin are in a dead heat with 68 percent reporting.
8:31 p.m. Hogsett is preparing to speak
U.S. Rep. Andre Carson takes the stage and says the people of Indianapolis have spoken. "I think it's clear they want Democrats to lead the city."
Not only has Hogsett won easily, Democrats are leading in several council districts that have have been represented by Republicans.
8:16 p.m. Lawrence mayor behind in re-election effort
Democrat Jamar Cobb-Dennard is leading incumbent Republican Mayor Steve Collier in the Lawrence mayoral race.
With 67% reporting, Cobb-Dennard is ahead 53% to 47%.
8:07 p.m. More council updates
In Districts 18, 20 and 23-25 – all seats held by Republicans – the incumbents are in the lead.
Democratic incumbent Zach Adamson leads in District 17. Democratic incumbent David Ray leads in District 19.
Democratic incumbents Frank Mascari (District 21) and Jared Evans (District 22) lead in their races too.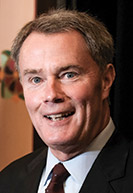 7:55 p.m. Hogsett is cruising to victory
Incumbent Joe Hogsett is running away with the mayor's race.
With votes counted in 63% of vote centers, the Democrat has 71% of the vote to Republican Sen. Jim Merritt's 27%.
The most recent poll in the race had shown Hogsett with a 34-percentage-point lead, a margin Hogsett was exceeding Tuesday night.
Click here for our full story.
Still, IBJ's Lindsey Erdody reports the mood is still pretty upbeat at Merritt's election night party, where he's joined with other Republicans at Prime 47 downtown.
7:49 p.m. Republicans are struggling in some Indy council races
Some really interesting City-County Council results in Indianapolis, with 63% of vote centers reporting:
In District 2, Democrat Keith Potts has 67% of the vote and Republican incumbent Colleen Fanning has 33%.
In District 6, Republican incumbent Janice McHenry has 38% to Democratic challenger Crista Carlino's 62%.
District 5 is a close race so far. Democrat Ali Brown has 48% and Republican Adam Cox has 52%.
In District 4, Republican incumbent Michael McQuillen is currently down 43% to 57% to Democrat Ethan Evans.
7:44 p.m. Lawrence Township school referendum looks likely to pass
With votes from 63% of vote centers counted, a school construction referendum in Lawrence Township appears well on its way to passing, with 69% to 31% approval.
The referendum would generate an additional $191 million for the district and is not subject to the property tax cap. The funds would be used to expand and renovate school buildings. The vote marks the first school referendum for Lawrence Township.
7:32 p.m. A Democrat leads in Carmel
With 23% of precincts reporting, a Democrat is leading the Carmel City Council West District race.
Miles Nelson is pulling ahead of Republican Debra Minott. In the North District, Democrat William Howard II is beating incumbent Laura Campbell, the Republican Party chairwoman.
7:28 p.m. Democrat Bill Benjamin joins Republican gathering
Marion County Republicans are gathered at Prime 47 in downtown Indianapolis. The small banquet room is fairly full, and results from the county's website are being streamed on a big screen.
Notably, Democrat Bill Benjamin is here. Republican mayoral candidate Jim Merritt announced during the campaign that Benjamin would be his new police chief, if elected, and Benjamin said he would accept the job.
7:21 p.m. Vigo County voters are saying yes to casino
In Vigo County, voters are deciding whether to allow a casino to locate in Terre Haute. With 10 of the county's 14 vote centers counted, 64% of voters have said yes.
A group has started a campaign aimed at building voter support for allowing western Indiana's first casino in Terre Haute.
A group called Advance West Central Indiana political action committee has been advocating for a casino, saying the project would mean abut 150 construction jobs and perhaps 400 new jobs related to the casino. The group's chairman, John Collett, told The (Terre Haute) Tribune-Star that a casino could also mean $7 million or more a year in tax revenue for local government and schools.
Two casino companies have expressed interest in the Terre Haute project. They have until Dec. 1 to submit proposals to the Indiana Gaming Commission, which would select an operator for the license.
7:16 p.m. Democrats gather at the Athenaeum
The Marion County Democrats are gathering at the Athenaeum tonight, where the room is pretty full and people seem excited. John Lennon's "Power to the People" plays.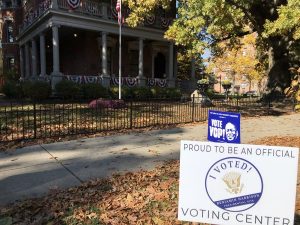 7:11 p.m. What are vote centers? 
This is the first general election with vote centers in Marion County. That means voters were able to cast ballots at any of the 272 polling locations throughout the county as opposed to having to go to the specific precinct they live in.
It also means that results will be tallied by vote centers as opposed to by precincts. That's why you'll see us reporting that a certain percentage of vote center ballots have been tallied instead of saying a certain percentage of precincts have been reported.
7 p.m. Early results show Hogsett way ahead
With 2.6% of vote center ballots counted and early voting results in, Democratic incumbent Joe Hogsett is significantly ahead of his opponent, Republican state Sen. Jim Merritt, in the Indianapolis mayoral race.
Early results show Hogsett with 75% to Merritt's 23%. Libertarian Doug McNaughton has 1%.
6 p.m. Polls close
Polls have officially closed in Marion County, where voters are deciding a mayoral race and all 25 seats on the Indianapolis City-County Council.
Democrats currently control the council 14-11, and Democrat Joe Hogsett is seeking a second term as mayor. Republican state Sen. Jim Merritt and Libertarian Doug McNaughton are hoping to oust Hogsett.
This is the first general election in Marion County with vote centers, allowing residents to vote at any location as opposed to having to go to their precinct.
If early voting is any indication, turnout could be similar to 2011. More than 18,000 early votes were cast this year, as opposed to more than 19,000 in 2011. Total turnout in 2011 was about 30%, and turnout in 2015 was about 23%.
Hogsett and Merritt both spent Tuesday's Election Day traveling to different polling locations to chat with voters.
John Marshall Middle School had great turnout today, as the Eastside turned out for Mayor Joe!

You have just over 4 hours left to vote today! Visit https://t.co/dkfF4eARNp for locations. #WeNeedJoe #FourMoreYears pic.twitter.com/JH9y6Yh3o1

— Mayor Joe for Indy (@MayorJoeForIndy) November 5, 2019
Joining voters at the Holy Cross Lutheran Church! pic.twitter.com/VePlER6cGl

— Jim Merritt (@Jim_Merritt) November 5, 2019
In Hamilton County, voters also are deciding one mayoral race and several city council races.
Westfield has the only contested mayoral rac,e with Republican incumbent Andy Cook being challenged by Libertarian Donald G. Rainwater II.
Carmel Mayor Jim Brainard, Fishers Mayor Scott Fadness and Chris Jensen, who won the Republican primary for Noblesville mayor, are all running unopposed.
As for city councils, Hamilton County Democrats have fielded candidates in each of the cities.
Also in Hamilton County, Carmel Clay Schools will be the first district in the state to propose a property tax referendum for school safety and security. State lawmakers approved legislation during the 2019 session to allow for those types of referendums to be added to ballots starting this year.
The referendum, if approved, would allow the school district to impose a tax on homeowners of 5 cents per $100 of assessed value for eight years. The funding would allow Carmel Clay Schools to put a student resource officer in every school. Currently, three of the officers are shared between 14 elementary and middle schools, and four serve the high school, which has more than 5,000 students.
The Metropolitan School District of Lawrence Township, Center Grove Community School Corp. and Zionsville Community Schools also are proposing property tax referendums to voters for capital projects and operating revenue.
Please enable JavaScript to view this content.