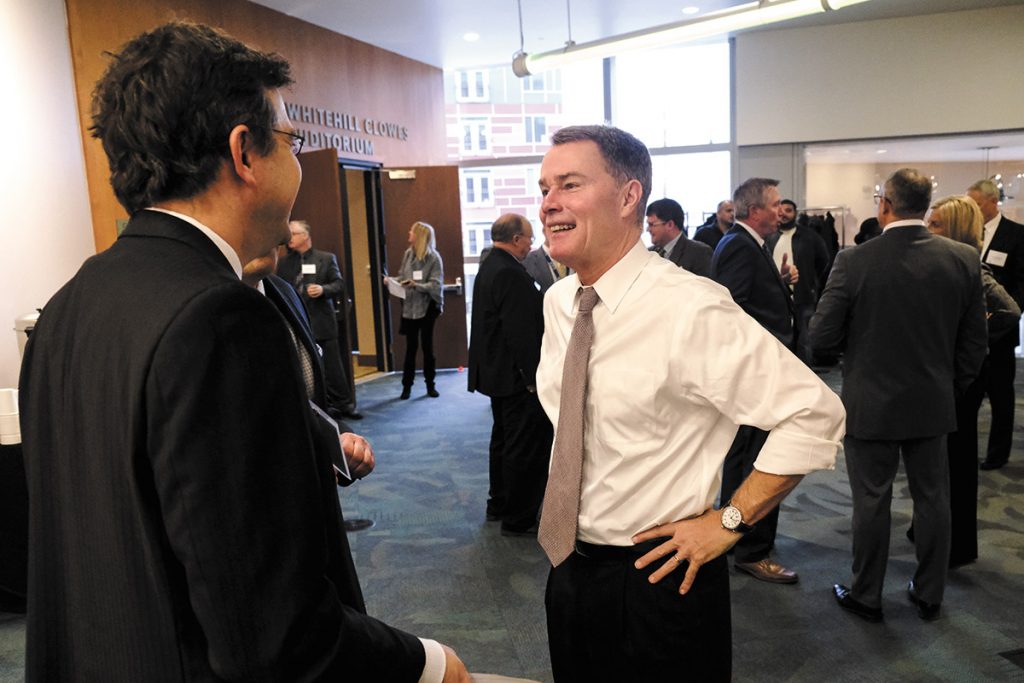 Democrat Joe Hogsett easily won a second term as mayor of Indianapolis on Tuesday night, with an overwhelming victory over Republican state Sen. Jim Merritt and Libertarian Doug McNaughton.
The 62-year-old former federal prosecutor declared victory at 8:35 p.m. after vote totals showed him receiving 70% of the vote with more than two-thirds of the vote tallied, compared to 28% for Merritt and 2% for McNaughton.
"I am humbled, I am honored and I could not possibly be more excited to serve as the mayor of Indianapolis for another four years," Hogsett said at the Democratic party headquarters at the Atheneum, while the crowd shouted "four more years."
His victory speech referenced mean and hateful campaigns, but he said Republicans and Democrats can work together.
"Today, I think we showed that if you're willing to love and dream, if you're willing to do the work that makes bipartisanship real and seek out what unites us… you can make true and lasting collective progress together."
During the campaign, Hogsett touted accomplishments like balancing the city budget, moving forward with the Community Justice Campus, hiring more police officers and creating a summer jobs program for youth.
But he also regularly admitted that he still had work to do, particularly on the issue of public safety and infrastructure—two things the 60-year-old Merritt repeatedly criticized the Hogsett administration for failing on.
Hogsett also took some pushback from some black community activists who wanted to see him propose a "black agenda" for the city. Hogsett initially said he wouldn't have a specific agenda for black residents, arguing that his overall agenda is inclusive, but then he essentially presented a such an agenda to black religious leaders in October.
Merritt said from the first time he was asked that he would have a black agenda, and he released one in October that focused on crime, education and economic opportunity. Merritt also often talked about how he would hire a public safety director and change leadership at the Indianapolis Metropolitan Police Department during the campaign.
During his concession speech on Tuesday night, Merritt said he was proud of his campaign and was glad he got to know the city better.
"This campaign is about the future of Indianapolis, and I think we all ought to be concerned and play a role so we can have a better place to live," Merritt said.
He said he would continue to pursue aspects of his black agenda from the Indiana Statehouse.
"I believe my black agenda is something that needs to be built on," Merritt said. "I will do anything I can from the Indiana Senate to push that forward, and I'll fulfill my promise."
Merritt's campaign message never seemed to connect with voters. According to two polls conducted by Mason Strategies for political site Indy Politics in August and October, Hogsett initially led the race by more than 25 points and that increased his lead to more than 30 points.
Hogsett's campaign was helped by a much larger war chest throughout the cycle. He regularly out-raised and out-spent Merritt, ending the most recent reporting period with nearly $1 million cash on hand compared to Merritt's roughly $150,000.
Hogsett used some of that money to air TV commercials for months, while Merritt was rarely seen on TV and instead focused his outreach on much cheaper social media and digital advertising options.
On Tuesday night, Merritt said he wished he would have directed more money toward TV ads.
"We're still in the situation where television offers credibility, and maybe in the next campaign it will be ruled by social media and digital advertising, but we're just not ready for that yet to make a massive impact," Merritt said. 
Merritt, who has been a state senator since 1991, did not relinquish his position to run for mayor, so he can continue to serve at the Statehouse. His senate seat is not up for re-election until 2022.
"It was a wonderful ride," Merritt said. "I've learned a lot about the city of Indianapolis. I'm a much better citizen and I'm a much better state senator today after this race."
In his victory speech, Hogsett told the story of Germans coming to Indianapolis and building the Atheneum.
"Tonight we celebrate a victory that is sweet because, like this building, like this city, it is something we built ourselves," Hogsett said. "It is a monument to something that is uniquely ours. And, my friends, we're not done building yet."
Please enable JavaScript to view this content.