Honoree, Non-Physician
Wanda Thruston
Clinical Assistant Professor, Indiana University School of Nursing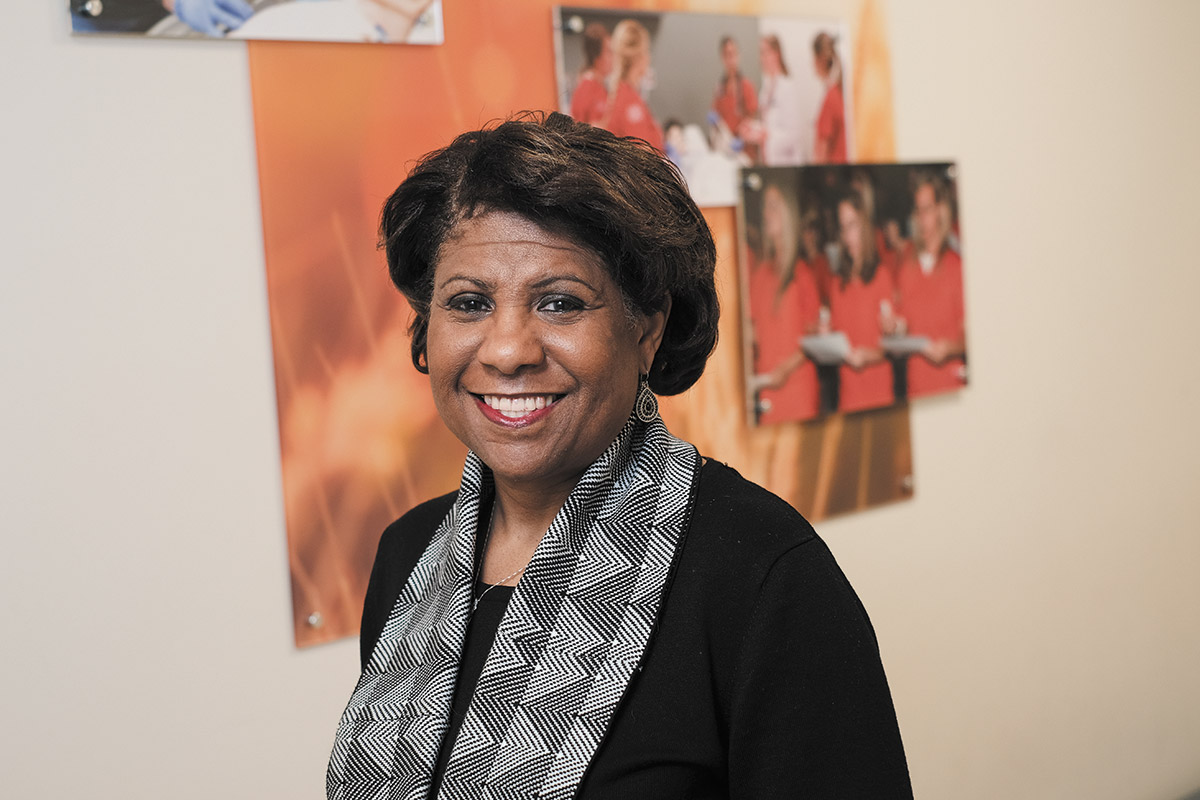 Wanda Thruston decided at the age of 5 that she wanted to be a nurse. She wasn't much older when she had a vision of working in a clinic that took care of people in distress.
Her foresight was spot on. Now 61, Thruston is five decades into a nursing career spent largely outside traditional health care settings.
After spending her first eight years as a nurse at Methodist Hospital, Thruston became adolescent care coordinator for Wishard Community Health Centers, the neighborhood clinics now branded with the Eskenazi Health name.
She was simultaneously in a master's degree program at the Indiana University School of Nursing, where she became acquainted with a professor who had started the Shalom Health Clinic at Broadway United Methodist Church to tend to neighbors in poverty.
"That's where my dream of working for underserved people happened," said Thruston. She joined Shalom, kicking off a career phase that's included working in homeless shelters, schools and on the streets.
Thruston opened a second Shalom clinic at Roberts Park United Methodist Church and set up school-based clinics for Shalom at the former Northwest High School and Gambold Middle School.
Thruston's career has been defined by her extensive work with school-age children, giving her a firsthand look at how poverty and the family tumult that often accompanies it can throw children off track emotionally and educationally. Now a clinical associate professor at the IU School of Nursing, Thruston is on a mission to help students and teachers recognize trauma and work around it.
In 2018, Thruston and IU School of Social Work Associate Professor Barbara Pierce applied for and won a $420,000 Robert Wood Johnson Foundation grant to implement the project they proposed: "Responsive Schools: Building a Trauma Responsive Learning Community for All Children."
Focusing on Washington Township schools and two charter schools, Indianapolis Metropolitan High School and Vanguard Collegiate of Indianapolis, the grant is being used to develop a curriculum to help students who face trauma.
Alleviating the trauma starts with recognizing it, and sometimes the response is to listen rather than react, Thruston said. She recalled stepping in to help after witnessing an altercation between a middle school student and teacher. Thruston took the boy aside and said, "Tell me what's going on with you." The boy told her he'd just found out his mother was sick. He calmed down immediately and said, "I just needed someone to talk to me."
Sometimes the situation is far worse. "Maybe your brother or your dad got arrested," Thruston said. "Those kinds of things trigger kids. They don't know how to handle their emotions, and they act out."
A major area of focus is helping adults take care of themselves so they can take care of their students. "It's like putting on your own oxygen mask first in the airplane," she said.
Although Thruston has seen many sad situations over the years, positive outcomes fuel her desire to press ahead.
She's still in touch with a 31-year-old who was a new mother at 14 but had her baby boy taken away when she left him alone in a hotel room. Thruston and others worked to put her on a better path. The baby was eventually returned to her and is now in high school. His mother went to college, has a job and owns a house.
"That makes me so proud," Thruston said, "because I know from whence she came."•
Please enable JavaScript to view this content.