Honoree, Advancements in Health Care
Urology Team at Riley Children's Health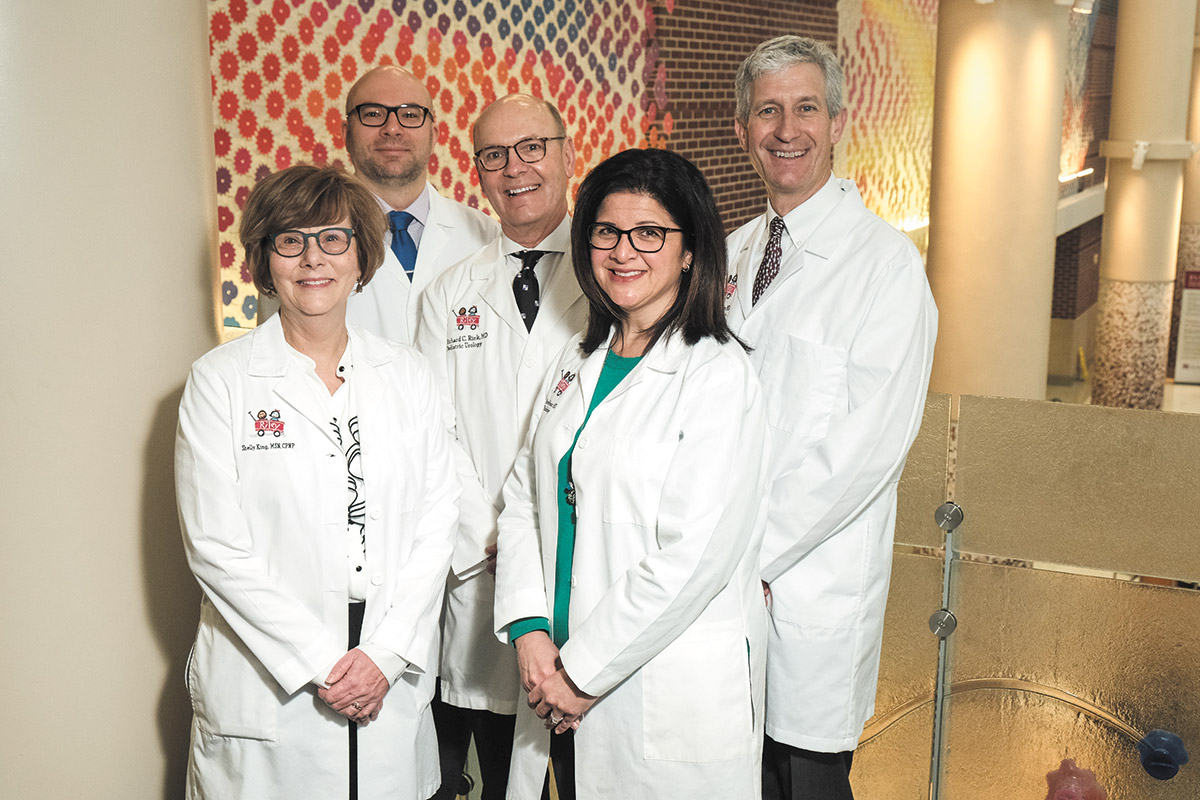 Children born with spina bifida face many challenges, not the least of which is urinary continence. They're born with a spine and spinal cord that didn't form properly, disrupting the neurologic connection between the bladder and brain.
Historically, kidney failure was one of the leading causes of death for children born with spina bifida. Without their brain telling their bladder to empty, the bladder would get too full, causing damage to the kidneys upstream, explained Dr. Richard Rink, a Riley Children's Health urologist and one of the leaders of a decades-long effort at Riley to extend and improve the lives of spina bifida patients.
Thanks to care advancements supported by and pioneered at Riley, spina bifida patients are living longer, healthier and more independently.
Improvements started in the late 1970s, when surgeons at Riley and elsewhere began adapting for children techniques that had been developed for adults. The initial step was to augment the bladder using a piece of intestine. This relieved pressure and reduced the incidence of renal failure.
Later, surgeons took the procedure a step further, creating a port in the child's belly button or under his or her underwear line that the child can use to intermittently catheterize and empty the bladder with a disposable tube.
Avoiding catheterization through the genitalia was a major advancement in allowing children to stay dry and take care of themselves.
"They have more privacy this way," Rink said. "It allows them to do self-care, which allows them to flourish psychologically and socially."
To allow for catheterization, typically a channel is formed using the appendix, but Riley pioneered several techniques, including using the bladder itself, that can be used when the appendix is not available or can't be used, said Dr. Rosalia Misseri, pediatric urology division chief at Riley Children's Health. "These novel techniques and modifications have markedly improved long-term outcomes and the reliability of these channels," she said.
The entire field of pediatric urology has come a long way in Rink's time. When he came to Riley 35 years ago, he was the only pediatric urologist in the state. Now there are 11 just at Riley and its pediatric urology program is regularly ranked among the top three in the country by U.S. News & World Report.
As a team, they've taken techniques developed elsewhere and created some of their own to improve the lives of patients. And the team is invited to teach its techniques across the globe.
One lingering question has been the extent urinary continence matters to young spina bifida patients. The answer might seem obvious, but the question has been raised by some physicians and no one could answer with certainty.
So the urology team at Riley developed a proprietary questionnaire that confirmed their suspicions and will be used by urology departments worldwide beginning this year.
For those with spina bifida and their families, advancements in care have resulted in life-changing improvements in mobility and independence.
"She tears holes in the knees of every pair of jeans I buy her," said Jaime Griffith, mother of 8-year-old Ellie.
"Her active, vibrant life would not be possible without the innovation and expertise of Dr. Rink, his team, and Riley Urology," said Richard, Ellie's dad.•
Please enable JavaScript to view this content.