Top Honoree, Advancements in Health Care
Dr. Michael Econs, Dr. Erik A. Imel and Dr. Kenneth White Indiana University School of Medicine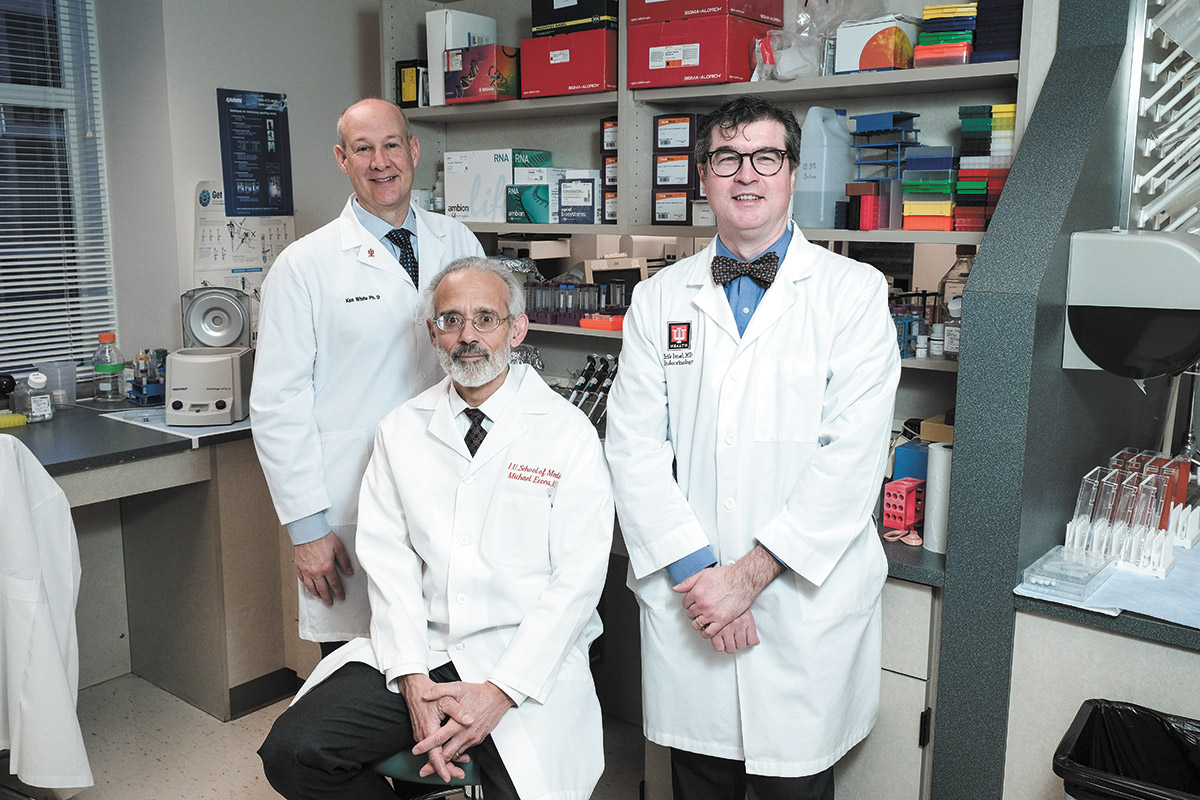 The work of Dr. Michael Econs and his colleagues at the Indiana University School of Medicine is a case study in the importance of patience and persistence in medical breakthroughs.
A product that evolved from their research, a drug called Crysvita, became available to patients in 2018. It can be a game-changer for children and adults with X-Linked Hypophosphatemia, or XLH, a painful and deforming bone disease that causes rickets and softening of the bones.
Children with XLH, a genetic disorder, develop bowed legs and debilitating bone pain. Those problems stay with them as they grow into adults of short stature who suffer numerous other life-altering symptoms. XLH affects about 12,000 people in the United States and one of every 20,000 people worldwide.
Crysvita, the first new therapy for the condition in 40 years, has so far proven to be a safe, effective treatment that clears up rickets in the youngest patients and helps their bones develop naturally. For adults, it can erase bone pain that's been with them all their lives.
The scientific research that went into the drug is much older than even some of the adults who are taking it.
"I started working on this when my hair was black," said Econs, an endocrinologist who is now 62 and has been chasing a remedy for XLH and related diseases his entire career. The pursuit began in 1986 when he was at Duke University School of Medicine and continued after he was recruited to IU in 1997.
Shortly after arriving here, he partnered with Dr. Kenneth White, who was doing a postdoctoral fellowship in Econs' lab. Together, they discovered the role of the hormone fgf23 in XLH and related diseases. Patients with XLH possess a genetic mutation that produces high levels of fgf23. Elevated fgf23 causes the body to excrete excessive amounts of phosphate, a mineral critical to proper bone development in children and bone strength in adults.
The discoveries of Econs and White were patented by IU and then licensed to Kyowa Hakko Kirin Co., a Japanese pharmaceutical company that developed the drug that became Crysvita through an agreement with California-based UltraGenyx Pharmaceutical.
The Japanese company was the only one interested in the technology initially, said Econs, noting the "team science" that resulted in Crysvita.
The origins of IU's work in bone research go back 50 years, when IU's Dr. Conrad Johnston was doing bone-density research at the Masonic Home in Franklin. That led to a long-standing philanthropic relationship between the Scottish Rite Valley of Indianapolis, a Freemason group, and IU School of Medicine researchers.
The work of Econs and White has also gotten significant funding from the National Institutes of Health. The combination of support from NIH and the Scottish Rite Valley made the research possible, Econs said, and is a good example of the good that can come from government and philanthropy working together.
The discoveries of Econs and White also took the cooperation of families afflicted with XLH and other bone diseases. Beginning while he was at Duke and continuing here, Econs organized family reunions in parks and church basements. Families would not only gather socially but also donate blood samples and allow examinations that would further the medical research.
"This took a lot of steps, and a lot of people," Econs said.
One of those people is another IU physician scientist, Dr. Erik A. Imel, a pediatric endocrinologist who was deeply involved in the national clinical trials that led to U.S. Food and Drug Administration approval of burosumab, the scientific name for Crysvita, in 2018.
Econs is gratified by the results, especially after the decades of work put in by so many people.
"All of this takes years," he said. "It doesn't happen next quarter or next year. In my line of work, you have setbacks, you persevere, and if you're lucky, eventually you have success."
Econs said a famous quote, sometimes attributed to Winston Churchill and sometimes to Abraham Lincoln, is especially appropriate: "Success is nothing but moving from failure to failure with unbridled optimism."
For patients, that unbridled optimism paid off.
Peru, Indiana, resident Debbie Moore was diagnosed with XLH as a toddler. Her son, Colton, also has XLH, and participated in clinical trials for Crysvita. "When Colton began this trial, his toes and feet were so turned in he would literally trip over his own toes. Now, he loves running around outside with his friends and roller skating," she said.
Linda Mozzone, another XLH patient, is equally appreciative of the therapy that's now available to her. "I've spent 55 years praying for this. It's the most amazing thing, because I actually feel like, for the second half of my life, now I can actually have one."
In addition to the United States, Crysvita is now available in Japan, most of Europe, and several South American countries.
"This is a dream come true for a physician scientist," Econs said. "It's really cool to see that patients are benefiting, including many people I'll never see."•
Please enable JavaScript to view this content.