Top Honoree, Physician
Dr. Thomas P. Bright
St. Vincent Ascension Anderson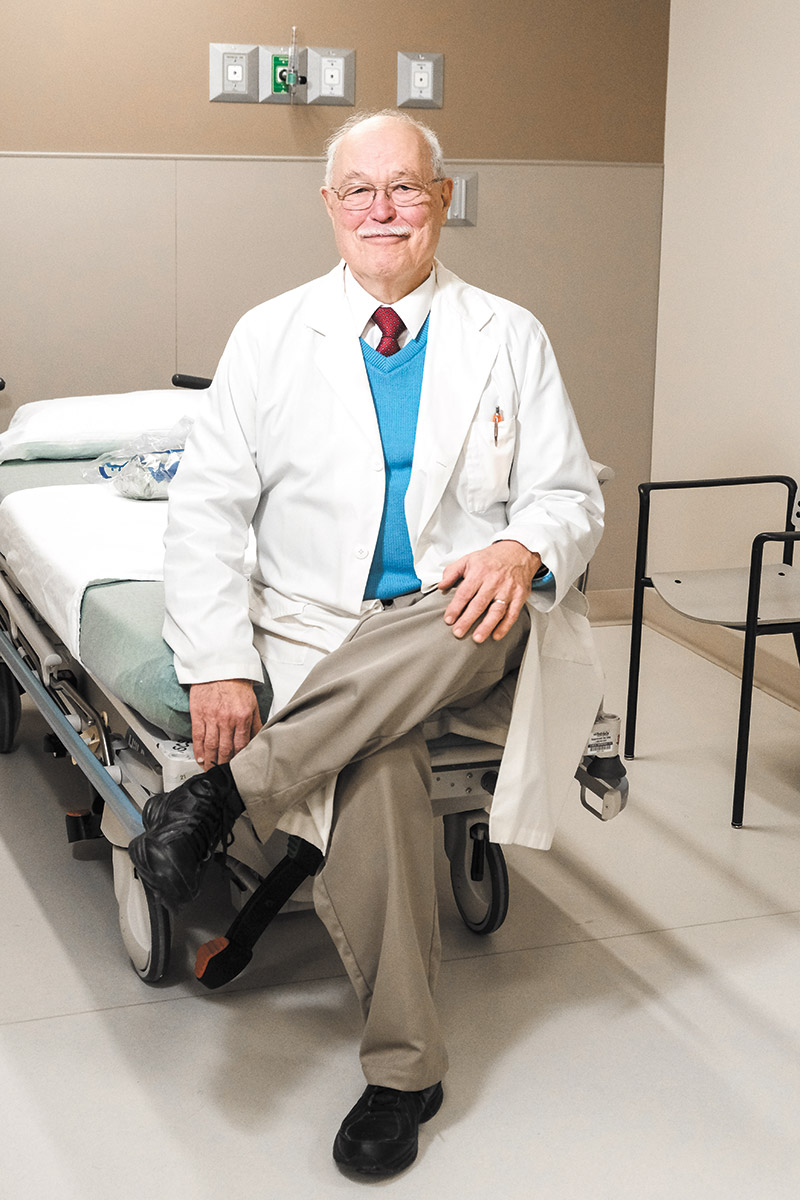 It's not unusual to hear a doctor described as compassionate and caring. But when you hear Dr. Thomas Bright's patients and colleagues in Anderson describe him that way, you get the idea Bright lives those qualities to an unusual degree.
"I have hardly ever met a patient here who doesn't already know Dr. Bright," said Dr. David Mares, who practices with him at Medical Specialists of Madison County. "Everyone in our community has had a family member who was sick beyond imagination at our hospital, and the story always involves Dr. Bright extending himself beyond the normal practice of medicine, often into the early hours of the morning, to attend to their care, pray with them, be with them, and hold their hand through a difficult time. Simply put, he is a cornerstone of medicine in our community."
Bright's ability to always put the patient first is perhaps best illustrated by his reaction to the HIV/AIDS epidemic in the early 1980s. More than one associate describes him as the only doctor in Madison County at the time who would care for HIV-positive patients.
At a time when even the medical community was gripped by fear over the disease, "HIV didn't scare him a bit," recalled one colleague, remembering how Bright sat holding the hand of a patient whose family had disowned him; he didn't want the patient to die alone.
Bright, a pulmonologist who is still practicing at the age of 74, recalls that time and the AIDS patients he treated. "Well, they were sick and they needed care. And they needed compassion. People were coming home to die. That's what we're called to do … care for the sick," he said. He remembers asking the Sisters of the Holy Cross, who ran what was at the time St. John's Hospital, if it was OK with them if he treated HIV/AIDS patients. Their approval didn't surprise him.
It was the hospital's faith-based, patient-first approach that attracted him to St. John's in 1979 and the reason he's been there ever since.
Bright, the top honoree in the Health Care Heroes physician category, takes his Catholic faith seriously and doesn't hesitate to lead co-workers, patients and families in prayer in pursuit of positive medical outcomes.
A native of Kentucky, he graduated from college preparatory school at 16, headed to Xavier University and was part of the fifth graduating class of the University of Kentucky College of Medicine before heading to Indiana University for his residency. After finishing a fellowship in pulmonology there in 1974, he spent two years in the military, then was invited back to IU to do research and teach.
But Bright wanted a closer connection to patients, and in 1979 heard that the hospital in Anderson needed a critical care doctor. He got the job, becoming the only critical care doctor in the county and presiding over a tiny, two-bed intensive care unit before a modern ICU was built.
Bright stepped away from critical care in 2006, turning his attention to chronic disease management and leading the charge in how the hospital would care for people with chronic obstructive pulmonary disease, diabetes and other chronic illnesses.
Along the way, he did two tours of duty in 2005 in hurricane-ravaged New Orleans—Bright's attempt to atone for the guilt he felt for a short military career that never put him in harm's way.
"When I was in the service, I was a technocrat. I never had to go into combat or anywhere dangerous," he said.
When his volunteer effort in the aftermath of Hurricane Katrina turned out to be more of a cleanup effort, he returned a month later after Hurricane Rita and set up a makeshift hospital.
Bright appreciates the medical advancements that have come along since he started practicing, and some of the non-medical changes in his profession—even as he works to make sure they don't get in the way.
Electronic medical records, for example, offer many advantages in caring for people, not the least of which is doing away with paper. "You haven't seen my penmanship."
But he has concerns. "Technology can interfere with your ability to see, touch and communicate with the patient on a basic level. That's their opportunity to say, 'Here's what's wrong with me.' If you put the computer between you and the patient, you have a problem."
Though he's held many leadership positions, including working on statewide protocols for how to treat COPD and at least two terms as president of the hospital's medical staff, connecting with patients one-on-one is still his comfort zone.
"What gives me satisfaction is making eye contact with people and communicating to people that they are important. Making that connection and making their lives better," he said. "And working with colleagues and seeing them blossom. It's not a job for us. It's something we're called to do."•
Please enable JavaScript to view this content.